The Old Gray Lady is suddenly the belle of the football ball.
Even with UAB on the road, Legion Field isn't idle this week. The stadium once tabbed the Football Capital of the South is opening its doors to college football games today and Saturday, thanks to Hurricane Irma.
"I guess we're getting relevant again," said Kevin Moore, director of Birmingham Parks and Recreation, which manages Legion Field, also known as the "Old Gray Lady on Graymont."
Conference USA's Florida International and Alcorn State of the Southwestern Athletic Conference will square off at 6 tonight at Legion Field. Those teams were scheduled to play Saturday, Sept. 9, in Miami.
As for Saturday, New Hampshire and Georgia Southern will play at 3 p.m. Their game was originally scheduled to be played at Georgia Southern, but the trajectory of Hurricane Irma prompted GSU and UNH to play in Birmingham.
Admission is free to both games.
"This is about people helping people," said UAB Athletics Director Mark Ingram. "We want everyone to be as safe as possible, and extending the offer to play at Legion Field is in the best interest of (all) teams. The UAB Department of Athletics has benefited from the help of thousands of people over the last few years, so this is just one small way to pay it back."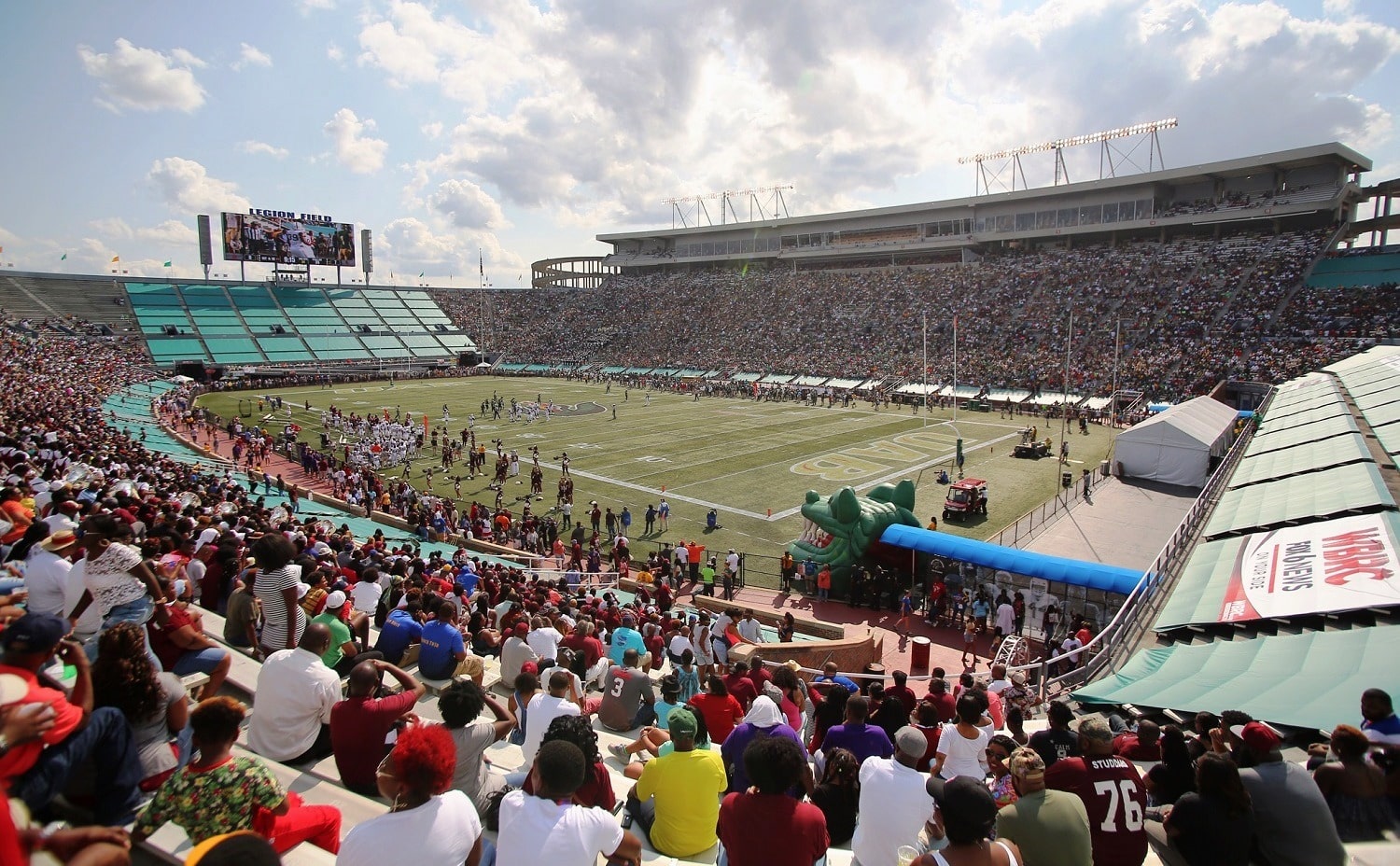 Ingram reached out to FIU Executive Director of Sports and Entertainment Pete Garcia to offer Legion Field and the city as a refuge from the storm. The Panthers have decided to relocate a number of their teams to Birmingham to avoid Hurricane Irma.
"But (it was) also to help keep everyone safe," Ingram said. "The Mayor's Office, the Birmingham Parks and Recreation Board and the entire city of Birmingham was very quick to react, and that's not surprising. We are going to support FIU, Alcorn State and everyone affected by Hurricane Irma throughout this process."
Garcia was grateful for the invitation. "The UAB family has gone above and beyond to make us feel welcome," he said.
Georgia Southern Director of Athletics Tom Kleinlein was weighing options for playing his team's football game when Ingram called to offer Birmingham as an alternative.
"After reviewing the updated forecast, we believe the best option for ensuring this game being played is to move to Birmingham," Kleinlein said. "With the developing weather situation, it was paramount to make a decision today so that we would not have to pull resources that may be used in an evacuation scenario."
Moore said staffing will be minimal at Legion Field. Concessions will be available for purchase.
"We're only opening minimal gates because attendance will be low," he said. "We're not using a lot of staff and we're only opening necessary gates to let people in, and for the media."