Kamtek officially opened its $60 million aluminum casting plant today, bringing a new capability that is in high demand as the automotive industry seeks to make lighter cars while retaining strength and safety.
Kamtek, an operation of international automotive supplier giant Magna, added high-pressure vacuum die-casting to its existing stamping and assembly operations in Birmingham's Pinson Valley. The nearly 150,000-square-foot plant will eventually employ more than 100 workers.
"It allows us to produce aluminum castings at a much faster and higher-quality rate," said John Hackett, general manager of Kamtek's Birmingham operations. "They help to lightweight the vehicles of the future to reach better fuel economy but it also give them a much safer vehicle and a stronger structure to the aluminum. Typically, what we're making here will replace maybe an 11- or 12-piece component with one part."
Kamtek holds grand opening of innovative automotive supplier parts plant in Birmingham from Alabama NewsCenter on Vimeo.
Hackett pointed to one such recent automotive success due to the process.
"If you look at the Cadillac CT6 released last year, it has 13 casting components all produced by Magna that replaced 35 previous components," Hacket said. "It helped contribute to the 200-pound weight savings on the vehicle."
Parts produced at the plant will supply automakers in multiple states in addition to Alabama automakers.
The new facility is among other expansions taking place at Kamtek's growing Pinson Valley footprint. Hackett said it is currently adding to one of its existing facilities to make engine cradles for an upcoming Mercedes-Benz vehicle to be produced in Tuscaloosa County.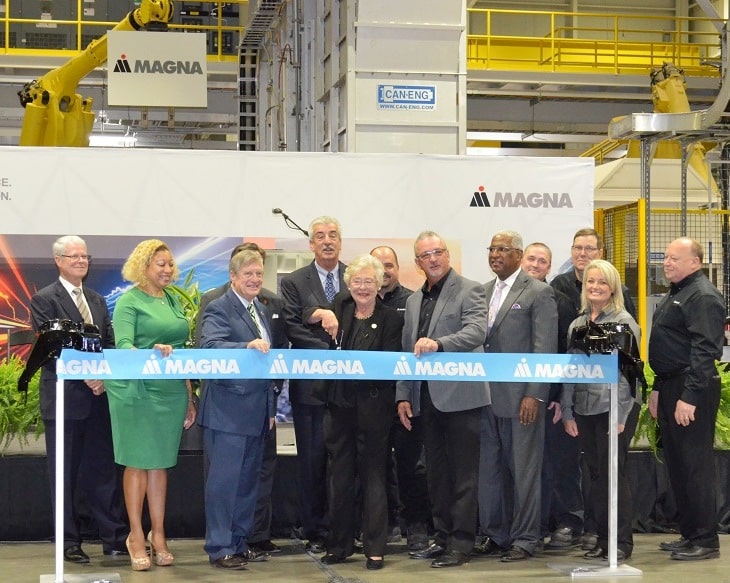 Brian Hilson, CEO of the Birmingham Business Alliance, said when it's all tallied up, Magna will have invested more than $1.5 billion in its Kamtek operations in Birmingham.
"While this is a very large facility that we're dedicating and recognizing today, it's really actually only a small part of all of the investment and the job creation that they have sustained here," Hilson said. "It's technologically advanced. This is the kind of technology growth pattern that this company is well known for. They're ahead of the game."
It's an investment that Gov. Kay Ivey said the state likes to see.
"Thank you for continuing to invest in our great state," Ivey said to Magna officials. "Thank you for continuing to believe in the people of Alabama, the men and women working at this facility and the folks in Birmingham and surrounding area. We are proud and honored for you to be here. Keep on investing in our great state so our moms and dads can earn good wages and provide for their families."
Ivey was among several state and local elected officials and economic developers who joined Kamtek employees for the event.
"To create new jobs here in Birmingham and in Alabama, that's really the greatest responsibility that we can have to our citizens," Birmingham Mayor William Bell said. "It adds to our automotive capability. We're just grateful that we're becoming the focal point to the automotive industry right here in Birmingham."