New Flyer, the largest transit bus manufacturer in North America, kicked off a $25 million project that will expand and upgrade its Anniston production campus and include a unique Vehicle Innovation Center dedicated to the advancement of bus and motor coach technology.
In addition, New Flyer of America said the investment builds its commitment to U.S. infrastructure, manufacturing, innovation and jobs. The project adds fabrication equipment that enhances component manufacturing, streamlines the weld process, expands the operational footprint and adds capacity to its Alabama operation.
"Repairing infrastructure through advanced technology is paramount to America's competitiveness, safety and prosperity. Through New Flyer's investment in advanced engineering and manufacturing, we have the potential to dramatically transform the future of public transportation in the U.S.," said Wayne Joseph, president of New Flyer of America.
"We are proud to power sustainable new technologies, collaborations for smart cities and opportunities to connect people to places."
New Flyer officially launched the project at a groundbreaking ceremony at its Anniston facility.
"New Flyer's increased presence in Alabama will bolster the economy and serve as a proving ground for U.S. advanced technology," Gov. Kay Ivey said.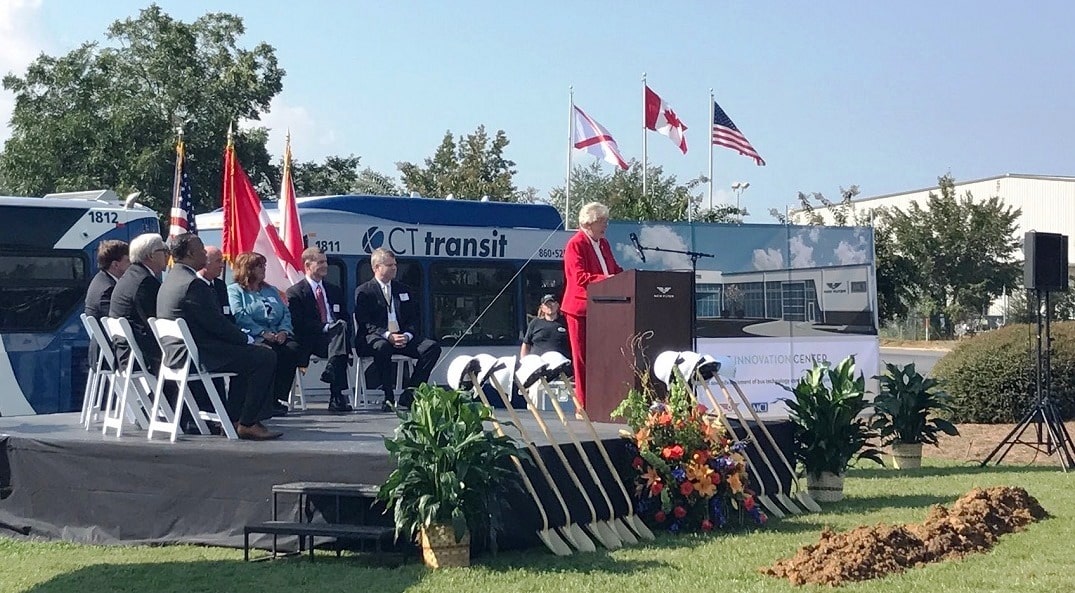 Fostering innovation
The Anniston campus (formerly North American Bus Industries), which was acquired by New Flyer in 2013, consists of five buildings where transit buses are manufactured. In 2015, New Flyer invested $20 million to transform the campus into a world-class LEAN manufacturing site capable of producing New Flyer's Xcelsior heavy-duty bus platform.
New Flyer said the Vehicle Innovation Center will formally open in October, with other elements of the expansion expected to be completed by June 2018. The expansion will add approximately 76,000 square feet, increasing Anniston campus space to nearly 380,000 square feet.
The company said the Innovation Center — the only one of its kind in North America — will feature an advanced manufacturing lab, exhibit space and training areas. It is being developed with Motor Coach Industries, a New Flyer sister company, and a roster of industry partners that include Siemens, ABB and Alabama Power.
"New Flyer's decision to locate its Vehicle Innovation Center in Anniston aligns perfectly with our goal of extending the state's prowess in advanced manufacturing into high-level activities such as R&D and design," said Greg Canfield, secretary of the Alabama Department of Commerce.
"We love seeing great 'Made in Alabama' products, but we also want see great 'Designed in Alabama' products," he added.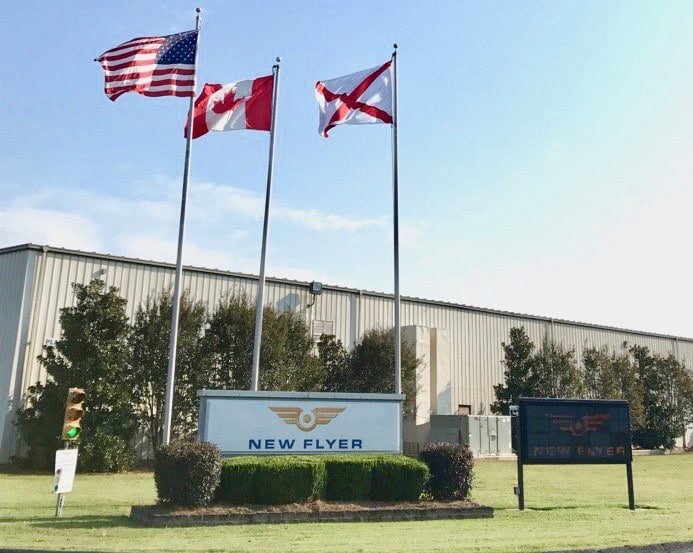 Advancing technology
New Flyer said the Innovation Center's objectives are:
Explore and advance bus and coach technology through sustainable research and development, fresh innovation, progressive manufacturing and bold thinking.
Foster dialogue through discussion, education and training on the latest zero-emission and autonomous driving vehicle technologies.
Engage learning through current and interactive exhibits, simulation and hands-on experiences, and observations.
Spark energy and commitment to clean air quality, safety and economic benefits for people, communities and business.
Harness the power of collaboration, environmental stewardship and social change on manufacturing the way we move.
"New Flyer of America is proud to expand our leadership role in evolving public transportation with buses engineered and built right here in Alabama," Joseph said.
"We look forward to making a positive impact on the community through innovative technology and job creation, and sincerely appreciate the support from local and state officials in Alabama, specifically Governor Ivey, Mayor (Jack) Draper and City Manager (Cory) Salley, Secretary of Commerce Greg Canfield and Alabama Power."
This story originally appeared on the Alabama Department of Commerce's Made in Alabama website.