Mercedes-Benz's decision to invest another $1 billion in its Alabama operations is a big enough deal on its own, but the fact the investment will build a battery factory and add an all-electric SUV to the assembly line is the truly game-changing aspect of the automaker's announcement today.
Daimler-Benz has more than 30 plants worldwide and its Mercedes plant in Tuscaloosa County will become the first in the U.S. to produce electric vehicles. It will be only the sixth in the world to produce electric vehicles and the fifth to produce batteries to power those vehicles.
It's a clear message of how much the company believes in the capabilities of its Alabama plant.
"We are also sending a clear message to our customers across the United States and around the world that Mercedes-Benz will continue to be on the cutting edge of electric vehicle development and production," said Markus Schäfer, member of the divisional board of Mercedes-Benz Cars, Production and Supply Chain.
Mercedes-Benz announces new vehicle, more jobs coming to Alabama from Alabama NewsCenter on Vimeo.
"This is a big technology move, not only for the state but also for Mercedes-Benz," Alabama Commerce Secretary Greg Canfield said. "What Mercedes has done today is plant a billion-dollar flag in Alabama that says, 'We see value in the state of Alabama such that we're willing to invest now over $6 billion in the state.'"
Canfield said the industry certainly sees the significance of this move.
"It's huge because the technology that comes with this is going to put Alabama in the same type of arena as we see in some of the larger states that have a longer, maybe a little more rich automotive history," he said. "Alabama is now going to be in the forefront with EV technology and with the construction of a new battery plant and the facility, this is going to be incredibly advantageous for technology in the state, but also in terms of providing clean energy and customer choice for Mercedes."
For Schäfer, electric vehicles, which Mercedes refers to as its "EQ" line, are part of a larger evolution taking place in the auto industry.
The areas of connectivity, autonomous driving, sharing and electric mobility (CASE) "are turning the whole industry upside down," Schäfer said.
"We are in the midst of the biggest transformation ever," he said. "The race for future mobility is on."
Canfield said he hopes the state can use this bold move by Mercedes to grow into research and development in the automotive industry as the evolution begins.
"We think what we will find is the opportunity, now, to build on this as a new opportunity to engage with more companies and to develop more research opportunities coming into the state of Alabama around this new technology," Canfield said. "It's not just about batteries. In the discussion today from Markus Schäfer, this is about autonomous vehicles. This is about the driver experience in the cockpit of a vehicle that is going to be immersive. I loved his statement, 'Daimler-Benz invented the car. We're here today to reinvent human mobility.'"
With all of the talk of the future, it was nearly lost that today's event was meant to mark 20 years of production at Mercedes-Benz U.S. International (MBUSI), the official name of the Alabama plant.
"We don't want to lose sight of the fact that this really is about the 20th anniversary of Mercedes production in the state of Alabama," Canfield said. "It has been transformative. This is the one project that you can point to that says that 1997 was the year that Alabama grew up and grew into the field of advanced manufacturing and created an automotive sector in the Southeast that has propelled Alabama to be the fifth largest vehicle producer in the nation."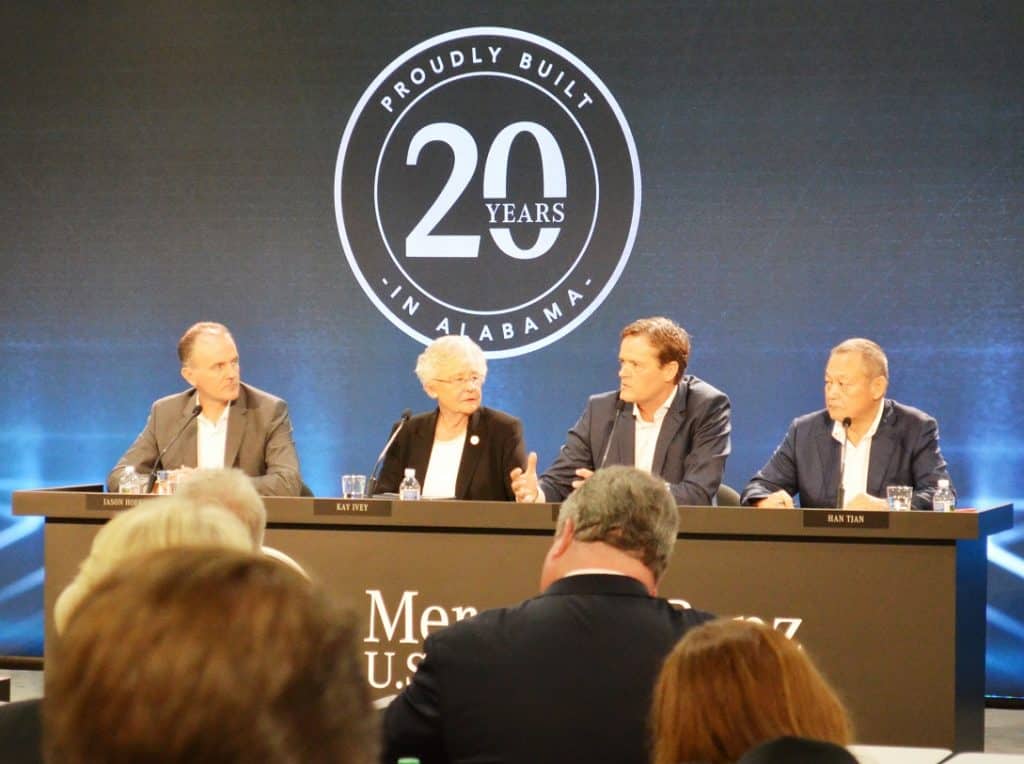 Jason Hoff, president and CEO of MBUSI, said when you look at the numbers, what Mercedes has done in Alabama in the past 20 years is astonishing.
"What started out as a 1 million-square-foot building with approximately 1,100 MBUSI team members building one product at an annual capacity of 65,000 units with a customer base that was really focused on North America and especially the United States, has blossomed into something quite different," he said. "Today, we have over 6 million square feet under roof, we have more than 3,700 full-time Mercedes-Benz team members here at MBUSI and we have an annual capacity that exceeds 300,000 units. MBUSI now produces four models on site and on multiple production lines and I think one thing that we're most proud of is we also export over 70 percent of our SUVs around the world."
Alabama Gov. Kay Ivey said Mercedes came along at the right time for the state as apparel and other manufacturing was leaving the state.
"Our state's manufacturing sector was reinvigorated when Mercedes-Benz, a global automotive giant, chose to invest in Alabama," she said. "Two decades ago, Alabama's auto industry was birthed when Mercedes chose to build a world-class vehicle – one that is universally known for its quality – right here in a state that had a history of quality manufacturing."
While Mercedes is making a pioneering move into "EQ in Bama," as Schäfer put it, Ivey reminded them they blazed new trails here before.
"Alabama is an auto industry giant because Mercedes-Benz chose to be an auto industry pioneer in Alabama," she said.
Schäfer, who once worked at MBUSI, said he still has fond memories of "Southern hospitality, barbecue and Crimson Tide" football.
"I'm not sure anyone can come to feel so at home as fast as they can here in Alabama," he said.
Schäfer recalled building and beginning production at the Alabama plant.
"We took a green field 20 years ago and built it into one of Daimler's most important production sites – not just for the past two decades, but for well into the future," he said. "So it is clear that we are not going to rest on our laurels here in Alabama, the U.S. or North America. Instead, we plan to keep bringing home championships of our own and we will continue to build on what has become a winning tradition both for Daimler and for the great state of Alabama."