Play time is over for college football teams across the state as early-season opponents have given way to conference foes.
Alabama has a 2:30 p.m. date in Nashville against a Vanderbilt team whose 3-0 record includes a 14-7 victory over a ranked Kansas State squad. Alabama, of course, is ranked No. 1, but the Crimson Tide knows what it faces against the Commodores in their contest on CBS.
"They have a lot of starters back, nine on offense, seven on defense," coach Nick Saban said. "Their defense leads the nation in scoring defense. Kyle Shurmur is the leading passing efficiency quarterback in our league. They do a great job in terms of their coaching and how they attack people, how they play on offense and defense.
"They've got three receivers that all pretty much share in how they spread the ball around," Saban continued. "This is a very good overall team and probably a team that deserves to be in the Top 25."
Auburn steps into SEC action in Columbia, Missouri, facing the Missouri Tigers at 6:30 p.m. Saturday on ESPNU. And Auburn will do it with a new No. 2 quarterback after former starter Sean White was dismissed from the team. Freshman Malik Willis is now the backup.
"We've been saying for a while that we feel very good about him," coach Gus Malzahn said. "The way that he performed in fall camp, specifically the scrimmages, was very impressive."
While Malzahn seemed pleased about elevating Willis, he was not happy about his team having five turnovers in its victory over Mercer.
"There will be a high attention to detail in ball security for everyone on the offensive side, and everyone that touches the ball on special teams," he said.
Bill Clark said his UAB team faces a big test as it visits North Texas for its 5:30 p.m. Conference USA opener.
"They're leading the conference, I think, in just about every offensive category," he said of the Mean Green. "They've got weapons everywhere. They've got the back (Jeffery Wilson) who's leading the conference (with 8.3 yards per carry). They've got a quarterback that can throw it around. Huge offensive line. And then defensively they're playing really well.
"We're expecting a battle," Clark said.
In other college action:
West Alabama at North Alabama: The Tigers bring a 2-1 overall and 1-0 Gulf South Conference record to Florence to face the Lions at 6 p.m. Saturday. The hosts are 1-1 and ranked 10th in the latest American Football Coaches Association NCAA Division II poll. UNA is the highest-ranked team with a loss.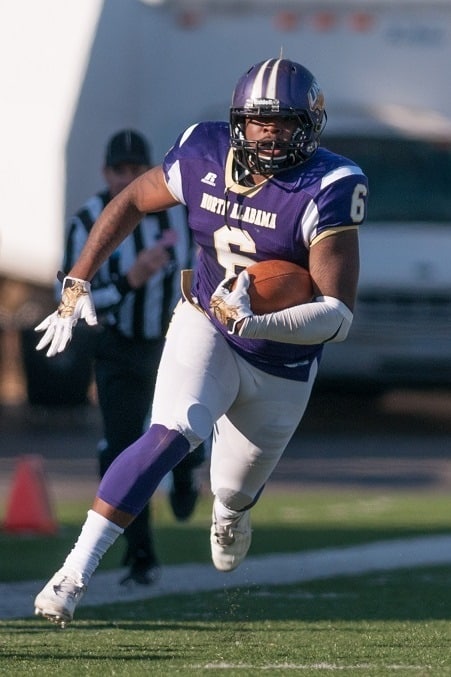 Birmingham-Southern at Rhodes: The Panthers (1-1) look to bounce back from their 45-38 home loss to Huntingdon two weeks ago. The game begins at 1 p.m.
Huntingdon at Ferrum: The Hawks head to Virginia with their sights set on extending their winning streak to three games. Kickoff is at noon.
Liberty at Jacksonville State: The Gamecocks are fifth in the STATS ranking and sixth in the Coaches Poll for Football Championship Subdivision teams. JSU's home opener and Band Day observance kicks off at 6 p.m.
Samford at Western Carolina: The Bulldogs begin SoCon play a week after playing between the hedges against Georgia. Coach Chris Hatcher's team carries a 2-1 record to Cullowhee, N.C., for a 2:30 p.m. kickoff.
Akron at Troy: The Trojans have followed an opening loss to Boise State with wins over Alabama State and New Mexico State. The Zips (1-2) are led by former Samford and Auburn head coach Terry Bowden. Kickoff is at 5 p.m.
Idaho at South Alabama: Coach Joey Jones and his Jaguars (1-2) begin Sun Belt Conference action against the Vandals at 1 p.m.
Prairie View A&M at Alabama State: Something's got to give. The 0-3 Hornets host the 0-2 Indians in the Southwestern Athletic Conference opener for both teams at 7 p.m.
Texas Southern at Alabama A&M: The Bulldogs (0-3) welcome the Tigers to the Louis Crews Classic at 6 p.m. So far, the SWAC's Huntsville team has been outscored 125-7.
Tuskegee at Findley: The 2-1 Golden Tigers head to Ohio after knocking off visiting Clark Atlanta 30-16 last week. Kickoff is at noon.
Morehouse at Miles: After opening at 0-2, the Golden Bears got into the win column with a 29-10 win over Fort Valley State. Miles' home opener kicks off at 5 p.m.
HIGH SCHOOLS
Class 1A: Georgiana, ranked No. 6 in the latest Alabama Sports Writers Association poll, welcomes No. 3 Brantley in what may be the top game across the state.
Class 2A:  No. 5 Elba travels to Goshen.
Class 3A: No. 1 Mobile Christian entertains No. 6 T.R. Miller.
Class 4A: Sardis hosts North Jackson in a Region 7 tilt.
Class 5A: No. 9 Eufaula is home to No. 4 Carroll.
Class 6A: Defending state champion Ramsay heads across town to face Region 5 rival Parker.
Class 7A: Oak Mountain hosts No. 3 Thompson in Region 3.
AISA:  No. 1 Autauga Academy greets No. 8 Pike Liberal.