Birmingham officials have a plan to emphasize the city's attributes while addressing its shortcomings in what they say is a serious bid to attract Amazon.com's second U.S. headquarters.
With a giant Amazon box as a backdrop at Birmingham Railroad Park Monday, Birmingham Mayor William Bell was joined by city council members, Jefferson County officials, members of the state legislative delegation and economic developers to formally announce the city will pursue what Amazon has called HQ2.
"We're very sincere about this effort," Bell said. "We're very united about this effort."
Magic City leaders make case to bring Amazon to Birmingham, or #BringAtoB from Alabama NewsCenter on Vimeo.
The second corporate headquarters for the online retail and tech giant is expected to bring up to $5 billion in capital investment and as many as 50,000 jobs over time, mirroring its Seattle headquarters.
"We have a unique community that's going to have a lot to offer and the type of workforce they want to attract and we're confident we're going to have a very serious play in it," said Patrick Murphy, vice president of Business, Sales and Economic Development at Alabama Power. "We're not as large as some of the other competing cities are probably going to be in the Southeast and across the country, but we're looking for that good fit for both the company and the community that's going to really have proper growth going forward."
Birmingham being a city in the midst of a rebirth with an emerging innovation economy and the potential for great growth going forward are Magic City DNA matches for Amazon's, leaders say.
"Being able to bring in those intangibles, the authenticity, the vibe of a city, the renaissance and a lot of that speaks to what Amazon is and how it started – an unlikely contender that started out as books and grew from there," said Deon Gordon, director of business growth at REV Birmingham.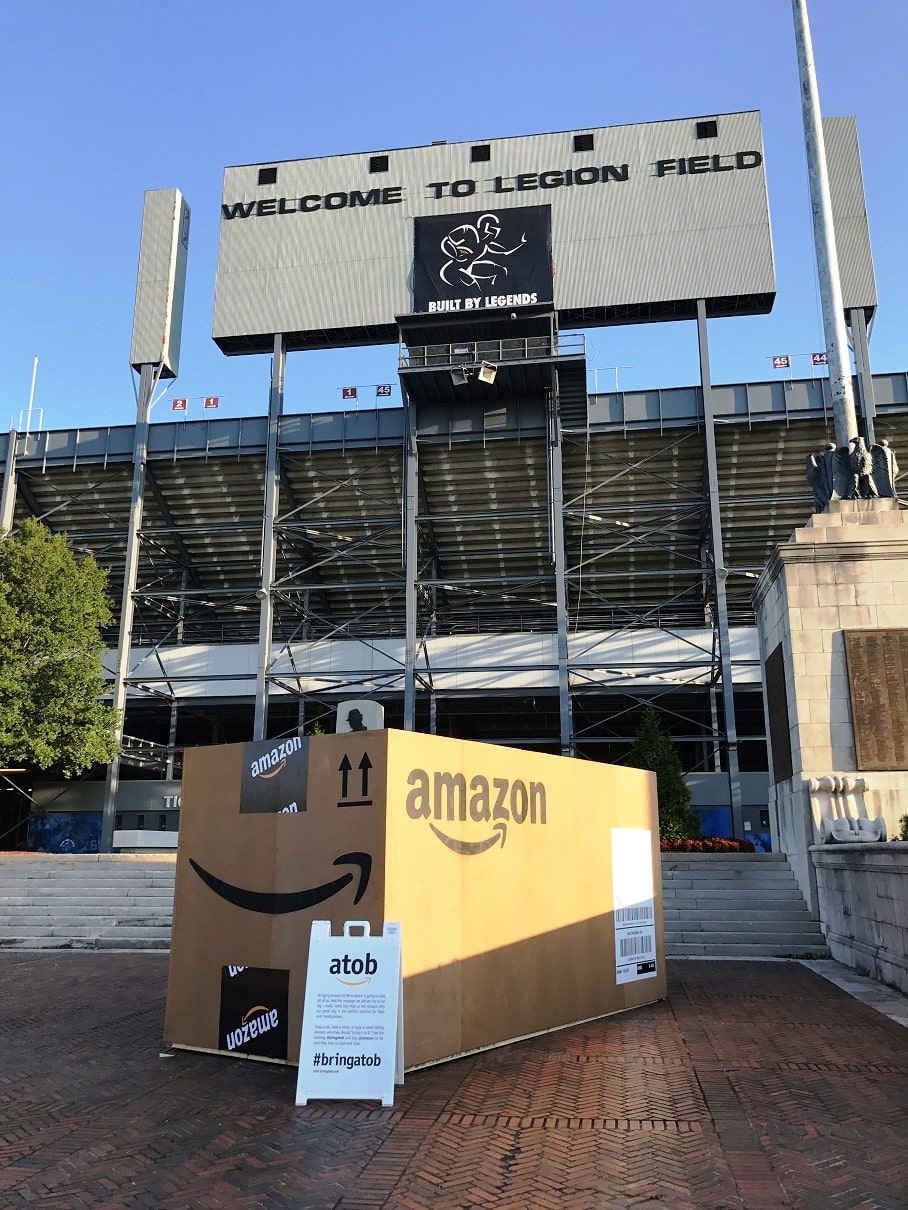 Jefferson County Commissioner David Carrington urged the public to participate on social media using the #BringAtoB hashtag, short for "Bring Amazon to Birmingham." The abbreviation has its own website, bringatob.com, along with its own Facebook, Twitter and Instagram accounts, encouraging people to take selfies in front of giant Amazon boxes at Railroad Park, The Pizitz and Legion Field.
Carrington said just like Birmingham built Railroad Park, Regions Field and the Uptown Entertainment District by overcoming critics, the pursuit of Amazon can be another unlikely success.
"I remember less than a decade ago, some people asked, 'Why do you need to build a 19-acre park downtown? Nobody will ever come downtown. Why do you need to build a baseball field downtown? Nobody's going to come to a ballgame downtown. Why do you need to build an entertainment center right across from civic center? Nobody is going to eat downtown,'" Carrington said. "But, you know what? They did.
"Why we do things like this is because it revitalizes our community," Carrington said. "It gives us a better today. So, when others ask me, 'Why are we going aggressively after Amazon?' I'm going to say, 'Why not?'"
Gordon urged others to ignore the naysayers and participate in the possibility.
"In the same way that we were able to bring in Mercedes as a state when a lot of folks felt like it couldn't be done, I think we can apply that same gusto, that same attitude, that same can-do spirit to an effort to bring Amazon here when a lot of folks are probably asking themselves the same question," he said.
Making it a communitywide initiative via social media could make the Amazon project the perfect rallying point for the metro area, Murphy said.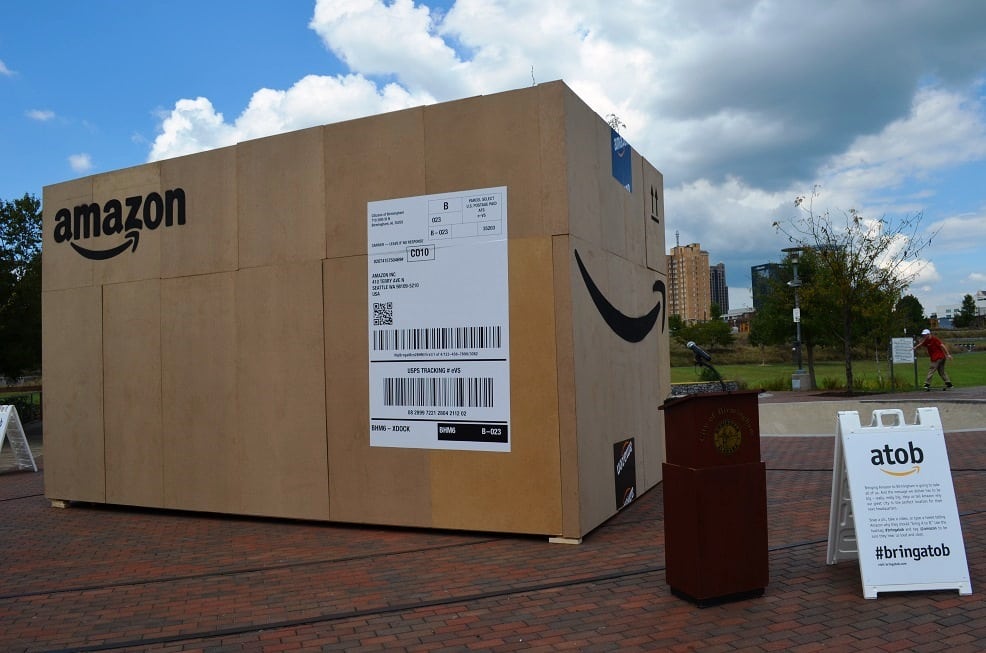 "This is a great opportunity for our community to unify together to show that we have what it takes for Amazon to be interested in our community," he said. "There is tremendous value in the process. You've got all of the community leadership working together in the same direction. You've got the private sector and the public sector from the state, local and regional level working together. If we don't win this project, why not something else in the future?"
Bell said there are some shortcomings between what Amazon wants and what Birmingham has to offer, the most obvious being a true international airport and a modern, robust mass transit system. However, the city is already working to address them, Bell said.
"Part of our efforts will be to work with a couple of airlines to establish international flights," he said. "We've had discussions along those areas and we feel comfortable that we can sit down with airlines – I'm not going to mention any particular one, but there are several that have expressed an interest for us to have some type of international flights."
Bell said Birmingham is well on its way to better mass transit, thanks to the new intermodal center and the preparations the city is making to host the 2021 World Games.
"As we speak, we're developing not only a new intermodal facility that will have a lot of technology built into it, but we're putting together a bus rapid transit system that will greatly improve our transportation system and prepare us for the World Games in 2021," Bell said. "We feel that efforts for the World Games will bleed over to the Amazon bid as we go forward."
One attribute that many might view as a shortcoming is Birmingham's racial past. However, Gordon said that can be turned into a positive.
"We're reframing that, not from a position of victimization, but from victory – being able to break the back of Jim Crowe and segregation," he said. "Now we have that same opportunity to take that spirit, that gusto, that audacity and channel it into economic inclusion."
Organizations like Amazon's and leaders like Jeff Bezos value that sort of evolution of spirit within a community, Gordon said.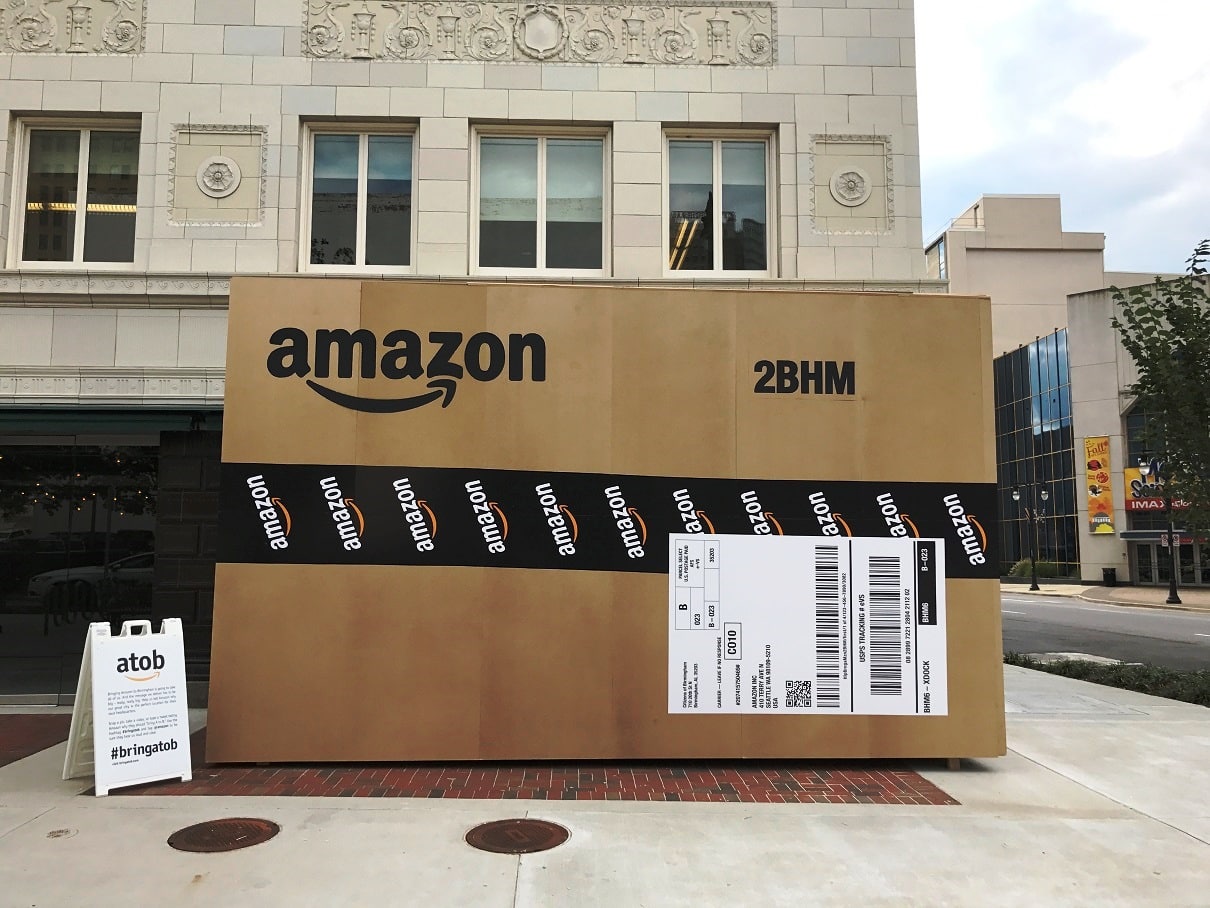 "Our city has that story and it is one that cannot be exported. It is one that no other city can truly lay claim to," Gordon said. "I think it would send a shot not just nationally but globally about what it would take to make sure that we are creating economic opportunities for everybody, especially those who have been traditionally marginalized."
Whatever Birmingham's final proposal to Amazon ends up including, officials said they plan to make it difficult for the company to reject the city.
"We know that we've got to put our best foot forward, but we also know that we have some contacts within the Amazon realm that we can call upon to get them to see the qualities that Birmingham has to offer beyond just the financial commitment that we will make to this project," Bell said.
"We will give them something to consider and we will give them an opportunity to make Birmingham in that next round of cities that are the forefront of growth," said Rick Davis, senior vice president of economic development with the Birmingham Business Alliance.
Bell said there was never any real question as to whether or not Birmingham would make a bid for the Amazon project.
"I've always been of the opinion that you have to be in the game to win the game and this presents us an opportunity to come together as a collective group here in this metropolitan area to go after this great prize," the mayor said. "If we're successful, you're talking about jobs that will sustain us into the future."
That alone, Carrington said, makes it worth the attempt.
"It gives Birmingham a unique opportunity to have a better tomorrow for our children and grandchildren," he said. "The Birmingham metro area offers Amazon a real opportunity to actively participate in the redefinition of a community that is already in the midst of an accelerated transformation.
"Let's show Amazon that we're a welcoming community and a community that's on the rise."