Birmingham's bid for Amazon's second North American headquarters got a boost from a new ranking that places Alabama's largest metro area at the top of a key category that's certain to be vital in the Internet retailing giant's plans.
An analysis by Textio, a Seattle startup that crunches information about job postings, found that companies in Birmingham hire the engineering talent they need faster than firms in other U.S. cities.
In Birmingham, engineering positions are filled in just 15½ days, Textio found.
"Birmingham hasn't topped many of the pundits lists, but if a key component for Amazon is filling engineering roles, they may be an underdog to keep an eye on," the firm noted in a blog post.
Denver, backed by The New York Times, requires 35 days to fill empty engineering positions. The pick of national technology news publication GeekWire, Toronto, was even slower – 41 days.
Atlanta? 30 days, according to Textio data. Austin? 32 days.
'Unique community'
In a story, GeekWire pointed out that Birmingham is making a coordinated pitch for Amazon's HQ2 and its 50,000 workers. Last week, the city formally launched its bid for the facility with a press conference that featured a giant Amazon box as a backdrop, along with a new website.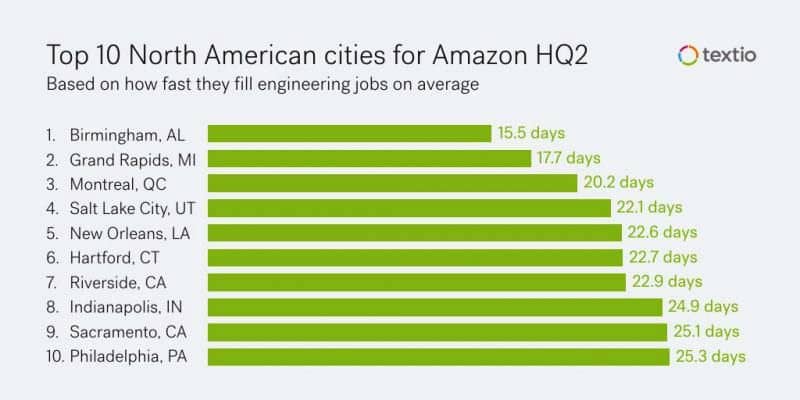 "We have a unique community that's going to have a lot to offer and the type of workforce they want to attract, and we're confident we're going to have a very serious play in it," said Patrick Murphy, a vice president at Alabama Power.
Birmingham's HQ2 website makes a case for Amazon:
"We heard you are looking for a city that makes bold bets, has the mindset of a pioneer, and thinks big. Well, meet Birmingham: a city that was built on what's possible. Not only are we off the charts on quality of life and affordability, we have some of the most passionate citizens on planet earth. From Birminghamians to Amazonians – we'd love for your next home to be ours."
With the Textio data, GeekWire noted, Birmingham can now point to real data in its pursuit of Amazon, because the city "fills engineering jobs the absolute fastest."
GeekWire also pointed out another reason Birmingham might capture Amazon's interest. Earlier this year, Blue Origin, a spaceflight company started by Amazon Founder Jeff Bezos, selected Huntsville for a $200 million rocket engine plant. Huntsville is just 100 miles away from Birmingham.
Amazon is also opening a $30 million "sortation center" in Mobile.
This story originally appeared on the Alabama Department of Commerce's Made in Alabama website.