Click here to view or print the entire monthly report compliments of the ACRE Corporate Cabinet.
Sales: According to the North Alabama Multiple Listing Service, Huntsville/Madison County residential sales totaled 675 units during August, a growth in sales of 8.5 percent or 53 units from the same period last year. Year-to-date sales increased 10.9 percent from the first half of 2016. Two more resources to review: Quarterly Report and Annual Report.
For all of Huntsville's area housing data, click here.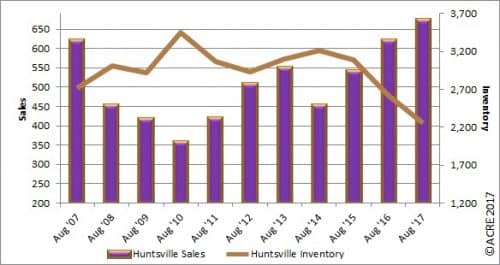 Forecast: Closed transactions in August were 91 units or 15.5 percent above the Alabama Center for Real Estate's monthly forecast. ACRE's year-to-date sales forecast through August projected 4,060 closed transactions, while the actual sales were 4,721 units, a favorable difference of 16 percent.
Supply: The Rocket City's housing inventory totaled 2,252 units, a decrease of 14.2 percent from last August. New home inventory is down 86 units year-over-year, while existing single-family inventory is down 271 units.
The inventory-to-sales ratio in August was 3.3 months of housing supply. The market equilibrium (balance between supply and demand) is considered to be about 6 months. The market in August experienced a 2.7 percent decrease in inventory when compared to July. Historical data indicate a typical 1.9 percent decrease from July to August.
Demand: Residential sales in August increased by 7.1 percent from July. This direction is consistent with seasonal patterns and historical data indicating that August sales, on average (2011-2015), increase from July by 1.7 percent. New home sales made up 25 percent of sales, an increase from 24 percent in August 2016. Existing single-family home sales accounted for 73 percent of total sales, down from 74 percent, while condos were 2 percent of sales, which remains the same from the prior year.
Pricing: The Huntsville median sales price in August was $195,000, an increase of 4.8 percent from August 2016 and down by 5.8 percent from the prior month. This month-over-month direction is consistent with historical data (2011-2015) indicating that the August median sales price on average decreases from July by 0.9 percent. Pricing can fluctuate as the sample size of data is subject to seasonal buying patterns. ACRE recommends contacting a local real estate professional to discuss pricing at the neighborhood level.
Industry perspective: "For the first time in 2017, we have increased our full-year growth outlook. The upgrade reflects economic activity gaining momentum at the end of the second quarter, though we see a great deal of uncertainty surrounding the forecast," said Fannie Mae Chief Economist Doug Duncan. "The list of uncertainties now extends beyond the geopolitical and legislative, as the effects of Hurricanes Harvey and Irma will require time to untangle. Historically, natural disasters that hit heavily populated areas led to substantial near-term declines in economic activity but meaningful rebounds in subsequent quarters due to rebuilding efforts. Thus, economic growth in the second half of 2017 could still average a slightly stronger pace than the first half. Unfortunately, we continue to expect home sales to be flat during the second half of the year compared to the first half due to strong home price appreciation and lean inventories."
The Huntsville/Madison County Residential Monthly Report is developed in conjunction with the Huntsville Area Association of Realtors to better serve North Alabama consumers.