Gazing outside his Gulf Shores office Friday, Ed Rodriguez could see little sign that Hurricane Nate was bearing down on the Gulf Coast.
"I'm looking out the window at the bluest of blue skies and it's hard to believe what's brewing out there," said Rodriguez, president of the Coastal Alabama Business Chamber.
The storm, expected to be a Category 1 hurricane when it comes ashore, couldn't have come at a worse time. It's due to arrive just as chamber volunteers were scheduled to set up for the 46th Annual National Shrimp Festival and everything is on hold until the storm passes through. The big weekend of food, music and other entertainment kicks off Thursday, Oct. 12, and runs through Sunday, Oct. 15.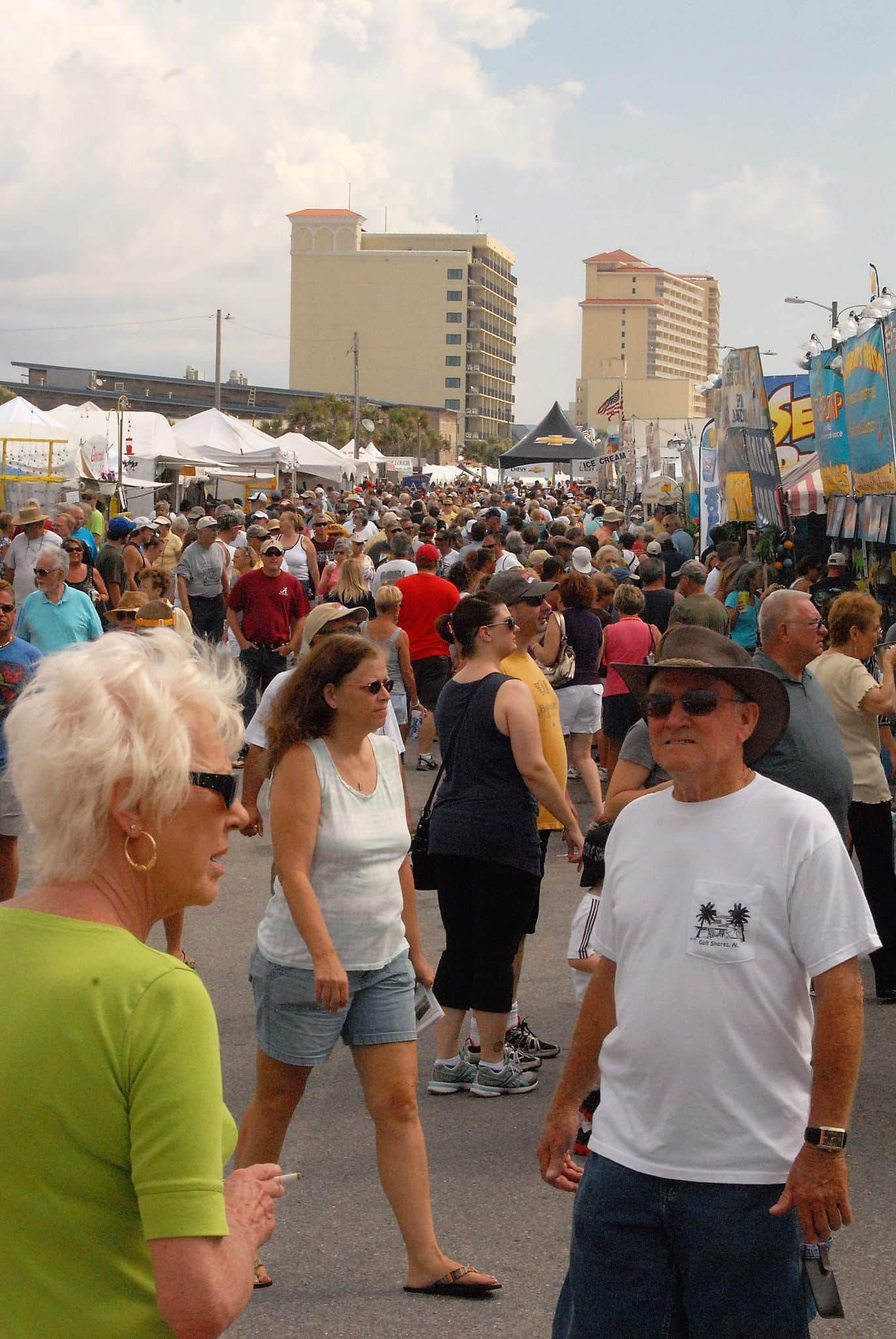 "Right now, watchful waiting is the name of the game," Rodriguez said. "Right now, we're monitoring the storm. We always have to be mindful of the weather. It's a fact of life here."
It's not the first time organizers have faced potential disaster from a hurricane. That's what happens when an event is scheduled during hurricane season on the Gulf Coast. But only once has a storm canceled the event. That was when Hurricane Ivan hit Gulf Shores on Sept. 15, 2004 just a month before the festival.
Tropical Storm Nate isn't expected to pack Ivan's punch. Rodriguez hopes the storm's only impact will be to delay setup from Sunday until Monday.
"We're ready to set up on Monday," he said. "We might be setting up a day or two earlier if the storm hadn't come. But we see no reason we can't open the festival up bright and early Thursday morning."
Every effort will be made to see that the festival goes on despite the weather.
"The city has been very proactive," Rodriguez said Friday. "They have already staged cleanup equipment so that it will be ready to go as soon as the storm passes through."
The festival is just too important to cancel if there's any alternative. It brings an estimated 225,000 to 250,000 visitors to Gulf Shores, creating an economic impact estimated by a 2012 study to be between $42 million and $44 million.
"It was originally planned to bring people to our area at a time when not many people come here," Rodriguez said. "And that's what it does."
The study was designed to determine how many people came to town for the festival and what economic impact the festival generated. It was based on lodging tax receipts and on sales tax receipts at the festival and in surrounding areas and they were compared to weekends before and after the festival.
Traffic counts, car counts and aerial photos of crowds were also used. It's not an exact science, but Rodriguez believes it gave the chamber, which sponsors the event, a good handle on the information it was looking for.
The study also showed that people from dozens of states came to the festival. Rodriguez said it has a simple formula for success.
"Well, who doesn't love a good party at the beach," he said with a laugh. "But aside from that, it is something that appeals to the whole family."
The Alabama Gulf Coast has long been successful at capturing the family demographic. It appeals to an entirely different demographic set than the gaming-heavy tourism to the west in Mississippi and the more party-oriented demographic that the Florida beaches appeal to.
It has done that by mixing new offerings in food and entertainment with favorites. Rodriguez points to a popular regional band called the Tip Tops. It wouldn't be a Shrimp Festival without them. And you'll always be able to find one of the favorite festival food dishes, the Cajun Pistol. But organizers make sure there are new acts and new dishes as well.
As always, the festival will center on Gulf Shores' public beach access at the intersection of Alabama highways 59 and 182. Festival hours will be from 10 a.m. to 10 p.m. Thursday-Saturday and 10 a.m. to 5 p.m. Sunday. There is no admission charge.
This year's festival will feature more than 30 bands on two stages. Music will range from '80s rock to contemporary country and light soul.
More than 300 vendors will offer everything from outdoors equipment to fine arts and food. There will also be a children's activity village. Shuttles will run from outlying areas to the festival grounds about every 15 minutes, and people can ride for $5 per passenger all day.
For specifics about music schedules, shuttle drop-offs and other information, visit www.myshrimpfest.com