These pimiento cheese hush puppies, y'all, are amazing. Seriously. The pimiento cheese spread gives them the perfect pop of flavor and cheesy deliciousness. And while I grew up having hush puppies at fish fries and with seafood, they're seriously perfect for just about any meal where you'd serve regular cornbread.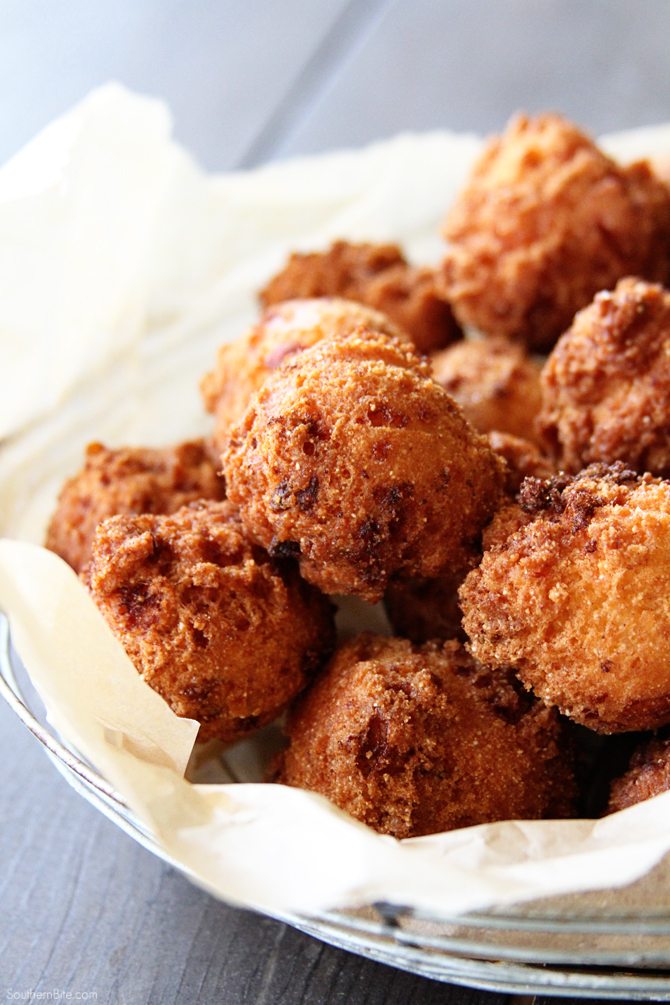 Here's another idea, too! If you like your hush puppies a little sweeter, you can opt for the Price*s Original Pimiento Cheese Spread rather than the Southern Style. The original is a good bit sweeter so your hush puppy will have a sweeter flavor. It's totally up to you. They're both delicious!
A few tips: Be sure to fry in batches of no more than five or so. Trying to fry too many will result in the oil temp dropping and greasy hush puppies. I usually start by cooking just one to test my oil temp and cook time. I love to use a tablespoon cookie scoop to make the "dropping" process easier. If you don't have one, dipping a spoon into a glass of water between each hush puppy will help keep the dough from sticking. If you find the hush puppies raw in the middle, try using less dough for each one.
Pimiento Cheese Hush Puppies
Makes about two dozen
Prep time: 10 minutes
Cook time: 6 minutes
Total time: 16 minutes
Ingredients
vegetable oil or peanut oil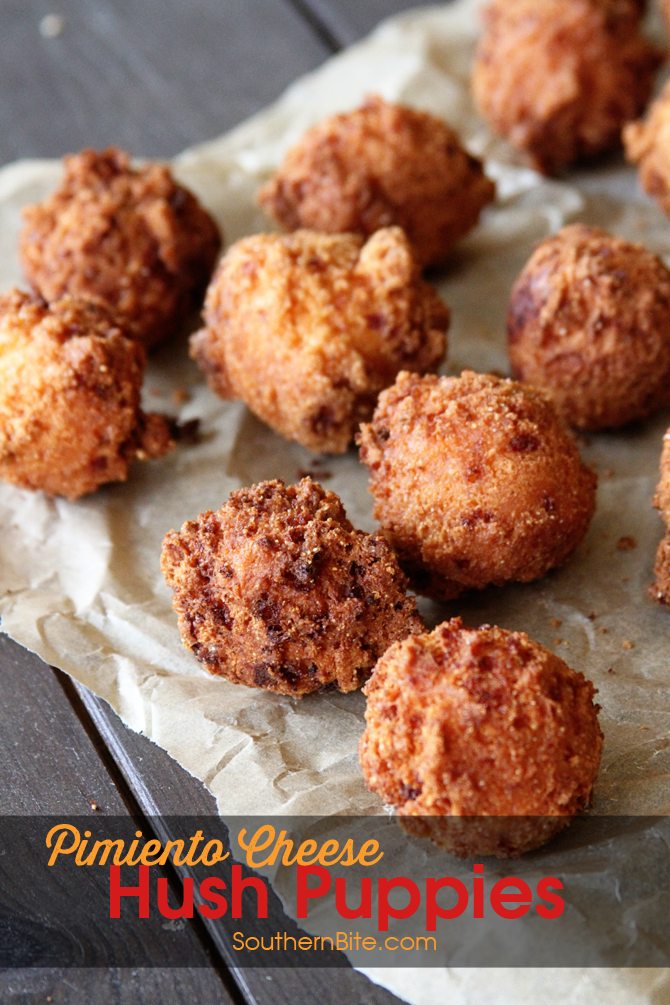 1½ cups self-rising cornmeal
½ cup self-rising flour
1 teaspoon garlic salt
½ cup buttermilk
1 egg, lightly beaten
1 cup Price*s Southern Style Pimiento Cheese Spread (or Price*s Original Pimento Cheese Spread – if you like them sweeter)
Instructions
Pour 3 to 4 inches of oil into the bottom of a heavy bottomed pot or Dutch oven. Heat to the oil 350 degrees.
In a bowl, stir together the cornmeal, flour, and garlic salt. Stir in the buttermilk and egg. Mix to combine. Add the pimiento cheese and mix well.
Once the oil is heated, carefully drop by heaping tablespoons full into the oil. Fry for about 3 minutes then flip to the other side. Cook for an additional 3 minutes or until golden brown and cooked through. Drain on paper towels.
This recipe originally appeared on SouthernBite.com. For more great recipes, visit the website or check out The Southern Bite Cookbook.