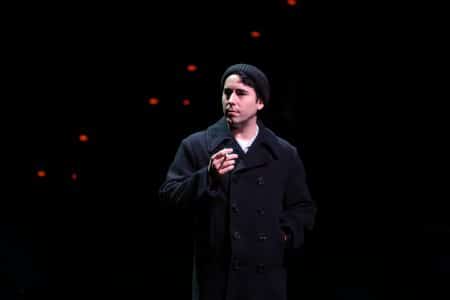 There are some who might be surprised that John Lloyd Young, a Tony Award-winner for singing songs such as "Walk Like a Man" and "Sherry" as Frankie Valli in the Broadway smash "Jersey Boys," is now starring in "The Glass Menagerie" at the Alabama Shakespeare Festival.
But for Young, it's almost like coming home. It certainly is fulfilling a dream.
"I lived here two times," says the actor, whose father was stationed at Montgomery's Maxwell Air Force Base. "I was here as a toddler, so I have sketchy, early memories of Alabama, but I was also here as a middle school student."
And it was during that time that a 13-year-old Young visited ASF.
"When I saw shows at the Shakespeare theater, it was only 5 years old, and it's as beautiful now as it was then," he says. "It was breathtaking, especially to a teenage boy interested in theater."
While in middle school, Young auditioned for a production of "A Christmas Carol" at ASF. He didn't get the job, but he recently finished rehearsing "The Glass Menagerie," co-starring ASF favorite Greta Lambert, in the same studio where he auditioned.
So how does one of Broadway's "Jersey Boys" (he also played Valli in Clint Eastwood's movie adaptation) end up on stage in Alabama doing Tennessee Williams?
"The director," Young says. "David Ellerstein is somebody I worked with pre-'Jersey Boys' years and years ago. Someone calls you with the idea of playing Tom in 'The Glass Menagerie' and you have time in your schedule to say yes, you do it. At this point, a classic role is not something you can do too often."
Young recalls studying Tennessee Williams while a student at Brown University.
"The fact that Tom is the most autobiographical character in his body of work also drew me to it," he says. "It was an irresistible challenge."
While mainstream theatergoers may know Young only for his singing, others, such as Ellerstein, know better.
"David knew me as an actor," Young says. "In fact, I was doing a role in a play for him when the 'Jersey Boys' casting people found me. I wasn't singing at all in that role."
That was just a few years after Young graduated from college.
"In a way, it was kind of a delightful interruption in the kind of pattern people usually take," he says. "Oftentimes, you have an extensive resume of regional theater, and then you graduate to Broadway. In my case, I was in the middle of still trying to land exciting regional roles when I got sort of waylaid by 'Jersey Boys' …Now's a natural time to go back and pick up some of those great regional theater roles I might have done back then."
And one of those is Tom Wingfield, son of Amanda and sister of Laura in "The Glass Menagerie."
"I actually feel real gratitude that I get to go through the great motions actors go through in building up a character, especially one that's really well constructed and holds up over time," Young says. "I'm most excited to know that there will be young people in Alabama who have never seen a production of 'The Glass Menagerie' on stage in front of them."
There's no telling what's next for Young, who has an extensive concert career in addition to his acting.
"I heard Dick Van Dyke say a few years ago that he just went with the flow with his career, and that's why he enjoyed it so much. That's my ideal, too. If there's a great role on stage or screen, for me it's the character that's most interesting."
And, sometimes, the location helps, too.
"I dreamed of this place as a kid," Young says of ASF. "And now, here I am."
"The Glass Menagerie," at the Alabama Shakespeare Festival through Nov. 5. Call 334-271-5353 for tickets or more information.