Click here to view or print the entire monthly report compliments of the ACRE Corporate Cabinet.
Sales: According to the Gulf Coast Multiple Listing Service, Mobile-area residential sales totaled 369 units during September, a decrease of 8.7 percent from the same month last year. Total home sales in September 2016 were 404. Year-to-date sales in the area through September are down 1.7 percent from 2016. Two more resources to review: Quarterly Report and Annual Report.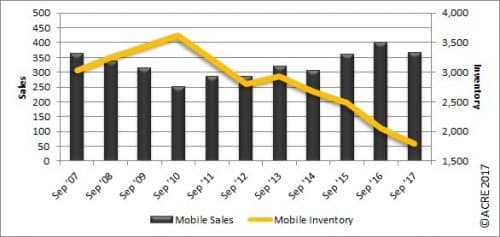 Forecast: September sales were 7 units or 1.93 percent above the Alabama Center for Real Estate's (ACRE) monthly forecast. ACRE's 2017 sales forecast through September projected 3,367 closed transactions, while the actual sales were 3,455 units.
Supply: The Mobile-area housing inventory in September was 1,792 units, a decrease of 12.9 percent from September 2016. Inventory has declined 50.5 percent from the September peak (3,617 units) reached in 2010. There were 4.9 months of housing supply last month (6 months represents a balanced market), down from 4.9 months in September 2016.
Demand: September sales decreased from August. Historical data indicate September sales, on average (2012-16), decrease from August by 5.6 percent.
Pricing: The Mobile-area median sales price in September was $146,500, an increase of 6.5 percent compared to the median sales price from last September. The September median sales price increased 3 percent when compared to August. Historical data indicate the September median sales prices typically decreased 6.1 percent from the month of August from 2012 through 2016. Pricing can fluctuate from month to month as the sample size of data is subject to seasonal buying patterns. ACRE highly recommends consulting with a local real estate professional to discuss prices, which can vary from neighborhood to neighborhood.
The Mobile Area Residential Monthly Report is developed in conjunction with the Mobile Area Association of Realtors to better serve Gulf Coast consumers.