The 76th McDonald's Magic City Classic presented by Coca-Cola will have some sure things when it kicks off at 2:30 p.m. Saturday at Birmingham's Legion Field.
It will include a Battle of the Bands at halftime, and it will have a crowd tailgating around the stadium on Graymont Avenue who will rival in number those who are inside.
But Alabama A&M coach James Spady can't be completely sure what his Bulldogs will face when they tangle with the Hornets of Alabama State.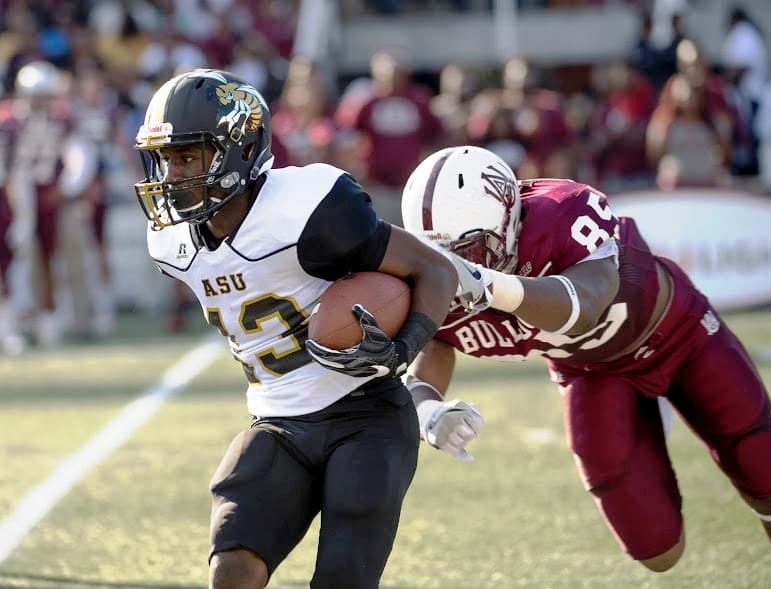 After a 0-5 start to the season, ASU head coach Brian Jenkins is out, replaced by interim head coach Donald Hill-Eley. That means nothing's going to be normal for the men from Normal, Ala.
"Coach Jenkins … set the tone. He set the philosophy of what he wanted to get done and what had been successful for him," Hill-Eley said. "I have to be able to insert myself defensively, offensively and (on) special teams so I can help those guys out with things that I see from my leadership role.
"You will see some different schematics," he continued. "You will see a difference in philosophy in the management of the game."
Spady is certainly taking note.
"Strategically, we're going to have to prepare for different leadership, maybe some differences in what they're going to do," he said. "That's where the challenges lie, but not in the game. The game stands on its own."
Each team is coming off a bye last week. ASU is 1-5 and A&M, after opening 0-3, is 3-4. And, Spady said, its dreams of a Southwestern Athletic Conference title are still in focus.
The Bulldogs are 3-1 in the East Division, and after a 41-14 loss last week to Grambling State, so is Alcorn State.
"They still have to play us and they still have to play whatever other teams they have on their schedule," Spady said. "If we can continue to win, to be successful, yeah, we've got a chance."
Missed opportunity
UAB missed a golden opportunity to draw within a game of bowl eligibility with its 1-point overtime loss to previously winless Charlotte. Now the Blazers must move on, which begins with a 6 p.m. game Saturday in Hattiesburg, Miss.
"We have a huge game this week at Southern Miss, a traditional rival," coach Bill Clark said. "They are playing great and they had a monstrous win over Louisiana Tech. It's just another conference game and everyone in this conference is playing great."
Southern Miss is 5-2 overall and 3-1 in the league. UAB is 4-3, 2-2.
Alabama and Auburn both have bye weeks.
In other college action:
South Alabama at Georgia State: The Jaguars (3-4) followed their upset of Troy with a homecoming win over Louisiana-Monroe. Now they face the Panthers at 6:30 p.m. Thursday on ESPNU
Georgia Southern at Troy: The Trojans (5-2) face the Eagles at 2:30 p.m. for homecoming.
Chattanooga at Samford: For the first time since 1993, the Bulldogs moved into the top 10 of the FCS national polls. Coach Chris Hatcher's team is ranked eighth in the FCS Coaches poll and ninth in the STATS FCS poll. The highest ranking in program history came in 1992 when the team reached the No. 3 spot. Last week, Samford was ranked 14th in the Coaches poll and 16th in the STATS poll, but moved up after earning a 24-21 win at then-fifth-ranked Wofford. Kickoff Saturday is at 2 p.m.
Clark Atlanta at Miles: Coach Reginald Ruffin's squad is 5-3 overall and 3-1 in the Southern Intercollegiate Athletic Conference. The Golden Bears play their third straight home game Saturday at 6 p.m.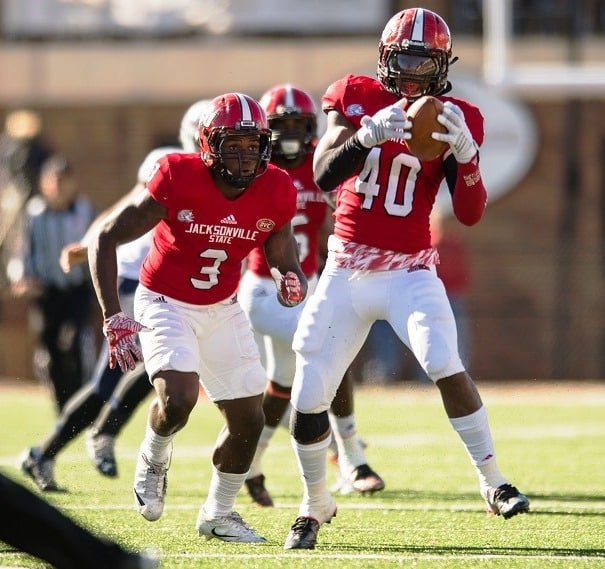 Southeast Missouri  at Jacksonville State: For the third straight week, the Gamecocks (6-1, 4-0 Ohio Valley Conference) are No. 3 in the FCS Coaches Poll and the STATS FCS Top 25. Their homecoming game kicks off at 3 p.m.
Delta State at North Alabama: The Lions (3-4) are back home after splitting a pair of road games. Kickoff Saturday is at 6 p.m.
West Florida at West Alabama: The Tigers (6-2 overall and 5-1 in the Gulf South Conference) host the Argonauts at 4 p.m. UWA ranks No. 25 in the American College Football Coaches NCAA Division II Poll.
Central State at Tuskegee: It's homecoming for the Golden Tigers (6-2 overall and 4-0 in the SIAC). They will honor the 1967 and 2007 Tuskegee football teams, coaches and managers. Several members of the undefeated, once-tied Golden Tigers of 1967 and the 2007 Sheridan Broadcasting Network (SBN) Black College National Championship teams will be recognized prior to their 1 p.m. kickoff.
Berry at Birmingham-Southern: The Panthers ended their five-game losing streak last week by outlasting Austin 31-24. BSC (2-5) will look to create its first winning streak of 2017 as it hosts the Vikings at 2 p.m.
Huntingdon at Greensboro: The 6-1 Hawks have to hope they didn't lose their mojo during their off week. Since a season-opening setback, they have been undefeated. They aim to continue that string of success at noon Central.
HIGH SCHOOLS
Class 7A: Talk about a clash of Titans. Perennial power Hoover (7-1 overall and 6-0 in Region 3) is ranked No. 2 in the latest Alabama Sports Writers Association poll. The Bucs host the third-ranked Thompson Warriors, who are 8-0 and 6-0 in Region 3. The region title will be settled here, but each team has already secured its berth in the playoffs.
Class 6A: No. 7 Clay-Chalkville hosts No. 8 Park Crossings.
Class 5A: Region 6 could be settled when Mortimer Jordan (6-2 overall, 5-0 in the region) plays at Hayden (4-4, 4-1).
Class 4A: Wilson hosts Rogers in Region 8. Each is 8-0 overall and 5-0 in the region. Fasten your seatbelts.
Class 3A: Region 2 has a battle at the top with Wicksburg (7-1, 5-1) hosting Geneva (6-2, 4-2).
Class 2A: No. 2 Lannett entertains No. 3 LaFayette.
Class 1A: No. 8 Houston County travels to No. 2 Georgiana.
AISA: No. 4 Escambia is at No. 9 Bessemer Academy.