WATCH OUT: Dense fog formed across much of the area overnight as skies cleared above a moist air mass. Visibilities were restricted to near zero in spots, and spectators had trouble seeing the football plays at some high school games last night in north Alabama. Visibilities will continue to be reduced in spots across the area until mid-morning.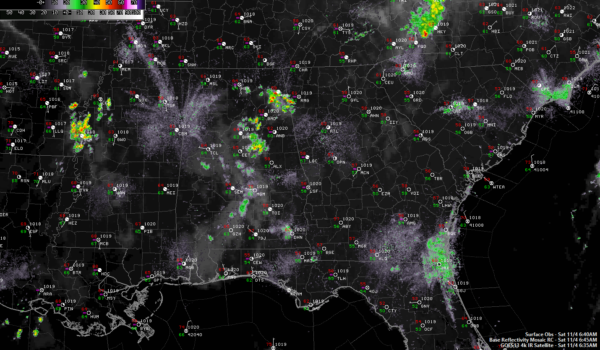 DISTURBED FLOW: Alabama has been in a mainly zonal flow for most of the week, but that flow has been messy, with upper-level disturbances since Wednesday. Those disturbances have managed to produce a few rounds of showers at times. One disturbance triggered a cluster of storms across Arkansas and Mississippi during the afternoon and evening yesterday, but it began to weaken as it approached west Alabama. It also made a southeasterly turn in a flow that was veering to northwesterly overnight. A couple of other storms managed to form in the slightly unstable air mass across north central Alabama during the evening, with some of them producing lightning.
FOR YOUR SATURDAY: if you still have clear skies this morning, you can't tell, because you probably have fog. If you got rain late last night, you probably have cloudy skies, so most everyone is getting off to a gray start. It will still be fairly warm and humid today, and daytime heating could trigger a few more showers and storms, mainly for areas south and east of I-59. Highs will be in the upper 70s across north central Alabama, with near 80 to lower 80s across south central Alabama. Showers should die out by sunset for the most part, although a rogue shower can't be ruled out into the evening.
FOOTBALL FORECAST: Alabama will host LSU tonight (kickoff at 7) at Bryant Denny Stadium in Tuscaloosa. The sky will be mostly cloudy with just the chance of a brief shower during the game. Temperatures will be about 75 degrees at kickoff and in the upper 60s by the fourth quarter.
Auburn is on the road, traveling to College Station, Texas, to take on Texas A&M this morning (kickoff at 11). The weather will be warm and dry. The sky will be partly to mostly cloudy, and temperatures will rise from near 80 at kickoff into the mid 80s by the final whistle.
UAB will host the Rice Owls today at Legion Field (kickoff at 2). The sky will be occasionally cloudy, and a brief passing shower is possible during the game. It will be a warm day, with temperatures close to 80 at kickoff, falling back into the 70s by the fourth quarter.
RIDGING RETURNS: The ridging to our west that prompted the shift to a northwesterly flow aloft last night will shift across Alabama over the next couple of days. This will put the kibosh on showers and allow the mercury to warm into the 80s on Sunday and Monday afternoons.
FRONT UP NEXT: By Tuesday, a cold front will be approaching Alabama. Clouds will begin to increase, but it will still be warm, with highs generally in the upper 70s to near 80. Showers and storms will push through Tuesday night into early Wednesday. Severe weather does not look likely. Cooler temperatures will arrive behind the front, with highs on Wednesday limited to the 60s.
ANOTHER DISTURBANCE: It looks like another disturbance could produce a round of rain Wednesday night into Thursday. Highs on Thursday might not get out of the 50s.
CLEARING FOR THE WEEKEND: A large high-pressure system will set up over the Ohio Valley in time for Friday and next weekend. Highs will be in the 60s.
TROPICS: There is a weak disturbance about 1,000 miles southeast of Bermuda. It has a very small chance of developing into a tropical cyclone as it moves northward over the next couple of days.
GULF COAST WEATHER: Nice-looking week ahead along the beautiful beaches of Alabama and northwest Florida. It should be mainly dry, except for a few showers on Thursday as that disturbance passes. Highs will be in the 80s through Tuesday, dropping back into the 70s for the rest of the week. Lows will be in the 60s until the front passes on Wednesday, dropping them back into the 50s by the weekend. Click here to see the Beach Forecast Center page.
WEATHERBRAINS: Check out the weekly netcast that's all about the weather at www.WeatherBrains.com. You can also subscribe on iTunes. You can watch the show live at live.bigbrainsmedia.com. You will be able to see the show on the James Spann 24×7 weather channel on cable or directly over the air on the dot 2 feed.
ON THIS DATE IN 1935: The "Yankee" Hurricane hit Miami. The storm was so-named because it came from a northeasterly direction. This was rare, because hurricanes almost never approach south Florida from the northeast. The wind speed exceeded 95 mph at Miami. Following on the heels of the Labor Day storm, warnings for this hurricane came much earlier while the storm was still far at sea. Follow my weather history tweets on Twitter. I am @wxhistorian at Twitter.co
For more weather news and information from Bill Murray, James Spann and other members of the Spann team, visit AlabamaWx.