Gus Malzahn said his Auburn Tigers have gone through tough times during the 2017 season.
"When you go through tough times, you either take the next step forward or you take the next step below," he said. "Our team, they took the next step. Last week, we overcame adversity in a positive way. That's going to be really big moving forward and it's going to be big Saturday."
Saturday, Auburn welcomes Georgia, the top-ranked team in the College Football Playoff rankings, in a 2:30 p.m. game on the Plains on CBS.
With losses to Clemson and LSU, the Tigers are the highest-ranked two-loss team in the CFP at No. 10. They are still in contention for the SEC West and SEC championships, and have a shot of making the final four in the playoff. Georgia is 9-0 for the first time since 1982.
"Our goal is to win the SEC Championship and it has been since Day 1," Malzahn said. "This is the next step and it's a great opportunity for us. We're not looking any further ahead than Saturday, but this is a game we've been looking forward to, and it's here."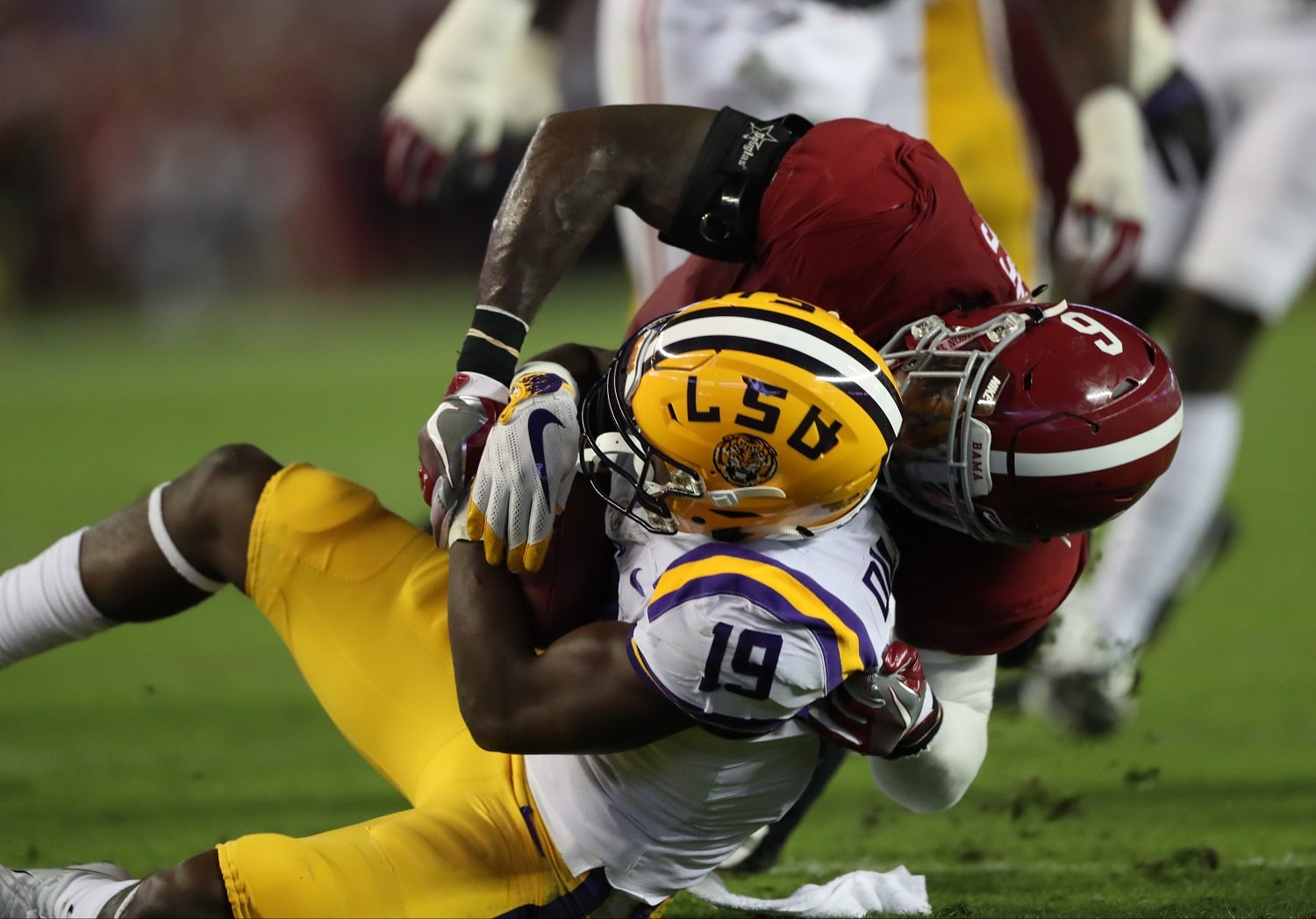 Alabama, No. 2 in the CFP ranking, is headed to Starkville for a 6 p.m. meeting with CFP No. 18 Mississippi State on ESPN. Bulldogs quarterback Nick Fitzgerald provides a significant challenge.
"Basically, you're playing against a wildcat every snap," Nick Saban said. "Any of these guys that are athletic enough to … execute quarterback runs and do it with a level of toughness that is equal to a running back and they're able to make plays in the passing game, these kind of guys create a lot of problems for everybody on defense."
UAB has reached bowl eligibility, but the Blazers are hungry for more as they get set for their 6 p.m. Saturday game at Texas-San Antonio.
"This is an unbelievable deal," coach Bill Clark said after his team's 52-21 win over Rice. "But we're not satisfied. Immediately, Tevin Crews got up and said, 'We've got three games left.' It's all about being 1-0 the next week. I think their heads are where they need to be."
UAB (6-3 overall and 4-2 in Conference USA) is a game behind North Texas (6-3, 5-1) for the lead in the CUSA West Division.
In other college action:
Jacksonville State at UT Martin: The Gamecocks (8-1, 6-0 Ohio Valley Conference) rose to No. 2 in the STATS FCS Top 25 and the FCS Coaches Poll after last Saturday's 59-23 win over Murray State at Burgess-Snow Field. That is the highest ranking for JSU this season and the highest since entering the 2016 playoffs ranked No. 2.
"We have to go on the road to face a really tough UT Martin team that lost to Murray State and Austin Peay early, and both of those games were really close games," coach John Grass said. "They could be sitting at 7-1 or 8-2 coming in to this game, and they were picked second in this conference and they are still that team to us."
Kickoff is at 2 p.m.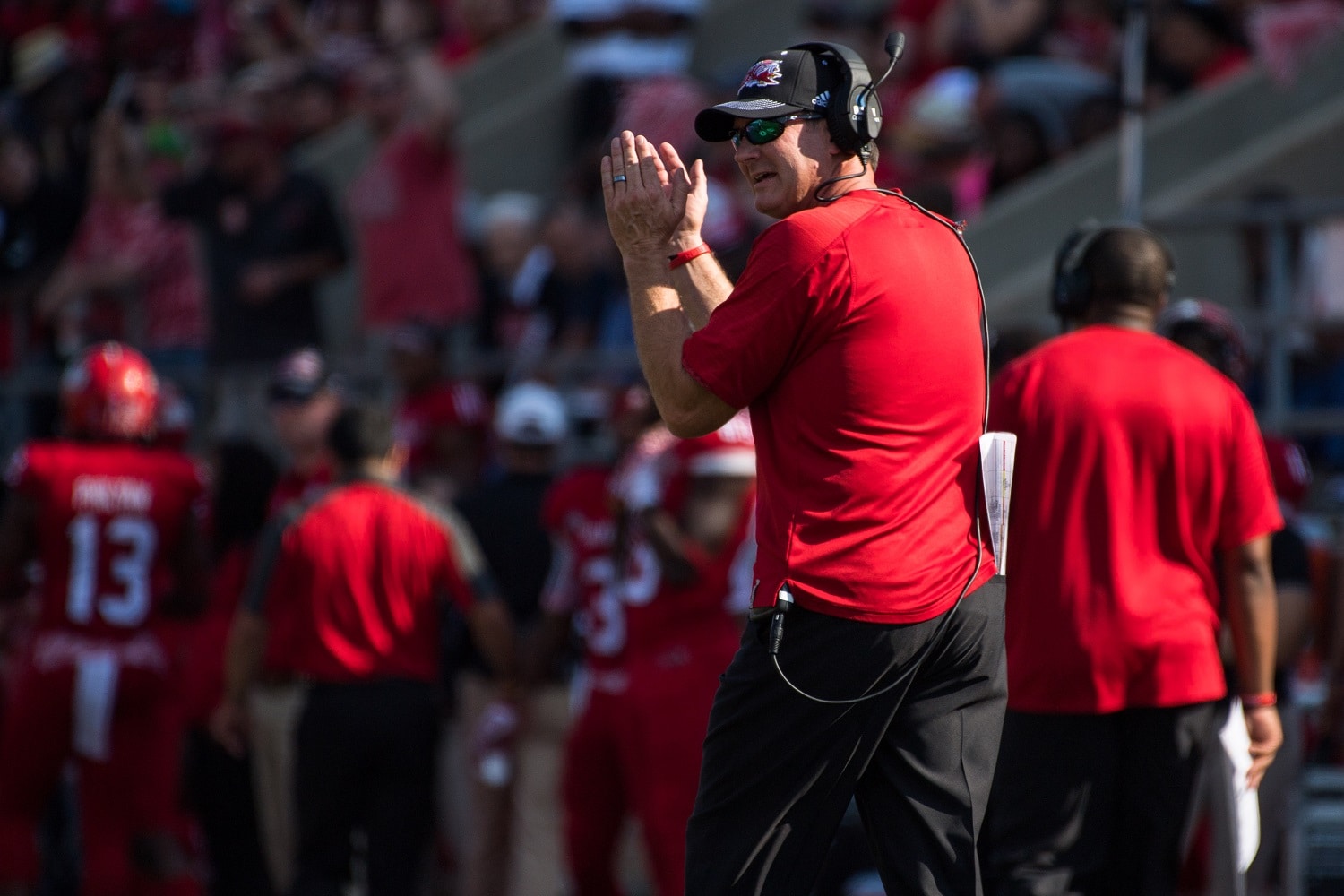 Tuskegee at Fort Valley State: The Golden Tigers (8-2, 6-0 in the Southern Intercollegiate Athletic Conference) last faced Fort Valley State (5-4, 5-1) in 2014. The two schools will reunite at 1 p.m. Central Saturday in the 2017 SIAC Football Championship game inside Wildcat Stadium. This is Tuskegee's first appearance in the championship game since a 47-41 win over Albany State three years ago. Dating back to the 2000 season, Tuskegee has won 13 of the past 15 meetings with the Wildcats, including the most recent, a 35-28 thriller played at Cleve Abbott Memorial Stadium. TU leads the overall series record 31-20-2. FVSU enters as the defending league champion.
East Tennessee State at Samford:  Coach Chris Hatcher's Bulldogs are ranked 14th in the Coaches Poll and 16th in the STATS Poll. They host the Bucs for homecoming on Saturday at 2 p.m. at Seibert Stadium. Samford is 6-3 overall and 4-2 in Southern Conference play.
Troy at Coastal Carolina: Coach Neal Brown said his Trojans don't handle success very well.
"Now we're in the midst of a three-game winning streak and we have to be locked in," he said this week. "What happens down the road, we have little control over. All we can control is our preparation of our body and our mind this week."
Troy (7-2 overall) is 4-1 in the Sun Belt Conference and in a three-way tie for second behind Arkansas State (5-2, 4-0). Kickoff on Saturday is 3:30 p.m. Central.
North Greenville at West Alabama: The Gulf South Conference champion Tigers (8-2 overall) face the visiting Crusaders at 2 p.m.
Mississippi College at North Alabama: The Lions (4-5) close the season at 1:30 p.m. Saturday.
Grambling State at Alabama State: The resurgent Hornets (3-5) are undefeated under interim head coach Donald Hill-Eley. They are second in the Southwest Athletic Conference's East Division at 3-2, behind 4-1 Alcorn State. Next up are the Tigers, leaders of the SWAC West at 8-1 overall and 5-0 in the league, at 2 p.m. Saturday.
Jackson State at Alabama A&M: The Bulldogs kick off at 1 p.m. on High School Senior Day.
Arkansas State at South Alabama: The Jaguars (3-6) host their Hall of Fame Game at 4 p.m. Saturday.
Huntingdon at LaGrange: The Hawks (8-1) haven't tasted defeat since their season opener. Kickoff Saturday is at noon.
Birmingham-Southern at Centre: The Panthers (3-6) will try to win their second game in a row for the first time this season at 12:30 p.m. Central.
HIGH SCHOOLS
7A: Sparkman travels to the Hoover Met to take on Hoover, ranked No. 6 in the latest Alabama Sports Writers Association poll, in the first round of the Alabama High School Athletic Association playoffs. Each team is 7-3.
6A: Daphne (8-2) hosts No. 8 Opelika (7-3).
5A: Alexandria (8-2) heads to No. 4 Wenonah (8-1) tonight.
4A: Leeds (7-3) travels to Mobile to take on No. 5 UMS-Wright (8-2).
3A: No. 7 Ohatchee (8-2) plays at Sylvania (9-1).
2A: Ranburne (4-6) squares off with Tarrant (7-2) tonight at Center Point High School.
1A: No. 6 Pickens County (8-2) plays host to Meek (7-3) in Reform.
AISA: Bessemer Academy plays at No. 5 Tuscaloosa Academy in the second round of the AISA playoffs.