Y'all know I'm all about quick, easy, no-fuss cooking. So it frustrates me to see folks making things way more complicated than they have to be. I saw a post last week where someone was talking about how you can spread peanut butter between two sheets of plastic wrap and then freeze it and cut it into squares so it's easier to make peanut butter and jelly sandwiches with it. Well, as far as I'm concerned, that's just too much sugar for a dime. (Have y'all ever heard that expression?)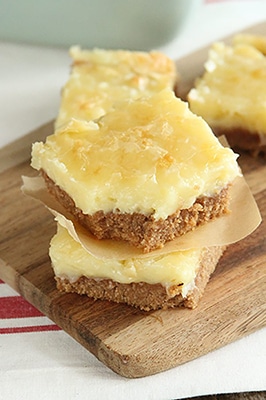 The same goes for creating recipes. Often, we try to come up with something new and different and get things all complicated, when something tried and true with a new spin is all we need.
This Ooey Gooey Autumn Spice Cake is the perfect example. There's absolutely nothing new or groundbreaking about it. It's a standard Ooey Gooey Butter Cake recipe made with a spice cake mix rather than yellow or butter cake mix. But you know what it is? It's absolutely delicious! Like, seriously delicious. Like "I'm gonna eat three pieces" delicious. And, yes, I did eat three pieces. And no, I didn't go to the gym afterwards. And I'm OK with that.
If you love the ooey gooey-ness of the classic recipe and the warm spicy flavors of fall, chances are you're going to love this. Y'all enjoy!
Ooey Gooey Autumn Spice Cake
Prep time: 15 minutes
Cook time: 50 minutes
Total time: 1 hour 5 minutes
Serves: 20 servings
Ingredients
For the crust:
1 (15.25-ounce) box spice cake mix
½ cup unsalted butter (1 stick), melted
1 egg
For the filling:
1 (8-ounce) block cream cheese, softened
2 eggs
½ cup unsalted butter (1 stick), melted
4 cups powdered sugar
1 teaspoon vanilla extract
Instructions
Preheat the oven to 350°F and lightly spray a 13×9-inch baking dish with nonstick cooking spray.
In a large bowl, stir the cake mix, melted butter and egg together to make the crust. Press the mixture evenly into the bottom of the pan.
In another large bowl, use a mixer to beat the cream cheese until smooth. Add the eggs and mix well. Add the butter and mix well. Gradually add the powdered sugar and mix until combined. Mix in the vanilla. Pour the filling mixture over the crust.
Bake for 40 to 50 minutes or until the edges are just firm but the middle is still jiggly. Cool completely before slicing into squares.
This recipe originally appeared on SouthernBite.com. For more great recipes, visit the website or check out The Southern Bite Cookbook.