After I posted a question on Facebook to ask what your must-have Thanksgiving sides are, I posted that mine is cornbread dressing. Several folks asked for my family recipe. I jumped over to the blog to grab my recipe only to realize that I've actually never shared my recipe. I've got a recipe for Bacon Mushroom Cornbread Dressing, but have never posted the simple and easy recipe my family uses year after year. So, please excuse my error and take a gander at this.
This is the recipe my family has used forever. It's simple, easy, calls for just a few ingredients and in keeping with my family's particular tradition, doesn't include any sage. Now, if you just have to have sage in there, just add it. No biggie.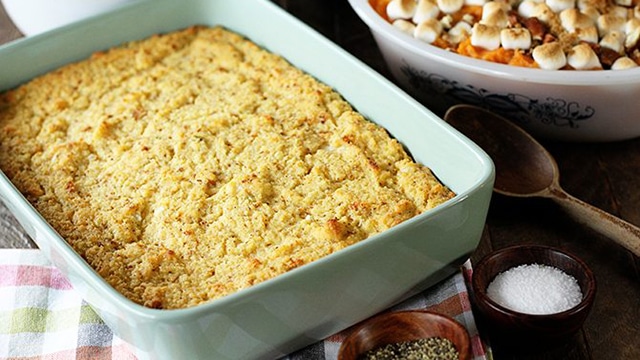 And because getting the consistency right before you bake it is really important for the texture of the finished product, I even included the cornbread recipe we use to make the dressing. It's really no fail using these two recipes.
A couple things to keep in mind:
The mixture should seem pretty soupy when your pour it into the baking dish. If it's not, it's going to end up dry. Add more broth if you think you need it.
Don't like onions? Feel free to leave them out. Want the flavor of onion without the crunch? Just run them through the food chopper or blender before adding them.
And when it comes to the salt and pepper, feel free to taste it and add it to your liking. Since there are no eggs in the recipe, there's no harm in grabbing a taste. It's actually one of my favorite things to do at Thanksgiving. I just love to grab a spoonful right before it goes into the oven. Y'all enjoy!
Southern Cornbread Dressing
Prep time: 10 mins 
Cook time: 45 mins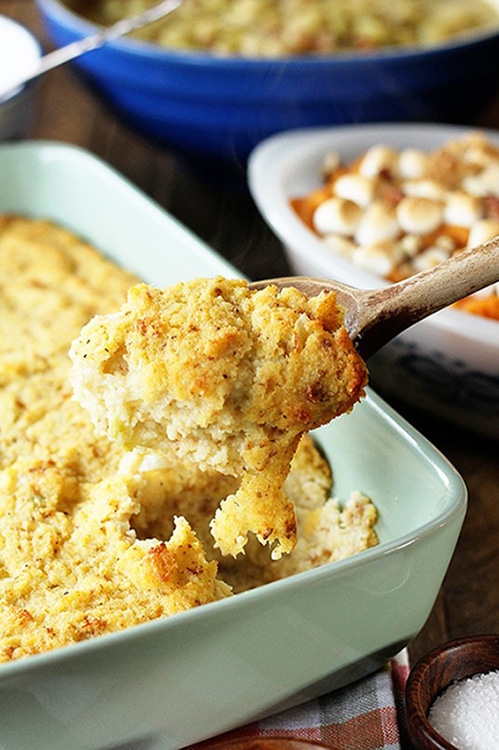 Total time: 55 mins
Serves: 6 to 8
Ingredients
7 cups crumbled cornbread (use recipe below)
1 (10½-ounce) can cream of celery soup
1 (10½-ounce) can cream of chicken soup
2 cups chicken broth
1 small onion, finely chopped
½ teaspoon salt
¼ teaspoon black pepper
Instructions
1. Preheat the oven to 350 degrees. Lightly spray a 13-by-9-inch baking dish with nonstick cooking spray.
2. In a large bowl, combine the cornbread, cream of celery soup, cream of chicken soup, broth, onions, salt and pepper. Pour the mixture into the baking dish. Cook uncovered for 30 to 45 minutes or until golden brown.
Easy Cornbread
Prep time: 10 mins
Cook time: 25 mins
Total time: 35 mins
Serves: About 8
Ingredients
2 cups self-rising cornmeal mix
1¾ cups buttermilk
1 egg
¼ cup vegetable oil, plus more for coating skillet
Instructions
1. Lightly coat a 9-inch cast-iron skillet with vegetable oil. Place the skillet in the oven and preheat the oven to 450 degrees.
2. Meanwhile, in a large bowl, combine the cornmeal mix, buttermilk, egg, and ¼ cup vegetable oil. Stir until smooth.
3.Once the oven has preheated, carefully remove the skillet and pour the batter into the skillet. Return to the oven and bake for 20 to 25 minutes or until golden brown.
This recipe originally appeared on SouthernBite.com. For more great recipes, visit the website or check out The Southern Bite Cookbook.