Click here to view or print the entire monthly report compliments of the Alabama Center for Real Estate Corporate Cabinet. Join the Center mailing list here.
Sales: Alabama home sales totaling 4,483 units during October were an increase of 9.2 percent from the same month a year ago. Year-to-date, 2017 sales remained 14.4 percent ahead of sales for the same period of the previous year. Two more resources to review: Quarterly Report and Annual Report.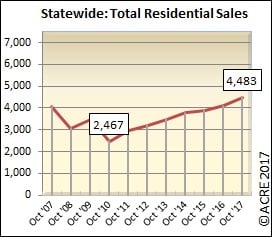 Forecast: October sales were 5.9 percent or 251 units above the Alabama Center for Real Estate's (ACRE) monthly forecast. ACRE's 2017 sales forecast through October projected 45,717 closed transactions, while the actual sales were 48,843 units.
Supply: The statewide housing inventory during October was 25,754, a decrease of 9.6 percent from October 2016 and 38.7 percent below the October peak in 2007 (42,039 units). There were 5.7 months of housing supply in October (6 months is considered equilibrium), which represents a drop of 17.2 percent from October 2016 (6.9 months).
October inventory decreased from September by 1.7 percent. This direction is consistent with historical data that indicate October inventory on average (2012-16) decreases from September by 1.6 percent.
Demand: October residential sales dropped 4.4 percent from September. Historical data indicate that October sales on average (2012-16) decrease from September by 6.9 percent. The average days on the market until a listing sold was 121 days, down 8.9 percent from last year. According to the National Association of Realtors October Existing Home Sales Report, October home sales were 2 percent higher than home sales during the same month in 2016.
Pricing: The October median sales price decreased 1.4 percent from the same period last year to $143,153. During October, 52 percent of Alabama markets experienced price gains from October 2016. This indicator can fluctuate from month to month because of sampling size of data and seasonal buying patterns. The October median sales price decreased 9.1 percent from September. This direction contrasts with historical data averages (2012-16) reflecting that the October median sales price increases 0.7 percent from September.
Seeking balance: The metro markets in Alabama representing 70 percent of all sales continued to trend toward greater seller bargaining power with 5.1 months of supply. Outside the metro markets, Alabama's midsized markets are reporting 6.2 months of supply, while rural areas are reporting 8 months of supply. There have been significant improvements from inventory peaks experienced during the recession. The supply of quality inventory in the past has affected sales, according to some boots-on-the-ground professionals.
Industry perspective:  "The first print of third-quarter economic growth showed surprising resiliency. The expected economic hit from the recent natural disasters either failed to materialize or was drowned out by business optimism," said Fannie Mae Chief Economist Doug Duncan. "Recent data showed a stronger pickup in domestic demand than anticipated, leading us to increase our growth forecast for the final quarter of this year and coming quarters. We also revised higher our 2018 growth forecast to 2 percent. Tax cuts, if enacted, present upside risk to our growth forecast for next year but could also lead to more aggressive Fed action. Housing still remains a drag on the economy, as shortages of labor and available lots, coupled with rising building material prices, further complicate existing inventory, affordability and sales challenges."
Click here to generate more graphs from the Alabama October Housing Report, including Total Sales, Average Sales Price, Days on the Market, Total Inventory and Months of Supply. 
The Alabama Residential Monthly Report is developed in conjunction with the Alabama Association of Realtors and its local associations.