It's Iron Bowl Saturday in Alabama, and you couldn't ask for much nicer weather for the Winner Take all Match in the SEC West in Auburn at 2:30 p.m. today. Skies will be partly cloudy to partly sunny for the game. Temperatures will start off in the upper 60s at kickoff and fall into the 50s by the end of the contest. Winds will be westerly turning to the northwest by the end of the game, averaging 4-6 mph.
Bill Murray: Iron Bowl weather will be nearly perfect from Alabama NewsCenter on Vimeo.
A few showers will show up later this morning over southern Tennesse, northern Mississippi and northern Alabama. Those showers should remain north of I-20 before they begin to break up around mid-afternoon.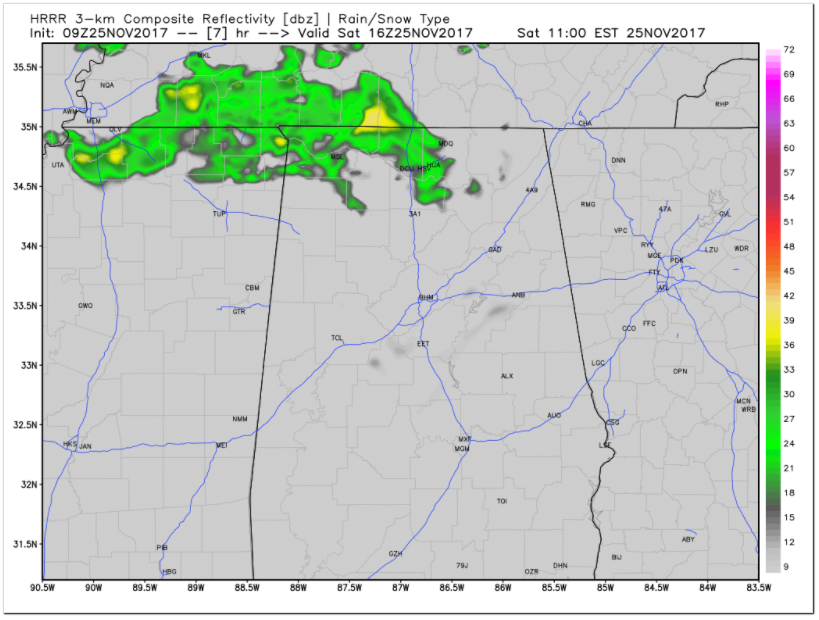 Back at Legion Field this afternoon, UAB is going bowling, but still has a big home finale with UTEP. Skies will be mostly cloudy at times, but it should be mainly dry. Can't rule out a rogue shower, however. Temperatures will start off in the middle 60s and fall to the 50s by the end of the game. Winds will shift from westerly to northwesterly at 4-6 mph.
The book ended busiest air travel day of the year will be nice for Alabama and much of the country. Our weather will be controlled by high pressure at the surface which will be building in behind the trough. Highs will be in the upper 50s to near 60F. Fair weather will continue through Tuesday with highs warming back into the lower and middle 60s. Lows will be in the upper 30s Sunday morning and middle 30s Monday morning.
As moisture begins to return on the back side of high pressure to our east by late Tuesday, showers will begin to pop up by Wednesday. We remain rather unsettled until a cold front comes through on Friday, with a few showers continuing in the forecast. We will be back in the 50s for the weekend, with fair skies.
The gentle temperature roller coaster will continue into the first week of December with highs in the 60s and lows in the 40s with another front around December 7th.
Out in Voodoo territory at the end of the 16-day model run, we see a wet weather system coming through the Southeast on Sunday night the 10th and Monday the 11th. Let's hope so. Drought conditions have crept back into western Alabama and short-term moisture needs are over two inches now across most of the area.
For more weather news and information from Bill Murray and the rest of the James Spann weather team, visit Alabama Wx.