Bill Clark and four of his football players stepped onto the court of Bartow Arena Sunday afternoon as the rest of the gridiron squad looked on from the stands.
The men's basketball game was late in the first half when Shaq Jones, Tevin Crews, Jordan Petty, Zach Sims and their coach received a standing ovation from the fans. They – and the football Blazers – would get more.
They would learn where the football team will go bowling.
Everybody knew the UAB football story: How the football, bowling and rifle programs were shut down after the 2014 season in a cost-cutting move. They knew that a grassroots campaign that yielded a flood of financial support from fans and the community brought back those programs.
And they knew that the Blazers surpassed their wildest dreams by becoming eligible for a bowl and then earning a school-record eighth victory to end their regular season on Saturday with a 28-7 win over Texas-El Paso.
Sunday, as Clark, his players and the Bartow Arena audience looked on, ESPN's Marty Smith narrated a video that revealed the football team's bowl destination. Clark and company are heading to the Bahamas Bowl on Dec. 22 to take on Ohio University.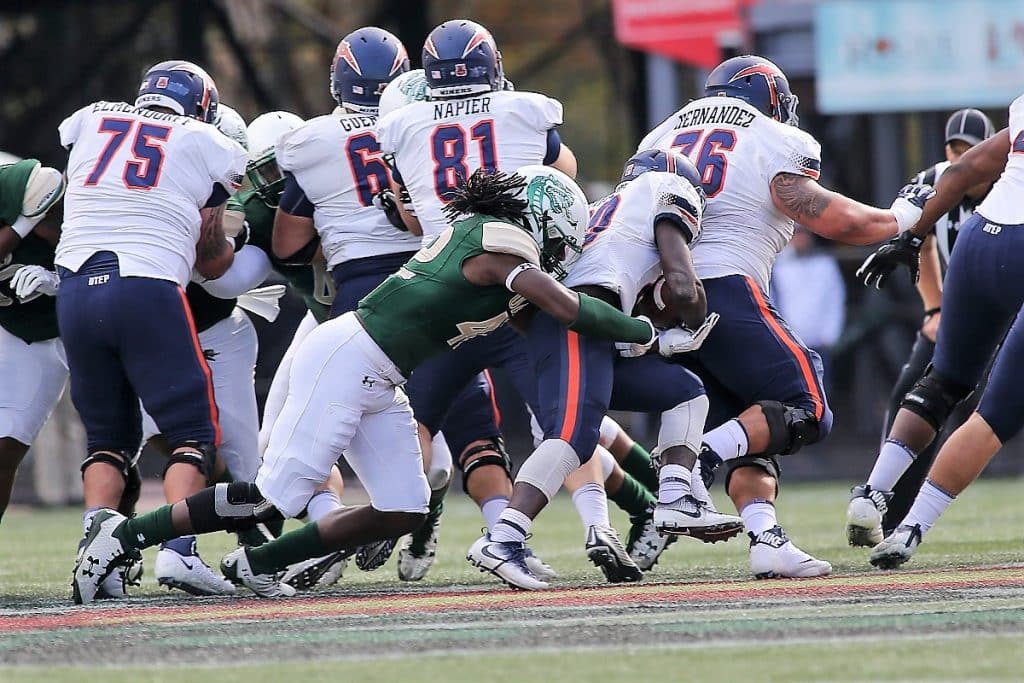 The game kicks off at 11:30 a.m. and is on ESPN.
"We were just wanting to know," Clark said at halftime. "We were all just interested and excited about it. We didn't really know where we were going. We wanted (the football team) to see it and be recognized together."
The coach expected success when the "return" season began, just not this much.
"We had high expectations," Clark said. "Starting over and all those things, we knew it was going to be tough. To get to this point, hat's off to the coaches and the players for all the hard work they put in."
The Blazers and Bobcats are both 8-4 but Clark really didn't care who his team plays in its bowl game.
"I really don't," he said. "I really have not even thought about an opponent. That'll happen later when we start worrying about them."
This will be just the second time UAB has gone to a bowl game. The Blazers fell 59-40 to Hawaii in the Hawaii Bowl on Christmas Eve 2004.
UAB was 6-6 in 2014 but the program was shut down after that regular season.
The 2017 football Blazers also won in the stands as they led Conference USA in attendance with 437,475 in five home games, an average of 28,749. Second-place Texas-San Antonio had 114,104 in five home contests, averaging 22,821.