At one time, there were enough Christmas tree farms in Lee, Chambers and Russell counties to have an East Alabama Christmas Tree Association.
"When I started 30 years ago, there were 22 farms in this area," said Ray Gilbert, president of the Southern Christmas Tree Association. "Of those 22, I'm the only one left."
During the 1980s, Christmas tree farms were in vogue for landowners with small parcels who wanted a part-time income. Their numbers have thinned rapidly in recent years, but there's no indication that Christmas tree farming will disappear in Alabama or nationwide.
"The number of farms has dwindled, so there are probably less trees sold than there were 20 years ago," Gilbert said. "But the market has stabilized and the farms that are left are doing pretty good."
Christmas tree farms an evergreen tradition for many families from Alabama NewsCenter on Vimeo.
Festive tradition
For many families, getting a Christmas tree at a tree farm is part of a family tradition. Dressed in a Santa Claus hat and Christmas sweat shirt, Cason Jordan held his daughter, Kayleigh, also dressed in Christmas clothes. They watched as employees of Murphy's Christmas Tree Farm in Tuscaloosa County cut their tree.
"We come out every year to get a tree," Jordan said. "We dress up to make it festive for her and make it festive for ourselves."
That's part of what has kept Wayne Murphy, owner of Murphy's Christmas Tree Farm, in business for 30 years.
"Christmas tree customers are different individuals," Murphy said. "They come out and bring their families. The kids are running through the field. They're happy. Things like that really keep me going. It's the only business I know where you're making families happy."
That's not true just for families with young children. Melissa and Mike Daugherty of Tuscaloosa brought their 18-year-old daughter, Tayler, who was home on her Thanksgiving break from Ole Miss, to Murphy's to pick out a tree. It's their third year in a row to come to the farm.
"We like coming out as a family, walking around and picking a tree out together," Melissa Daugherty said. "And the gentleman who owns it, Mr. Murphy, is so nice."
"It's a tradition," Tayler said.
Factors in decline
The downward trend in Christmas tree farm numbers started in earnest about 10 years ago, said Doug Hundley, spokesman for the National Christmas Tree Association. Tree sales dropped during the Great Recession that started in 2007. That coincided with an oversupply of trees, which caused growers to cut back on the number of trees they planted.
The oversupply mainly hurt tree wholesalers, the growers who sell to retailers, not Christmas tree farms that sell directly to the public, Hundley said.
"People who were in retailing, their customers don't know there's an oversupply of trees," Hundley said. "But retailers know there's an oversupply and they start bringing their prices down."
In addition, big box stores entered the Christmas tree market, further depressing the price, Hundley said. Those factors combined to cause tree farmers to get out of the business or cut back on production.
That culminated in a shortage of trees coming out of North Carolina and Virginia, which provide a large number of trees to the Alabama market. Growers like Gilbert sometimes buy North Carolina Fraser firs to supplement the Leland cypress that is the mainstay of the Alabama market.
But there are other factors in play as well. Murphy enjoys the business and wants to continue for as long as he can. But at age 65, he knows that's not going to be forever. His children have moved on to other careers and have no desire to operate the Christmas tree farm after he is gone.
"They like the seasonal things," Murphy said. "They like the Christmas tree farm and they like selling the trees. But they've told me they don't want to do the work."
Murphy's experience has been duplicated around the country and is a part of what's driving the downward trend in the number of Christmas tree farms, Hundley said.
"People got in tree farms in the 1960s, '70s and '80s, when they were in their 30s and 40s," Hundley said. "Now they're in their 60s and 70s. And their children aren't interested in taking over their farms. There's an aging-out process."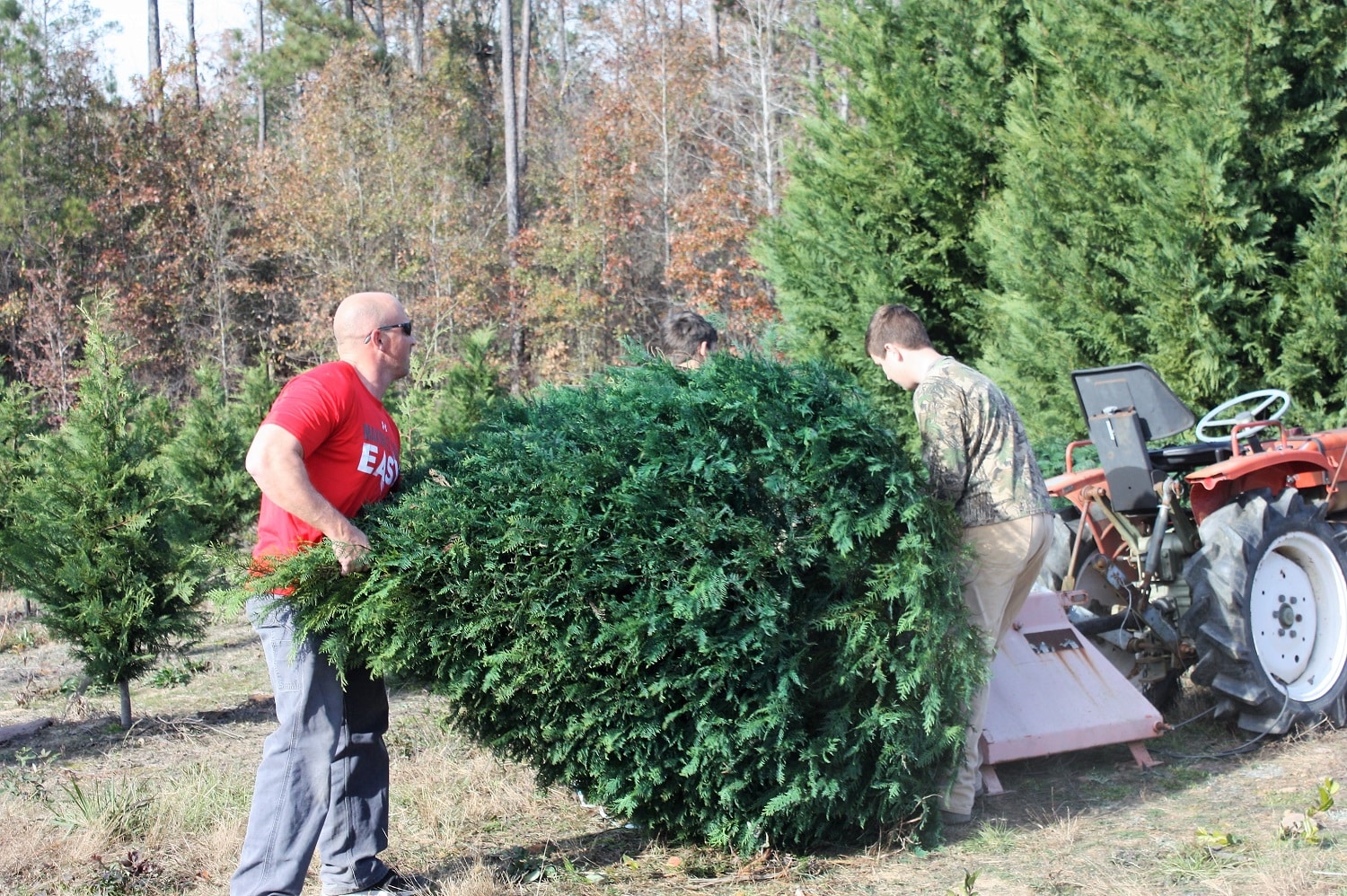 A year-round job
Murphy notes that some people got into the business thinking that it was a little bit of seasonal work that would help earn them a quick buck. That's not the case.
"If I were to theorize, people don't realize the work that goes into it," Murphy said. "It's not a six-week thing. It's a year-round operation."
Murphy starts the year planting new trees to replace the trees he sells at Christmas. Throughout the rest of the year he sprays the trees to prevent disease, sprays herbicide to kill weeds and grass beneath the trees, and mows regularly.
To give the trees their shape, Murphy must trim by hand the hundreds of trees on his two farms. He does that three to four times a year depending on their growth rate.
"This is the fun time of the year," Gilbert said. "The part that's not fun is January through October. The fun part is when I'm selling trees and people are coming out and interested in trees. In the middle of July when you're trimming trees and it's hot, people say this is too much work. It is a lot of work. It's definitely not a get-rich-quick scheme."
Murphy agrees that it's hard work, but he also said it is rewarding.
"You don't make that much money," Murphy said. "But you have to have pride in it. You've got to love it."