James Spann: Dry, pleasant weather for Alabama today from Alabama NewsCenter on Vimeo.
MILD AFTERNOON: Temperatures are above freezing this morning across Alabama, and we project a high in the 67- to 70-degree range this afternoon. Mid- and high-level clouds will slowly increase thanks to a short wave approaching from the west, but the low levels will stay dry and we expect no rain today. Clouds will thicken tonight ahead of an approaching cold front.
SHOWERS RETURN TOMORROW: The day tomorrow will be mostly cloudy with a high in the 60s, and a few passing rain showers are likely. Nothing too heavy or widespread, but no doubt it should rain at least a time or two during the day. We're not expecting much thunder, if any, and rain amounts should be generally less than one-half inch.
FRIDAY THROUGH THE WEEKEND: The weather will be dry with partly sunny, mild days and fair, cool nights. Highs will be mostly in the 60s, lows mostly in the 40s.
FOOTBALL WEATHER: For the high school playoff games Friday evening, the sky will be mostly fair with temperatures falling through the 50s.
For Auburn fans headed to Atlanta and the SEC Championship game Saturday against Georgia (3 p.m. Central kickoff), there will be no weather worries, of course, inside Mercedes-Benz Stadium, but for those walking to the game the sky will be mostly cloudy with just a small chance of a shower; afternoon temperatures should be in the 60s.
Jacksonville State hosts the Kennesaw State Owls Saturday at Burgess–Snow Field (1 p.m. kickoff). The sky will be partly sunny with temperatures in the 60s during the game.
NEXT WEEK: We're getting some good model agreement now as a big pattern change evolves. A cold front will bring a band of showers and thunderstorms to Alabama on Tuesday. Strong storms could be involved, but for now it doesn't look like a major severe-weather setup. Then, a deep upper trough settles into the eastern half of the U.S., and should bring down the coldest air so far this season into the state next Wednesday through Friday, with highs mostly in the 40s and lows in the 20s.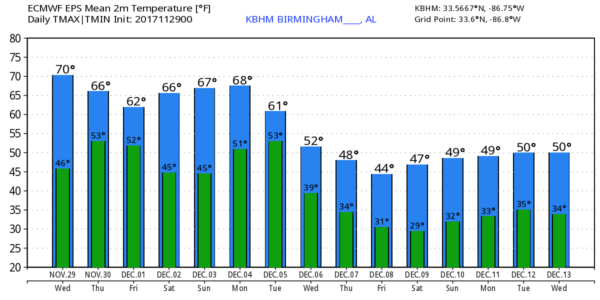 REST OF DECEMBER: The pattern looks generally cold and somewhat unsettled through mid-December, and possibly for the rest of the month as a blocked upper air pattern keeps a mean upper trough over the eastern third of the nation. We note global models suggests a negative AO (Arctic Oscillation) and NAO (North Atlantic Oscillation), which generally favors this setup.
This brings out the "keyboard meteorologists" who love to post voodoo snow storms that show up on deterministic model output in the 10- to 15-day time frame. Longtime readers know this is no way of forecasting the weather, and most of those voodoo snow storms never show up. But it is the best way of getting clicks, shares and likes. Please caution your friends to think before they share insane weather posts on social media.
For fun, below is output from the European global model ensemble (EPS), showing potential snow accumulation out to 45 days for Birmingham. Note that a little over half of the 51 members of the ensemble do show some chance of accumulating snow along the way, but that means, of course, the other half of the members show nothing at all. The ensemble mean is at 1.2 inches of snow (cumulative) through Jan. 11. This simply means a cold, unsettled pattern is ahead; you cannot read anything else beyond that into it.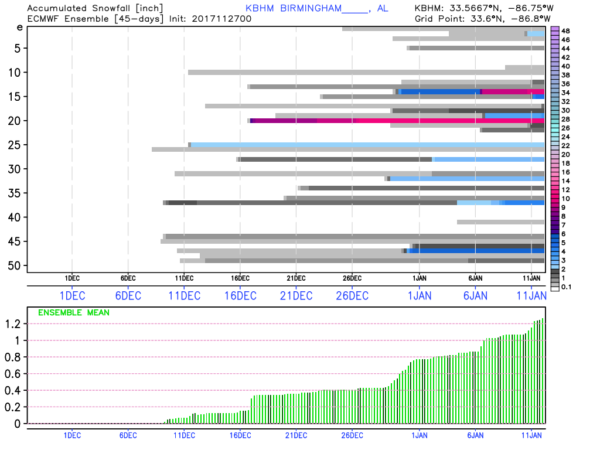 BEACH FORECAST: Click here to see the AlabamaWx Beach Forecast Center page.
WEATHER BRAINS: You can listen to our weekly 90-minute netcast anytime on the web, or on iTunes. This is the show all about weather featuring many familiar voices, including meteorologists at ABC 33/40.
CONNECT: You can find me on all of the major social networks:
Facebook
Twitter
Google Plus
Instagram
Pinterest
Snapchat: spannwx
For more weather news and information from James Spann and his team, visit AlabamaWx.