The cliché has been repeated countless times since 10-2 Auburn earned a berth in the SEC Championship Game with its 26-14 victory over then-No. 1 Alabama in last week's Iron Bowl.
It's hard to beat a good team twice in a season.
The Tigers, who rose to No. 2 in the latest College Football Playoff (CFP) ranking, take the field at Atlanta's Mercedes-Benz Stadium at 3 p.m. CST on CBS to face the same Georgia Bulldogs they trounced 40-17 just three weeks earlier.
"We've got to prepare just like the first game against Georgia never happened," Auburn defensive coordinator Kevin Steele said. "We do have the advantage that we have the video of it; it did happen. We've got some things we can take off that video to correct things, to get better at some things.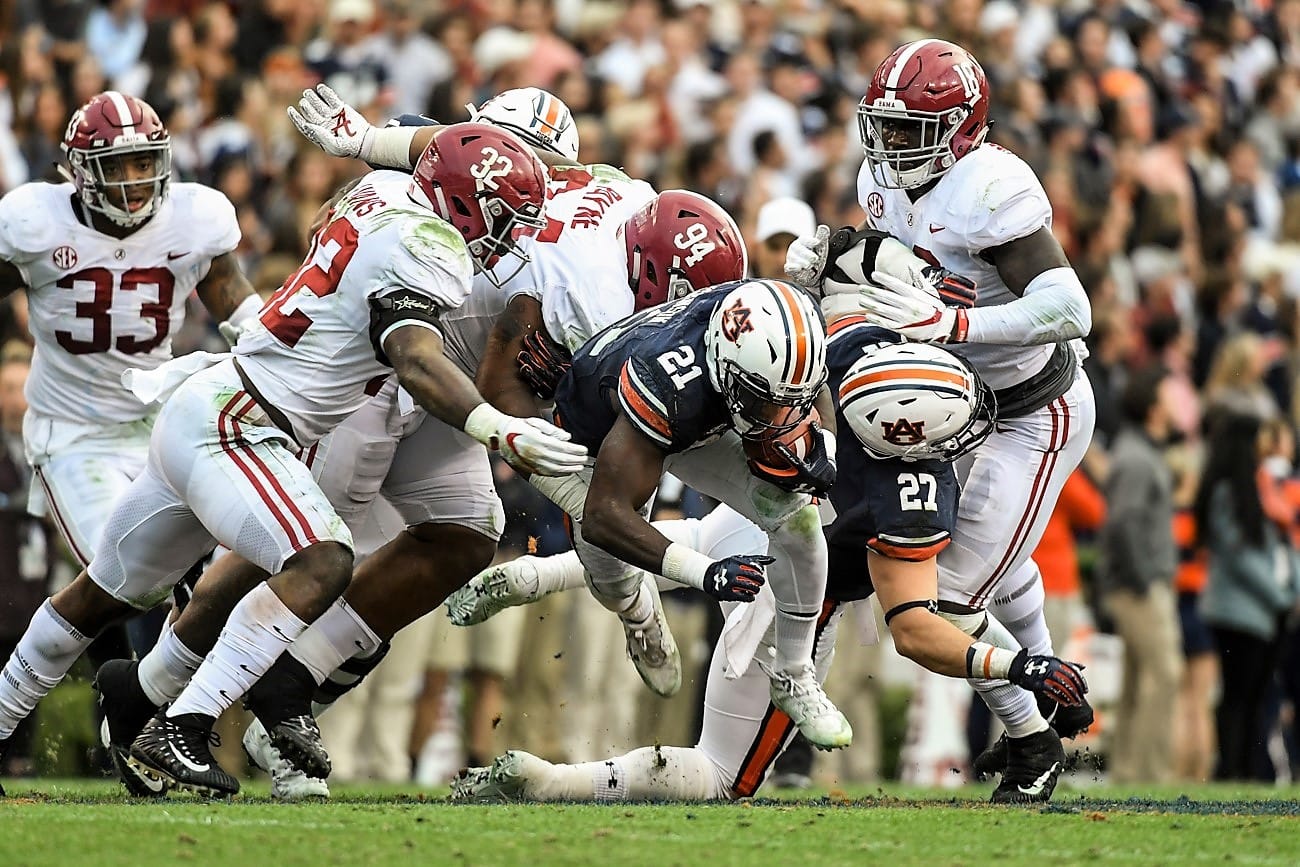 "They're going to look at your game plan that worked," Steele said of the Bulldogs, "so you're going to have some wrinkles that are different."
Auburn running back Kerryon Johnson anchored the Tiger offense in the first meeting with 167 yards rushing and a 55-yard touchdown reception. His availability is a huge question mark after he hurt his right shoulder diving for the end zone last week against Alabama.
Coach Gus Malzahn said Johnson's status is a "day-to-day deal."
"He was better (Monday) than he was the day before," the coach said. "We'll see where that goes and when he's ready to get out there. He's a competitor (and) this is a big game. He'll do what he can."
Another Auburn key in the victory over the Bulldogs, now No. 6 in the CFP, was stopping Georgia running backs Nick Chubb and Sony Michel. Auburn held them to 46 yards.
"The reality is we played really well the first time we played these guys," Malzahn said, "but they are still one of the better rushing teams in all of college football."
In other college action:
Kennesaw State (11-1) at Jacksonville State (10-1): The Owls are looking to sweep the state of Alabama. Having ended Samford's season last week, Kennesaw State has its sights on JSU, the No. 3 seed in the Football Championship Subdivision playoffs, at 1 p.m. Saturday on Burgess-Snow Field in JSU Stadium.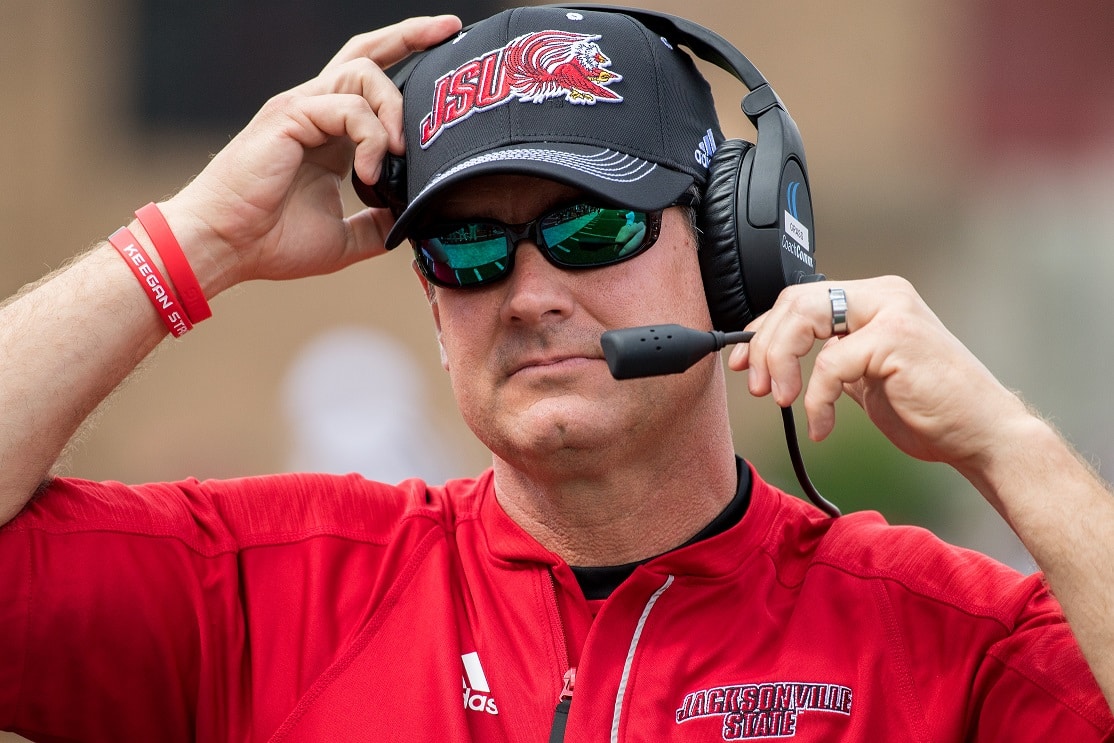 "They have won 11 in a row and are playing at a high level right now, so we have our work cut out for us this week," Gamecocks coach John Grass said. "They will be ready to play and they are a blue-collar team."
KSU is also a triple-option team, which can be a challenge for opponents.
"Luckily, we played Georgia Tech, who ran the triple option, earlier in the year, so it gives us some familiarity there," Grass said. "But it will be slightly different. They are a little bit more multiple than Georgia Tech was. Coach (Brian) Bohannon came from there, so they do a lot of what Georgia Tech does and they are very similar."
Jacksonville State has the edge in playoff experience as the Owls are only in their third year of play. Conversely, JSU is in the playoffs for the fifth straight year.
But Grass said his team can take nothing for granted.
"We have been here before and won, and we have been here before and lost," he said. "I think anyone that you play this time of year, they are going to be great football teams and Kennesaw State is an example of that."
West Florida (9-3) at West Alabama (10-2): The Tigers will experience a bit of déjà vu at noon Saturday as they face the Argonauts for the second time this season. UWA blitzed its Gulf South Conference rival 35-18 in the Tigers' homecoming on Oct. 28.
"West Florida is a very well-coached team and they are playing very good football right now," UWA coach Brett Gilliland said. "We are excited to be one of only eight teams remaining, and have a big challenge coming up this Saturday. We need to have a great week of preparation and execute at a high level to have an opportunity for success."
This week's winner will advance to the national semifinals on Dec. 9. The NCAA will reseed the four Super Regional champions following completion of Saturday's quarterfinal contests.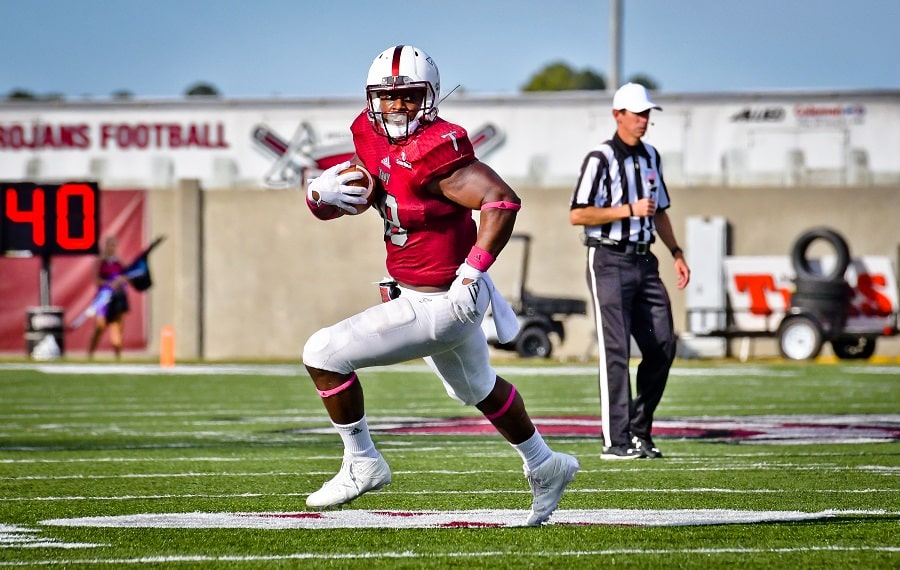 Troy (9-2) at Arkansas State (7-3): The Trojans close the regular season in a battle of teams that have each lost once in Sun Belt Conference play. Each, like Appalachian State, is 6-1 in league play.
"It's a conference championship game for us and Arkansas State," Troy coach Neal Brown said. "If App State (which hosts Louisiana-Lafayette) wins, there will be a co-conference champion. We're approaching it as a conference championship game."
Not that he and his staff will mention that to the Trojans.
"We've got a motto that we go 1-and-0," Brown said. "But our kids know what's at stake."
The game is at 6:30 p.m. on ESPN2. Troy is in search of its first Sun Belt championship since winning five consecutive titles from 2006 to 2010.
South Alabama (4-7) at New Mexico State (5-6): The Jaguars face the end of the season and the end of an era at 3:30 p.m. Saturday as coach Joey Jones has announced his resignation from the program.
"I just want to show everybody that we're not a pushover team just because of what our record says," senior team captain Harrison Louden said. "I want to send coach Jones and the rest of the seniors out with a win in their last game."
Fellow senior captain Jimmie Gipson III echoed that sentiment.
"Against New Mexico State on Saturday, I want us to show everyone that we are a good team," he said. "I know things haven't panned out the way that we would've liked them to, but I want to go out with a bang; I want to go out with a 'W.'"
HIGH SCHOOLS
Class 1A: Region 5 champion Pickens County (11-2) hosts runner-up South Lamar (10-3) Friday in a state playoff semifinal.
Class 2A: Sulligent (12-1) ended the 27-game winning streak of defending state champion Fyffe (12-1). The Blue Devils now go on the road to face another unbeaten opponent in Lanett (13-0) in a semifinal.
Class 3A: Randolph County (12-1) heads to Piedmont (12-1).
Class 4A: Region 1 runner-up UMS-Wright (11-2) travels to No. 1 seed Andalusia (12-1).
Class 5A: Region 5 winner Briarwood Christian (13-0) hosts third-seed St. Clair County (10-3).
Class 6A: Region 6 runner-up Clay-Chalkville (11-2) will be at Region 6 champion Pinson Valley (13-0). The Indians won a 51-50 overtime thriller over previously undefeated Austin in the quarterfinals.
Class 7A: Defending state champ Hoover (10-3) avenged its only in-state loss of the season, downing previously undefeated Thompson 31-12. Now the Bucs have a second straight title – and fifth in the past six years – in their sights as they'll take on McGill-Toolen in the Super 7 State Championship at 7 p.m. on Wednesday, Dec. 6, at Bryant-Denny Stadium in Tuscaloosa. The Bucs beat McGill-Toolen 17-7 in the 2016 final in Auburn.