When the folks with Sargento and Food Network's Chopped challenged me to come up with a recipe using my own mystery basket of ingredients for their Chopped at Home contest, I was a little intimidated at first. They asked me to use Sargento Chef Blends 6 Cheese Italian shredded cheese, chicken breasts, red bell pepper and Greek yogurt. I'm already a huge Sargento fan, but hadn't used their new six-cheese Italian blend. It features mozzarella, provolone, Parmesan and fontina, plus Romano and aged Asiago. It's delicious! I was eating it straight out of the bag. Anyway, after lots of brainstorming, I came up with this Cheesy Stuffed Chicken. And I have to admit, even I was surprised at how delicious this turned out. It will certainly be added to the regular rotation at our house.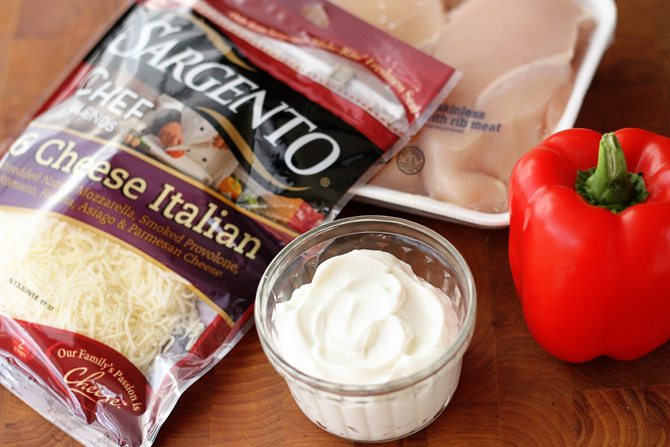 Now it's your turn. All it takes is some Sargento Chef Blends 6 Cheese Italian, chicken breasts, red bell pepper, Greek yogurt and some creativity.
Cheesy Stuffed Chicken
Prep time:  20 minutes
Cook time: 35 minutes
Total time:  55 minutes
Serves 4
Ingredients
1 (6-ounce) container Greek yogurt
½ teaspoon salt
¼ teaspoon black pepper
1 cup Sargento Chef Blends 6 Cheese Italian shredded cheese
1 tablespoon butter
1 red bell pepper, seeded and thinly sliced
½ white onion, thinly sliced
1 cup sliced mushrooms
2 cloves garlic, minced
4 boneless skinless chicken breasts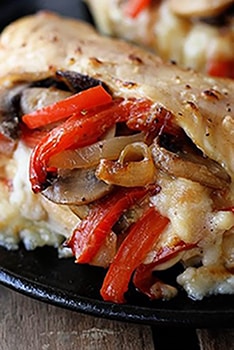 Instructions
Preheat the oven to 350 degrees. In a small bowl, combine the Greek yogurt, salt and pepper. Transfer half of the yogurt to another small bowl and mix it with the cheese. Set both aside.
Melt the butter in a medium skillet over medium heat. Add the pepper, onion and mushrooms and cook for about 10 minutes or until the vegetables are tender. Stir in the garlic, cook for 1 minute and then remove from the heat to cool.
Meanwhile, use a paring knife to cut a deep pocket on the side of each chicken breast. Divide the cheese and yogurt mixture equally and spoon it into the pockets. Next, take the yogurt mixture with just the salt and pepper and coat the chicken breasts. Now, divide the sautéed vegetables and stuff them into the pockets on top of the cheese mixture. Place the chicken breasts on a rimmed baking dish or pan that has been coated with nonstick cooking spray or parchment. Cook for 30 to 35 minutes, until the chicken is cooked through.
This recipe originally appeared on SouthernBite.com. For more great recipes, visit the website or check out The Southern Bite Cookbook.