A really imaginative tweet went out Saturday night.
"With the noon (Eastern) time college football playoff show, will there even be church services in Alabama, or just all morning prayer vigils? Houndstooth blazers required."
With the noon time college football playoff show, will there even be church services in Alabama, or just all morning prayer vigils? Houndstooth blazers required.

— drgraves-UGA Adm. (@drgravesUGA) December 3, 2017
Those prayers of Crimson Tide fans were answered Sunday morning as Alabama was awarded the fourth and final slot in the college football playoffs. Coach Nick Saban's squad will face CFP No. 1-ranked Clemson in a national semifinal at 7:45 p.m. CST on New Year's Day in the Allstate Sugar Bowl at the Mercedes-Benz Superdome in New Orleans.
"Dabo (Swinney) has done a fantastic job with that program," Saban said of the Clemson coach. "They've been consistently successful and this will be the third year we've played them in the playoff. I know our guys will be ready to play and will have a tremendous amount of respect for Clemson. We'll have to play our best game of the year to have a chance to be successful against them."
The No. 2 Oklahoma Sooners and No. 3 Georgia Bulldogs will play in the other semifinal game at the Rose Bowl in Pasadena, California, at 4 p.m. in the Rose Bowl. Georgia punched its ticket into the playoffs by beating Auburn 28-7 in a rematch of the Tigers' 40-17 victory three weeks prior. The national championship game is at 7 p.m. on Jan. 8 in Atlanta's Mercedes-Benz Stadium.
All three games are on ESPN.
Alabama Athletic Communications reported Sunday that Tide Pride members have until 5 p.m. on Monday, Dec. 4, to submit requests for playoff semifinal and championship game tickets. Each participating school will receive 13,000 tickets for the semifinal and 20,000 tickets to the championship. Other than the tickets allotted to the schools, the game is sold out.
All requests made by University of Alabama constituency groups (Tide Pride, lettermen and faculty/staff) will be evaluated for all games following the request deadline. For the Allstate Sugar Bowl, all confirmed ticket requests will be shipped to customers via UPS, with a planned shipment date of Friday, Dec. 15. For the championship game in Atlanta, all confirmed requests are planned to be sent via mobile ticket (email and Ticketmaster app download) delivery with a planned send date of Thursday, Jan. 4.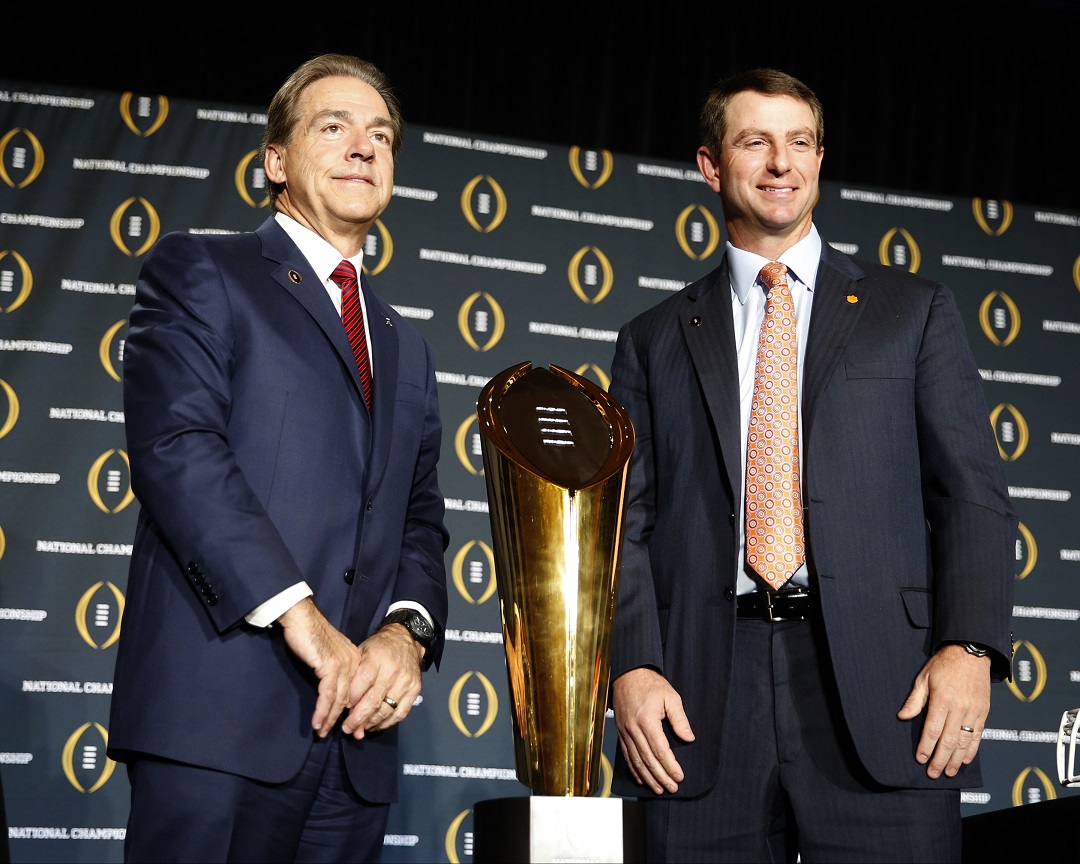 Ticket prices are as follows: semifinal Allstate Sugar Bowl: $275 club and $175 reserved; national championship: $675 (club), $575 (100- and 200-level seats) and $475 (300-level seats).
The ability to request tickets does not guarantee  tickets. If demand is greater than the allotment of tickets received, refunds will be given based on Tide Totals priority points. Lettermen should note that, if requests received exceed the lettermen allotment, requests will be filled based on last year lettered. UA faculty/staff should note that, if requests received exceed the faculty/staff allotment, requests will be filled based on years of service.
"We're extremely pleased for our team, our players, our coaches and all the people who work hard here for us," Saban said. "I'd like to congratulate the other teams that will have the opportunity to participate in the playoff as well as the teams who were considered and had potential to be selected. We are really pleased and happy to be a part of the college football playoff again this year."
Since its inception in 2014, Alabama is the only team to appear in all four playoffs, and has appeared in the top five of every poll put out by the selection committee over the past four seasons.
The Crimson Tide and Clemson will meet for the 18th time in the history of the series that dates back to 1900. Alabama owns the series advantage, 13-4.
The two most recent matchups came in the 2016 and 2017 national championship games. Alabama rallied to defeat the No. 1 Tigers, 45-40, to capture the Tide's 16th national championship in the 2016 game in Glendale, Arizona. The Tigers returned the favor with a come-from-behind 35-31 win in the 2017 championship in Tampa, Florida.
No. 7 Auburn faces American Athletic Conference Champion and CFP No. 12 Central Florida in the Chick-fil-A Peach Bowl's 50th anniversary game. That contest is set for the Mercedes-Benz Stadium in Atlanta and will be nationally televised by ESPN at 11:30 a.m.
Peach Bowl's 50th edition will feature Auburn against UCF from Alabama NewsCenter on Vimeo.
UCF is making its first trip to the Chick-fil-A Peach Bowl, while Auburn will make its sixth appearance. Auburn has a 4-1 record in the game, with its most recent appearance resulting in a 43-24 victory over Virginia in 2011.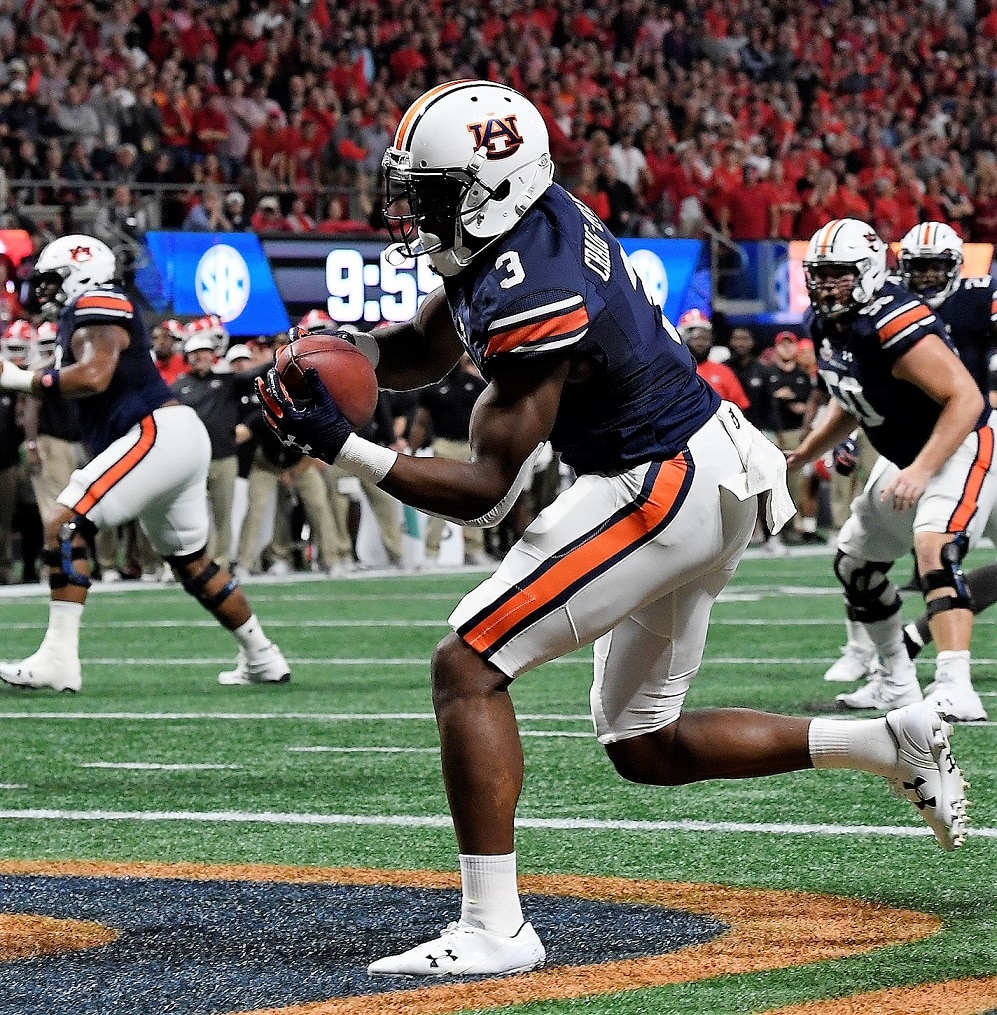 "We couldn't have asked for a better matchup to celebrate our 50th anniversary," said Gary Stokan, Chick-fil-A Peach Bowl CEO and president. "To have college football's only undefeated team square off against the first-ever team to defeat two College Football Playoff No. 1-ranked teams in a season makes for an extremely compelling game."
Auburn's Gus Malzahn will coach in the bowl game with a new contract. He has agreed to a seven-year deal to remain at the school after a strong late-season rebound, The Associated Press reported on Sunday.
Complete financial details were not immediately available but the AP reported Malzahn will make more than $7 million in the final year of the contract. Other Southeastern Conference teams headed to bowl games are:
Citrus Bowl presented by Overton (Orlando) – LSU vs. Notre Dame at noon on Jan. 1 on ABC.
Academy Sports & Outdoors Texas Bowl (Houston): Missouri vs. Texas at 8 p.m. Dec. 27 on ESPN.
Belk Bowl (Charlotte): Texas A&M vs. Wake Forest at noon on Dec. 29 on ESPN.
Franklin American Mortgage Music City Bowl (Nashville): Kentucky vs. CFP No. 20-ranked Northwestern at 3:30 p.m. on Dec. 29 on ESPN.
TaxSlayer Bowl (Jacksonville): Mississippi State vs. Louisville at 11 a.m. on Dec. 30 on ESPN.
Outback Bowl (Tampa): South Carolina vs. Michigan at 11 a.m. on Jan. 1 on ABC.
UAB got a jump on Selection Sunday. The Blazers released their postseason plans last week, announcing that they'll play Ohio in the Bahamas Bowl at 11:30 a.m. on Friday, Dec. 22 on ESPN.
In other state-connected bowls:
R+L Carriers New Orleans Bowl: Troy is the other state team that is going bowling. The Trojans, champions of the Sun Belt Conference, accepted a bid to play at noon on Saturday, Dec. 16, in the Mercedes-Benz Superdome in New Orleans.
"The New Orleans Bowl is a great destination for our fans and players to celebrate an outstanding season," said Troy coach Neal Brown. "This is a bowl game that our fans have circled every year and we're looking forward to seeing a strong Trojan presence in New Orleans."
The opponent will be a familiar one for the Trojans as they will square off against former Sun Belt rival North Texas. The schools have met 10 previous times, with Troy holding an 8-2 advantage in the series. This will be Troy's fourth trip to the New Orleans Bowl and the Trojans are 2-1 all-time in the game.
Troy (10-2, 7-1 Sun Belt) enters bowl season riding the nation's fifth-longest winning streak of six consecutive victories. Speaking of six, Troy claimed a record sixth Sun Belt Conference title.
The Trojans become just the third team in Sun Belt Conference history to win at least 10 games in consecutive seasons, and Troy is one of just 14 teams nationally to have at least 20 combined wins over the past two seasons.
Birmingham Bowl: The University of South Florida (9-2) of the American Athletic Conference will face Texas Tech (6-6) of the Big 12. This will be the first meeting between the schools.
The 2017 Birmingham Bowl will be played Saturday, Dec. 23, at 11 a.m. at historic Legion Field. The game will air on ESPN.
"We are pleased to have USF return for their third Birmingham Bowl appearance and we welcome Texas Tech for their first appearance in the Birmingham Bowl," said Mark Meadows, executive director of the Birmingham Bowl. "We look forward to a great matchup and an exciting game for our great city."
The South Florida Bulls defeated East Carolina 24-7 in the inaugural Birmingham Bowl in 2006. The Bulls also defeated South Carolina in last year's Birmingham Bowl. The Bulls' victory against the Gamecocks was the highest-scoring game in the 11-year history of the bowl. It was also the first overtime in Birmingham Bowl history.
"Our football program looks forward to participating in the Birmingham Bowl," Texas Tech head coach Kliff Kingsbury said. "South Florida is a quality program, and we look forward to seeing Legion Field packed with scarlet and black here in a few weeks."
Texas Tech's last visit to Birmingham was in the 1989 All-American Bowl against Duke. The Red Raiders won 49-21 against Steve Spurrier's Blue Devils.
"This is an exciting bowl matchup and a chance for our team and this tremendous senior class to close the 2017 season with a win," said USF head coach Charlie Strong. "It's the third straight bowl game for our program and a chance to go out and try to beat an exciting opponent and get to double-digit wins for a second straight year. Our guys are excited to play."
Tickets to the 2017 Birmingham Bowl may be purchased by phone at 877-464-9529 or online at www.birminghambowl.com. Tickets are available at the Legion Field box office through game day.
Corporate packages, which include premium ticket locations, hospitality benefits and corporate branding, are available by calling 205-733-3776, ext. 102 or by emailing [email protected].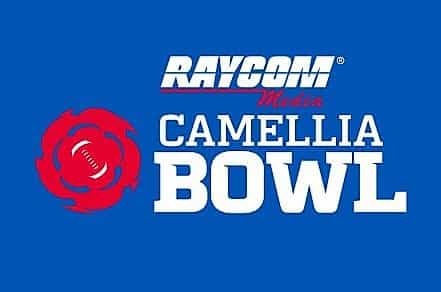 Raycom Camellia Bowl: Former Sun Belt Conference rivals Arkansas State and Middle Tennessee will tangle in Montgomery in this fourth annual bowl at historic Cramton Bowl. The game is set for 7 p.m. on Saturday, Dec. 16, and will be shown on ESPN.
The Blue Raiders hold a 9-5 series lead.
Arkansas State (7-4, 6-2 Sun Belt) finished third in its conference behind co-champions Appalachian State and Troy. ASU is in a bowl game for the seventh straight year.
Middle Tennessee (6-6, 4-4 Conference USA) is playing in a bowl game for the third straight year. The Blue Raiders were tied for third in the C-USA Eastern Division this season.
Tickets to the fourth annual Raycom Media Camellia Bowl are on sale at www.espnevents.com/camellia-bowl/tickets. Tickets are $30 for reserved seats and $20 for general admission seating.
Dollar General Bowl: This could be called the Déjà vu Bowl as Sun Belt Conference co-champion Appalachian State (7-1, 8-4) renews acquaintances with Mid-American Conference champion Toledo (7-1, 11-2). It is a rematch of their tussle in the 2016 Raycom Media Camellia Bowl, a thoroughly entertaining game that App State won 31-28.
The 19th annual Dollar General Bowl is 6 p.m. on Saturday, Dec. 23, at Ladd-Peebles Stadium in Mobile. The game will be on ESPN.
The Appalachian State Mountaineers will make their first appearance in the Dollar General Bowl. Appalachian State clinched a share of a second straight Sun Belt Conference championship by defeating Louisiana 63-14 last Saturday. The Mountaineers rank in the top five in the conference in quarterback rating, sacks, rushing yards and interceptions, placing 15 players on the All-Sun Belt Conference team.
The Toledo Rockets return for their third appearance in Mobile, having played in the 2005 and 2015 bowl games.  In the 100th anniversary season of their founding as a football program, and the two-year anniversary of the hiring of Jason Candle as head coach, the Rockets claimed their 11th conference title by defeating Akron 45-28.
Dollar General Bowl game and event tickets can be purchased online at www.DollarGeneralBowl.com/tickets or by calling the Dollar General Bowl office at 251-635-0011. Tickets are $45 for sideline seats and $15 for general admission.