Click here to view or print the entire monthly report compliments of the ACRE Corporate Cabinet.
Sales: According to the North Alabama Multiple Listing Service, Marshall County home sales in October were 12 percent below October 2016 at 66 sales for the month. Home sales in October 2016 totaled 75 units. Year to date, sales were up 9.2 percent over the same period in 2016. Another resource to review is the Annual Report.
Click here to check out all Marshall County housing data.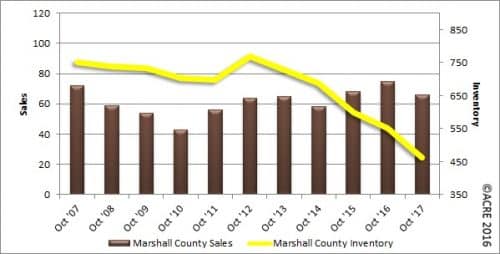 Forecast: October sales were four units or 5.7 percent below the Alabama Center for Real Estate's (ACRE) monthly forecast.
Supply: Marshall County housing inventory totaled 462 units, a decrease of 16 percent from October 2016.
The inventory-to-sales ratio has decreased to 7 months of supply. Restated, at the October sales pace, it would take 7 months to absorb the current inventory for sale. The market equilibrium (balance between supply and demand) is considered to be approximately 6 months.
Pricing: The Marshall County area median sales price in October was $139,950, an increase of 28.4 percent from October 2016. The October median sales price was 0.8 percent above the September median sales price. Historical data indicate that the October median sales price on average (2012-16) increases from September by 0.3 percent. Pricing can fluctuate from month to month as the sample size of data is subject to seasonal buying patterns. ACRE recommends contacting a local real estate professional for additional market pricing information. 
Industry perspective: "The first print of third-quarter economic growth showed surprising resiliency. The expected economic hit from the recent natural disasters either failed to materialize or was drowned out by business optimism," said Fannie Mae Chief Economist Doug Duncan. "Recent data showed a stronger pickup in domestic demand than anticipated, leading us to increase our growth forecast for the final quarter of this year and coming quarters. We also revised higher our 2018 growth forecast to 2 percent. Tax cuts, if enacted, present upside risk to our growth forecast for next year but could also lead to more aggressive Fed action. Housing still remains a drag on the economy, as shortages of labor and available lots, coupled with rising building material prices, further complicate existing inventory, affordability and sales challenges."
Click here to generate more graphs from the Marshall County October Housing Report, including Total Sales, Average Sales Price, Days on the Market, Total Inventory and Months of Supply. 
The Marshall County Residential Monthly Report is developed in conjunction with the Marshall County Board of Realtors to better serve area consumers.