THIS AFTERNOON: Most of the precipitation is over the southern half of the state this afternoon. We note a number of reports of sleet on the northern periphery of the big rain mass; there will be no impact with temperatures well above freezing this afternoon. Most communities are in the mid 40s.
WINTER WEATHER ADVISORY: A Winter Weather Advisory will be in effect for parts of northeast, central and southwest Alabama from 3 a.m. until 6 p.m. tomorrow.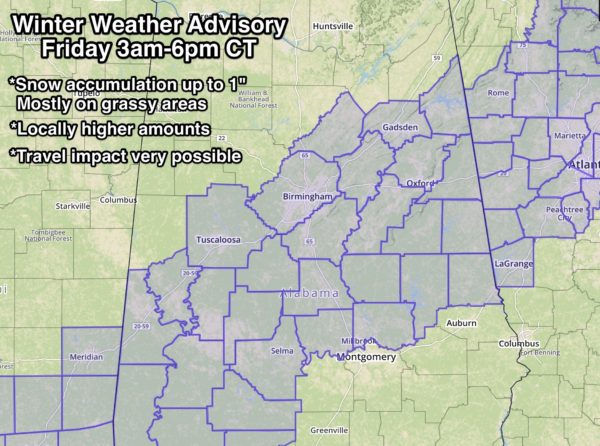 WINTER STORM WARNING: And… a Winter Storm Warning has been issued for parts of southwest Alabama and southeast Mississippi, with 1 to 3 inches possible in the warning area. This includes places in Alabama like Thomasville, Grove Hill, Jackson, Millry and Butler.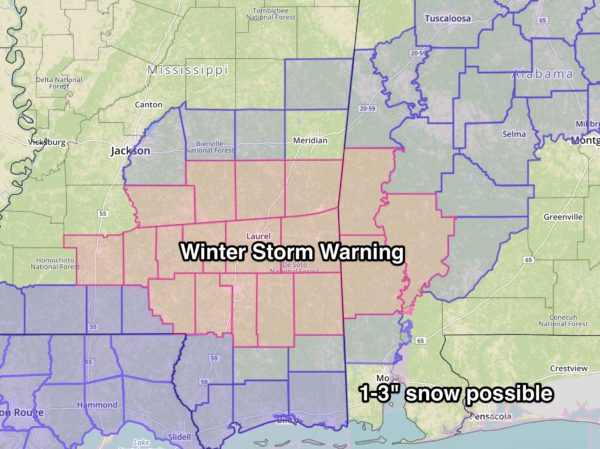 PLACEMENT: The Winter Weather Advisory is in effect for areas south of a line from Cedar Bluff to Oneonta to Tuscaloosa to Livingston, and north of a line from Jackson to Selma to Prattville to Dadeville and on to Lafayette. The air is too dry over the northern third of the state for any meaningful precipitation tomorrow, and the low levels will be too warm for snow tomorrow across southeast Alabama.
It is important to note that not everyone in the Winter Weather Advisory will see snow. Some on the northern edge could see nothing at all, and others on the southern part could see all rain. Rain and snow lines don't stop magically at county lines.
Most likely, there will be a 30- to 40-mile-wide strip of heavier snow, and trying to identify that far in advance is very difficult to do.
AMOUNTS: Snow accumulation should be generally 1 inch or less, mostly on grassy areas and elevated surfaces. Soil temperatures are around 50 degrees, and that will greatly limit the accumulation potential. However, there will be a 30- to 40-mile-wide strip of heavier snow somewhere over central Alabama, and a few communities could see more than 1 inch.
TIMING: A mix of sleet, snow and rain will expand northward up into central Alabama in the 2 to 5 a.m. time frame, and it should change to snow between 5 and 8 a.m. as very cold air works slowly southward. The higher snow rates will most likely come sometime between 8 a.m. and noon; the precipitation tapers off tomorrow afternoon.
IMPACT: Temperatures tomorrow morning will be in the 28- to 34-degree range; there could very well be icy travel, especially on bridges and overpasses, during the morning. Temperatures should go above freezing, into the mid to upper 30s, by late morning and through the afternoon, easing the ice issue on roads. However, temperatures will go back below freezing rather quickly tomorrow night, and any lingering water on roads could freeze. "Black ice" issues will likely linger into Saturday morning.
REMEMBER: With almost every winter weather event in Alabama, there is a surprise or two. Watch for last-minute forecast changes; if you are using a forecast more than six hours old, it is bad information.
ANOTHER SNOWMAGEDDON? No, because surface temperatures this time will be 10 to 15 degrees warmer. During the January 2014 snow event, temperatures were in the 17- to 21-degree range when the snow was falling, and the ice accretion process on roads is radically different when it is that cold (we all learned the hard way!).
THE ALABAMA WEEKEND: The weather will be dry and cold with mostly sunny days and fair nights; highs will be in the 40s and lows in the 20s.
NEXT WEEK: Dry weather will likely continue with temperatures below average; a new surge of cold air arrives Tuesday and Wednesday.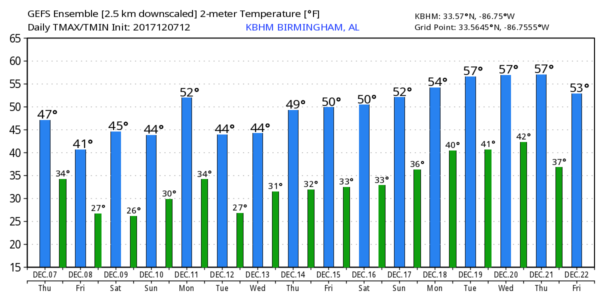 BEACH FORECAST: Click here to see the AlabamaWx Beach Forecast Center page.
WEATHER BRAINS: You can listen to our weekly 90-minute netcast anytime on the web, or on iTunes. This is the show all about weather featuring many familiar voices, including meteorologists at ABC 33/40.
CONNECT: You can find me on all of the major social networks:
Facebook
Twitter
Google Plus
Instagram
Pinterest
Snapchat: spannwx
For more weather news and information from James Spann and his team, visit AlabamaWx.