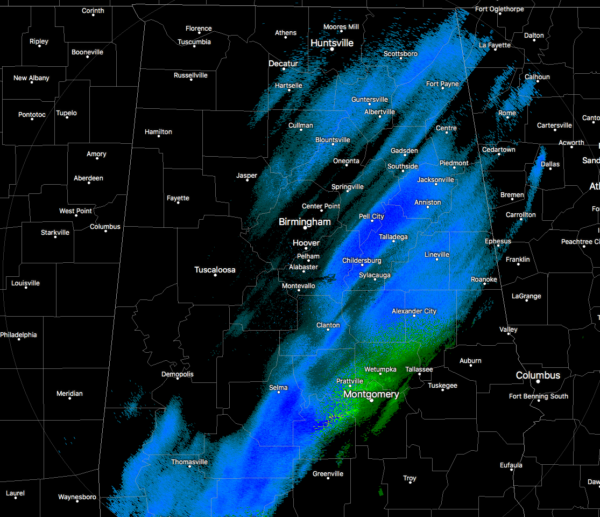 Moisture is continuing to flow in from the southwest from the Gulf of Mexico, providing the moisture needed for light to moderate snow showers to move over some areas where snow had come to an end just a couple of hours earlier. That line stretches from Orrville in Dallas County to Calera to Hokes Bluff in Etowah County. There are a few bands of flurries to light snow showers that have formed back behind the main snow line, but these should not add very much at all to the accumulation totals. There is a possibility that when the main band of snow slowly pushes eastward, more significant accumulations of 2-3 inches are possible, with localized amounts even being higher. Saw a report come in of 10 inches on the ground near Fosters Crossroads in Randolph County. That total could be over a foot by the time this ends early in the morning.
---
WATCHES & ADVISORIES
A Winter Storm Warning continues in effect until midnight tonight for Autauga, Bibb, Calhoun, Chambers, Chilton, Clay, Cleburne, Coosa, Dallas, Elmore, Hale, Marengo, Perry, Randolph, Shelby, St. Clair, Talladega, and Tallapoosa counties until 7:00 AM Saturday. Greene, Jefferson, Sumter, and Tuscaloosa counties have been removed from the Winter Storm Warning.
A Winter Weather Advisory continues in effect for Barbour, Bullock, Cherokee, Etowah, Lowndes, Macon, Montgomery, Pike, and Russell counties until 7:00 AM Saturday. Blount, Fayette, Lamar, Pickens, and Walker counties have been removed from the Winter Weather Advisory.
---
THOUGHTS FOR TONIGHT AND TOMORROW
Icing conditions will be problematic as we continue to move through the nighttime hours. Most of the major highways and interstates may be ok to travel on, but the worry spots will be those secondary and smaller side roads. The best idea for travel is DON'T. If you do not have to get out tonight, please stay off the roads. Only get out if you have to go to work or you have an emergency. Keep the roads open to the emergency response vehicles and utilities as they restore power to those who have lost it during the snow storm.
Models are trending that the temperatures will fall slowly throughout the night before much of Alabama drops below freezing after 10-11PM tonight. That will actually help out with evaporating some of the moisture off of the roadways where the snow has come to an end. Once the skies clear out and the temperature starts dropping quicker, we could see the overnight lows bottom as low as the upper teens to the upper 20s.
It will be a slow progression to the east with the snow and rain/snow mix through the rest of the evening, with the final few flakes leaving Central Alabama by the time the sun rises on Saturday morning. Temperatures throughout the morning will be on the slow rise and not make it above freezing until 9-10AM. So before you head out somewhere in the morning, check with ABC 33/40 to see if there are any road closures. No sense in having an accident by trying to get somewhere before roads are in good shape.
Saturday's weather will be brilliant but chilly, as skies will be sunny and highs making it up into the lower to mid-40s. You may have some snow melt off, but it may take a day or two before we say goodbye to the last traces of this snow event. Lows will once again drop into the 20s throughout Central Alabama under clear skies for the overnight hours on Saturday night.
For more weather news and information from Scott Martin and the rest of the James Spann weather team, visit Alabama Wx.