Daimler AG sold the most luxury vehicles in the U.S. for a second consecutive year, with its Mercedes-Benz brand weathering a shrinking market by tapping into America's love of SUVs.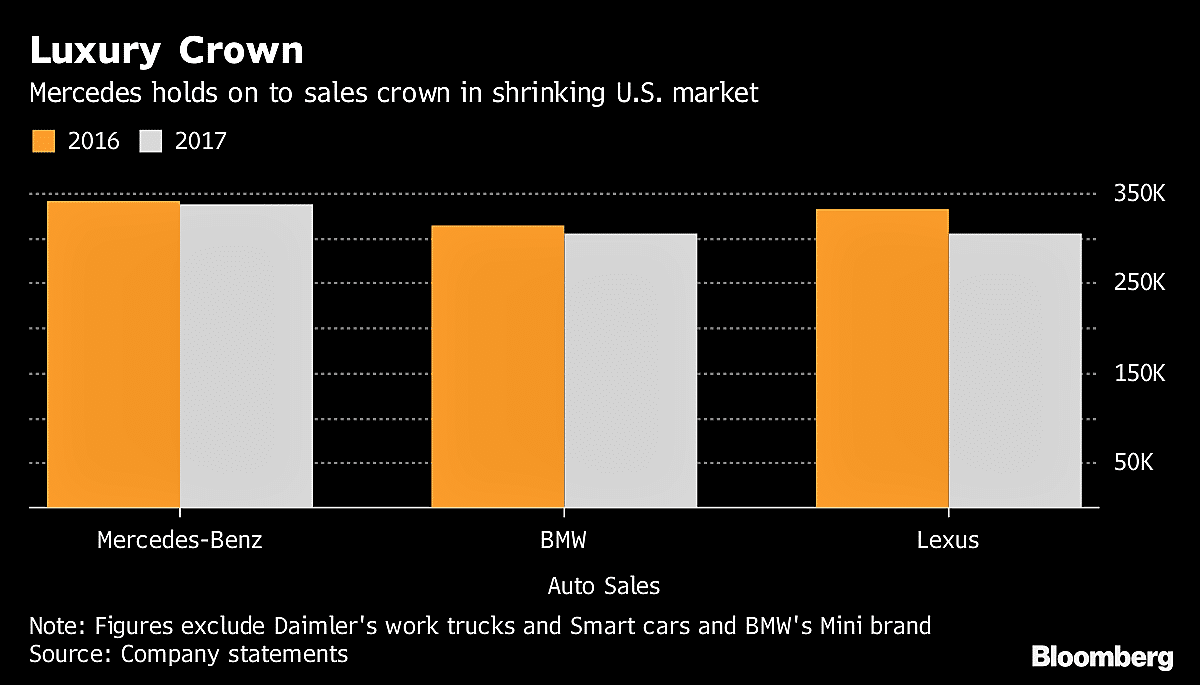 Deliveries of the GLC crossover surged 53 percent last month and carried Mercedes to a record December in the U.S. market. Daimler padded its lead over both German peer BMW AG and Toyota Motor Corp.'s Lexus, even as annual sales for Mercedes slipped 0.9 percent.
Mercedes kept BMW and Lexus at bay by updating the compact GLA sport utility vehicle and adding new iterations of E-Class models, buoying demand for its passenger cars as sedan sales slumped across the industry. BMW, which has vowed to take back market share by expanding and revamping its lineup, boosted deliveries of the X4 and X5 crossovers last year. But demand fell for the rest of its SUVs as well as its top-selling 3 Series line.
"The glaring difference is the way that Mercedes has been more successful in shifting mix to truck from car," said Kevin Tynan, a Bloomberg Intelligence analyst. "They've done a better job of getting a richer truck mix sooner than BMW has."
Mercedes widened its lead over rivals in 2017, outselling both BMW and Lexus by about 32,000 units in the U.S. BMW retook the second-place spot from Toyota's luxury unit by a mere 553 units as its full-year deliveries fell 2.4 percent versus Lexus's 7.9 percent drop.
While Mercedes held onto the top sales slot, its share of the luxury market shrank to about 16.6 percent last year, from 16.8 percent a year ago, according to Jessica Caldwell, executive director of industry analysis at car-shopping website Edmunds. That's because smaller rivals like Volkswagen AG's Audi and Jaguar Land Rover, which have hot-selling SUVs like the Audi Q5 and Jaguar F-Pace, have been gaining ground.
Audi sales jumped 7.8 percent to a record 226,511 vehicles in 2017, propelled by the Q5 and Q7 crossovers. Jaguar Land Rover reported an 8.8 percent annual sales gain in the U.S.
(With assistance from Jamie Butters. Contact the reporter at [email protected].)