In need of a nice change-of-pace dessert now that the holidays are over? Say no more. Southern Bite to the rescue. This super easy Rum Cake is the perfect recipe. I found it in an old community cookbook years ago and have been using it ever since. It starts as a cake mix, but ends up in rum cake perfection.
What really makes this delicious, as with any rum cake, is the delicious rum glaze. But somehow, it's not too rummy. I mean, if rummy cake is your thing, you could always add more rum to make it, you know, more … rummy. But that is up to you.
This one isn't too rummy and just has some seriously great flavor. And then there are the pecans. Ah, pecans. It seems like so many of my recipes involve pecans. And for good reason. Yes, you can use walnuts, too.
This Cake Mix Rum Cake is just rummy enough and plenty yummy enough. Y'all enjoy!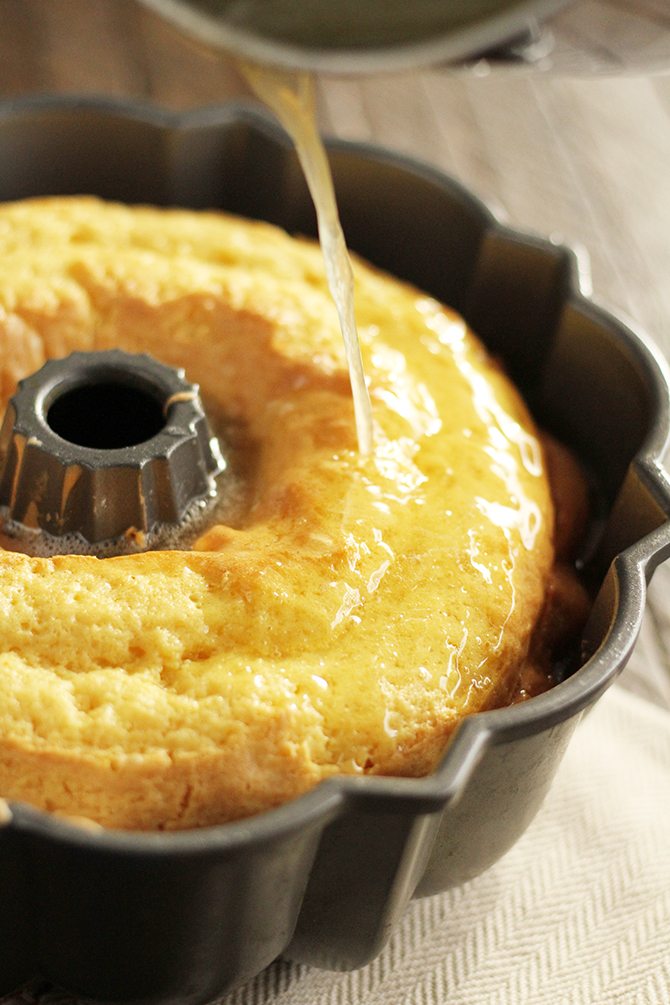 Cake Mix Rum Cake
Prep time: 15 minutes
Cook time: 60 minutes
Total time: 1 hour and 15 minutes
Serves: 8 to 10
Ingredients
1 cup coarsely chopped pecans
1 (15.25-ounce) box yellow cake mix
1 (3.4-ounce) package vanilla instant pudding mix
4 eggs
½ cup vegetable oil
½ cup water
½ cup white rum
For the glaze:
½ cup butter
1 cup sugar
¼ cup water
½ cup white rum
Instructions 
Preheat the oven to 325 degrees. Grease and flour a Bundt pan with at least a 10-cup capacity. Sprinkle the pecans in the bottom of the pan.
With a mixer, mix together the cake mix, pudding mix, eggs, vegetable oil, water and rum. Continue mixing until well-combined. Pour the batter over the pecans.
Bake for 50 to 60 minutes, or until a toothpick inserted into the middle part of the cake comes out clean and the cake starts to pull away from the edges of the pan.
Make the glaze by combining the butter, sugar and water in a small saucepan. Bring to a boil, then remove from the heat. Stir in the rum. Pour over the warm cake while it is still in the pan. Allow the cake to cool before removing from the pan.
This recipe originally appeared on SouthernBite.com. For more great recipes, visit the website or check out The Southern Bite Cookbook.