ESPN said TV viewers for Monday's college football championship between Alabama and Georgia rose about 9 percent from a year earlier, proving once again that big-time sports continue to the deliver the biggest audiences.
Early readings show 16.7 percent of U.S. TV households were tuned in to the cliff-hanger finale, which Alabama won 26-23 in overtime, the Walt Disney Co. network said Tuesday in a statement. More complete viewer data will be available later.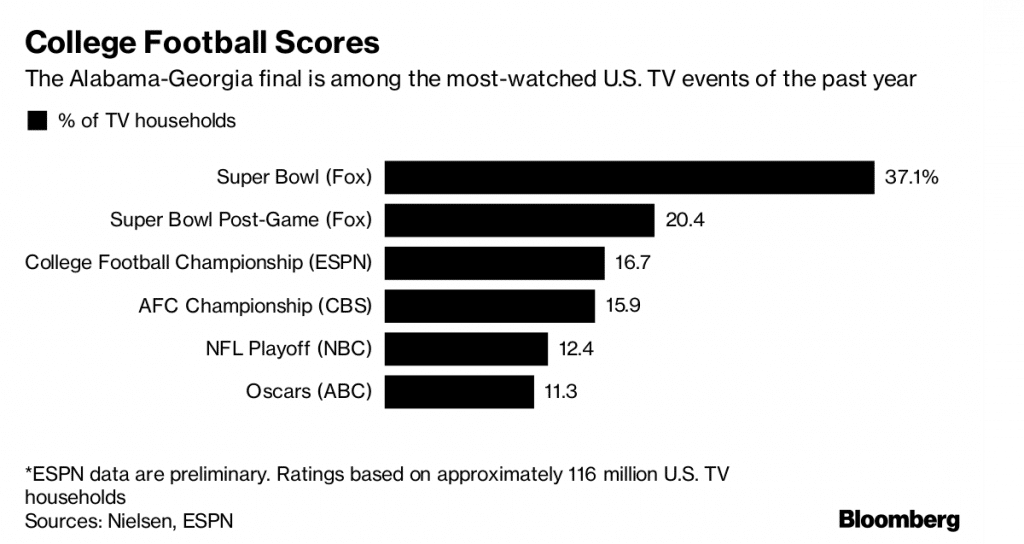 The ratings show why popular sports remain the most sought-after airtime for advertisers. ESPN said the audience for its three-game playoff series increased 18 percent year over year.
The sports broadcaster carried the program on its flagship network, ESPN, as well as ESPN2 and ESPNU, as it did last year. On just the main network, ratings were up 8 percent. Almost half or more of the TV households in the two teams' home TV markets of Birmingham and Atlanta were tuned in.
(Contact the reporter at [email protected].)