FEELS LIKE SPRING: Temperatures have soared into the low 70s in some spots across Alabama this afternoon, mainly where there have been breaks in the overcast. On radar some rain is falling over the western side of the state, but nothing too heavy or widespread. Showers will increase across Alabama tonight ahead of a very sharp Arctic cold front now over western Arkansas. Some thunder is possible, but there is no risk of severe thunderstorms. Rain amounts overnight should be in the one-half-inch to three-quarters-inch range for most places.
TEMPERATURES PLUNGE TOMORROW: The Arctic front will move through our state tomorrow morning. Those in central and east Alabama will begin the day in the 60s, but temperatures will drop 20 to 30 degrees in about one hour after the front's passage. Be prepared! Rain will end from west to east during the day, and over far north Alabama, rain will change to a "wintry mix" of sleet, freezing rain and snow before ending. The National Weather Service in Huntsville continues a winter weather advisory for Franklin, Colbert, Lauderdale, Limestone, Madison and Jackson counties tomorrow, where light accumulation is possible.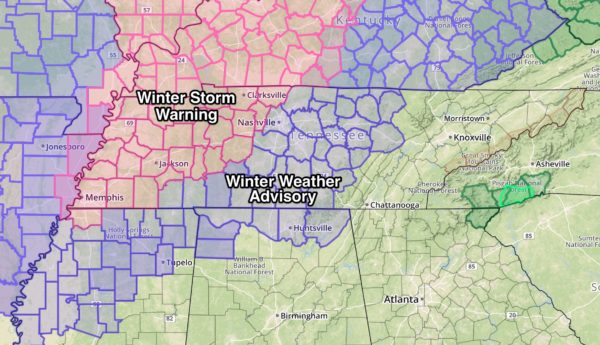 Advisories are also in effect to the north over middle Tennessee, including Nashville, and much of west Tennessee is under a winter storm warning, where accumulations are expected to be higher (1 to 3 inches of snow possible in the warning area).
Look for icy travel over far north Alabama (the counties in the advisory area) and much of Tennessee tomorrow because of incoming Arctic air and the sleet/snow/freezing rain mix.
A few flurries are possible south of the advisory over parts of north Alabama tomorrow, but no accumulation or travel impact. The big story for most of the state is the incoming frigid air.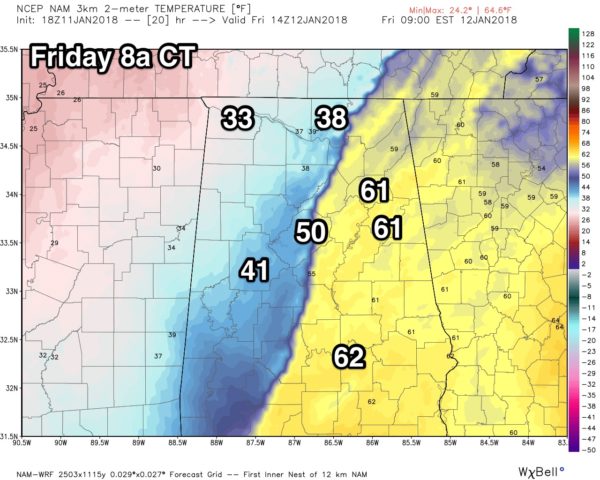 THE ALABAMA WEEKEND: Very cold, and dry. Morning clouds will give way to afternoon sunshine Saturday with a high in the upper 30s; a brisk north wind of 12-25 mph will make it feel colder. Then we drop down into the upper teens by daybreak Sunday with a clear sky and diminishing wind. The day Sunday will be sunny with a high between 37 and 40 degrees.
NEXT WEEK: Monday will be a sunny day with a high in the 40s, but a clipper brings down even colder air Tuesday. New model data hints much of north Alabama will be below freezing all day Tuesday, and by early Wednesday morning we will be in the 10- to 15-degree range across north and central Alabama. The weather stays cold and dry for the rest of the week.
The next chance of showers will come around Sunday, Jan. 21, or Monday, Jan. 22.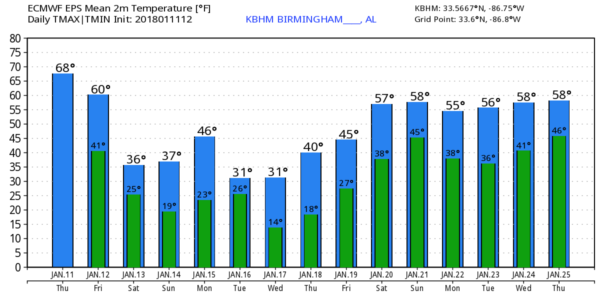 For more weather news and information from James Spann and his team, visit AlabamaWx.