James Spann: All of Alabama under threat of messy winter weather from Alabama NewsCenter on Vimeo.
MESSY WINTER WEATHER SITUATION: There isn't much change in our thinking on what to expect across Alabama today. Upper air data, radar and satellite trends pretty much confirm the ongoing forecast.
Snow continues to fall this morning over Memphis, and much of west Tennessee and north Mississippi, back down to Shreveport and westward into south Texas. More than 2 inches of snow is down at Memphis; the snow will enter northwest Alabama shortly. Here are the key things to know:
A winter weather advisory is now in effect for all 67 Alabama counties, so this system will have a statewide impact.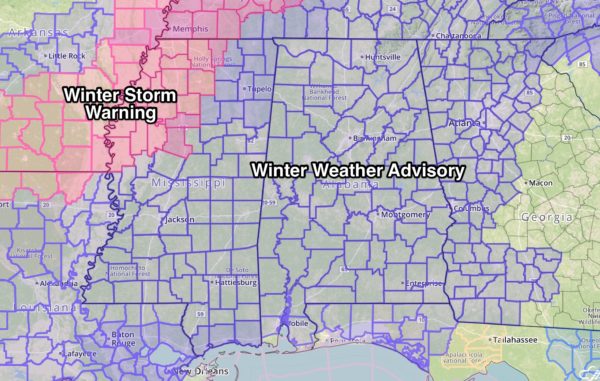 Snow will likely melt on roads as it begins, but with temperatures falling well down in the 20s today, there is a high probability of a very quick freeze, creating a glaze of ice, making driving difficult, if not impossible in some places. There is some similarity to the Jan. 28, 2014 "Snowmageddon" event. Not saying today will be as bad, but the setup is not that different.
The snow begins across northwest Alabama this morning, reaching Birmingham, Tuscaloosa, Anniston and Gadsden sometime between 10 a.m. and 2 p.m. Snow arrives in Montgomery tonight and reaches far southeast Alabama early tomorrow morning.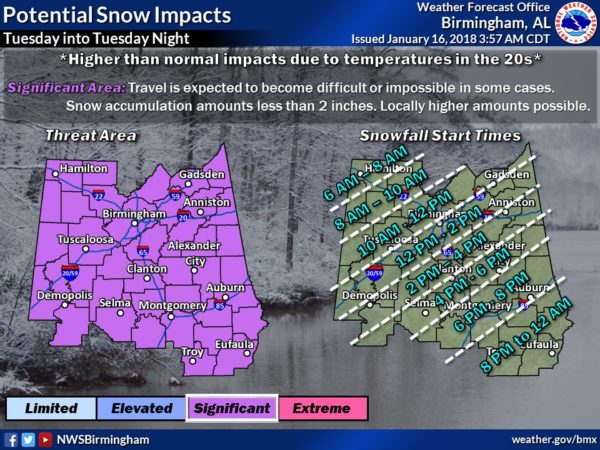 Road conditions will deteriorate within 30 minutes to one hour after the onset of the snow. Be in a place where you want to be for 24 to 48 hours at that point. Don't get stranded. For the larger cities of Birmingham, Tuscaloosa, Anniston and Gadsden, I would be off the roads by noon today.
Snow tapers off tonight, but we drop into the 10- to 15-degree range early tomorrow morning with little improvement in driving conditions. Roads should improve to some degree tomorrow with very dry air and sunshine in full force, but patchy ice could linger into tomorrow night and Thursday morning since the high tomorrow will be only in the 29- to 34-degree range.
As a meteorologist, I am not sure it is wise for me to issue travel go/no-go opinions. Icy travel is likely once the snow begins, and temperatures will be in the 20s. I possess no special knowledge or skill about future road conditions. All depends on your specific route and risk tolerance, and that varies from person to person.
WARMER DAYS: We warm to near 40 degrees Thursday afternoon, followed by 50-degree warmth Friday. The sky will be sunny both days.
THE ALABAMA WEEKEND AND NEXT WEEK: Saturday will be mostly sunny with a high in the upper 50s; Sunday's high will be in the low 60s with a mix of sun and clouds along with a gusty south wind. Showers return late Sunday night and Monday of next week. Some thunder is possible, but for now severe storms are not expected. Cool, dry weather is the story for the middle of the week with highs in the 50s and lows in the 30s, right at seasonal averages.
BEACH FORECAST: Click here to see the AlabamaWx Beach Forecast Center page.
WEATHER BRAINS: You can listen to our weekly 90-minute netcast anytime on the web, or on iTunes. This is the show all about weather featuring many familiar voices, including meteorologists at ABC 33/40.
CONNECT: You can find me on all of the major social networks:
Facebook
Twitter
Google Plus
Instagram
Pinterest
Snapchat: spannwx
For more weather news and information from James Spann and his team, visit AlabamaWx.