January 27, 1814
About 1,300 Red Stick warriors attacked Gen. John Floyd and his army of nearly 1,700 Georgia militiamen just before dawn in the Battle of Calabee Creek near present-day Tuskegee. Floyd's army stopped the night before to camp near the creek on the way to attack several Red Stick towns on the Tallapoosa River. Just before dawn, the Red Stick assault took the army by surprise and nearly ended in a rout after killing 25 militiamen and wounding another 150. The attack ended Floyd's campaign into Red Stick territory and Georgia's involvement in the Creek War of 1813-14 as most of the weakened militia's terms of enlistment soon expired after their march home.
Read more at Encyclopedia of Alabama.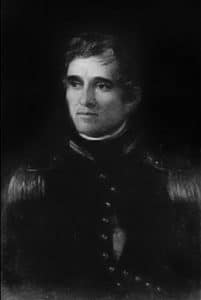 For more on Alabama's Bicentennial, visit Alabama 200.