Kathleen McCarron Art, Mobile
The Maker: Kathleen McCarron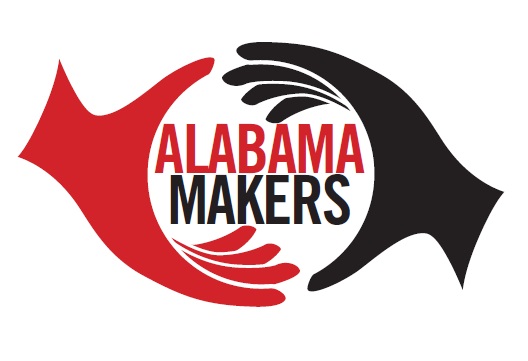 While some people hang their Mardi Gras beads on their car's rearview mirror, most likely the beads will sit in a drawer or a box somewhere and may be pulled out for an occasional Mardi Gras party. But Mobile artist Kathleen McCarron has taken the popular throws from the parades to create showcase art.
McCarron paints with them. Well, not exactly. She paints with normal mediums, then glues the Mardi Gras beads on top.
The result? Stunning, textured art that hangs in a number of galleries, museums and homes.
"About nine years ago, I was in a bookstore looking through a book of illustrations of Our Lady of Guadalupe," McCarron said. "It was done in all kinds of different ways and it just came to me. I was standing there and thought, 'Mardi Gras beads,' so I just started doing it."
Alabama Maker Kathleen McCarron creates magical images from Mardi Gras beads from Alabama NewsCenter on Vimeo.
McCarron also paints on wood, but the bead art is what sells the most this time of year. Her Facebook page is a parade of Mardi Gras colors, themes and fun.
The process is time-consuming, but McCarron loves every detail involved, from the painting to gluing the beads to the finished product.
"The smaller ones can take up to two weeks or about 25 hours, and the larger ones take over 60 hours," she said. "It's very therapeutic, actually, like meditating. I get into a groove when I'm doing it, but what takes the most time is having to cut each bead off of the necklace. I'll sit for hours cutting beads."
McCarron has been an artist almost her entire life. She grew up experimenting with different mediums. Now she spends her days painstakingly taking beads off necklaces thrown at parades and gluing them one by one to create surreal scenes.
"Growing up here in Mobile, I've always loved art," she said. "I'm self-taught and I don't have an art degree. I've been doing this bead art for about nine years."
McCarron has exhibited in different shows, but she prefers being represented by galleries like Cathedral Square Gallery in Mobile. The Mobile Museum of Art has displayed three of her pieces in a Mardi Gras exhibit. She has one piece in the permanent collection of the museum.
Now she sells mostly by her Facebook artist page and word of mouth. She plans to be represented by a gallery soon.
"I love it that people love what I do," she said. "I can continue to do it because I love it so much. It makes me feel great when someone wants to hang one of my pieces in their house."
McCarron loves the variety of colors the beads come in, from basic reds, blues and greens to more obscure shades, which enables her to create fascinating art. She gets them from friends by the hundreds.
"I always attend the parades and I'm always the one with the beads up to my chin, because so many people come up to me and give me beads," McCarron said.
Next time you are at a parade in Mobile, look for the artist with beads up to her chin. Then toss her a few.
For more information, visit McCarron's Facebook page: https://www.facebook.com/pg/Kathleen-McCarron-374277756054412/.
---
The product: Art made with Mardi Gras beads.
Take home: A commissioned piece of art. Prices vary.
Kathleen McCarron
Mobile, Alabama
Facebook: https://www.facebook.com/pg/Kathleen-McCarron-374277756054412/