Four years after changing Auburn's culinary landscape with his restaurant Acre – earning two semifinal finishes in the prestigious James Beard Foundation Awards competition in the process – David Bancroft is planning his second Auburn eatery, a fast-casual barbecue, Tex Mex and Southern cooking hybrid called Bow & Arrow.
The restaurant, which will open on East Samford Avenue near Auburn High School this summer, pays tribute to Bancroft's San Antonio, Texas, roots and love for down-home Southern recipes. It's a concept Bancroft describes as "South Texas meets Alabama potluck."
Earlier thoughts of opening purely a barbecue or solely Tex Mex restaurant were thwarted when other restaurants came to the market.
"I had to make it a different thing, so that when you walk in, there's no doubt this is mine," says Bancroft, who won TV's "Iron Chef" competition during an appearance on the Food Network show in December. "That's where this meat-and-three Alabama potluck meets Texas barbecue is happening."
At Bow & Arrow, patrons will pick either fresh tortillas or white bread, and "that will determine your next move," Bancroft says. "One person might go Tex Mex, the other might go potluck."
Next stop is what the chef calls a "meat chandelier," a fire pit with chicken, meats and sausages hanging around it. "You point at the meat you want, and you get it," he says. "You're talking with the cooks and the pit masters. They're making your lunch right in front of you."
Order some sides, and then pay for your meal, typically $10-$15, Bancroft says. The last stop is the extensive condiment bar, featuring barbecue sauces, pico de gallo, relishes, pickles, chow chow and more.
"We're utilizing smoke and coals and fire and embers and soot to our advantage," Bancroft says. "We're building a fire on the floor, doing the low-and-slow meat smoking in the back and finishing it over the open coals. You order everything in one swipe, and once you walk in the door, you have your food in under five minutes."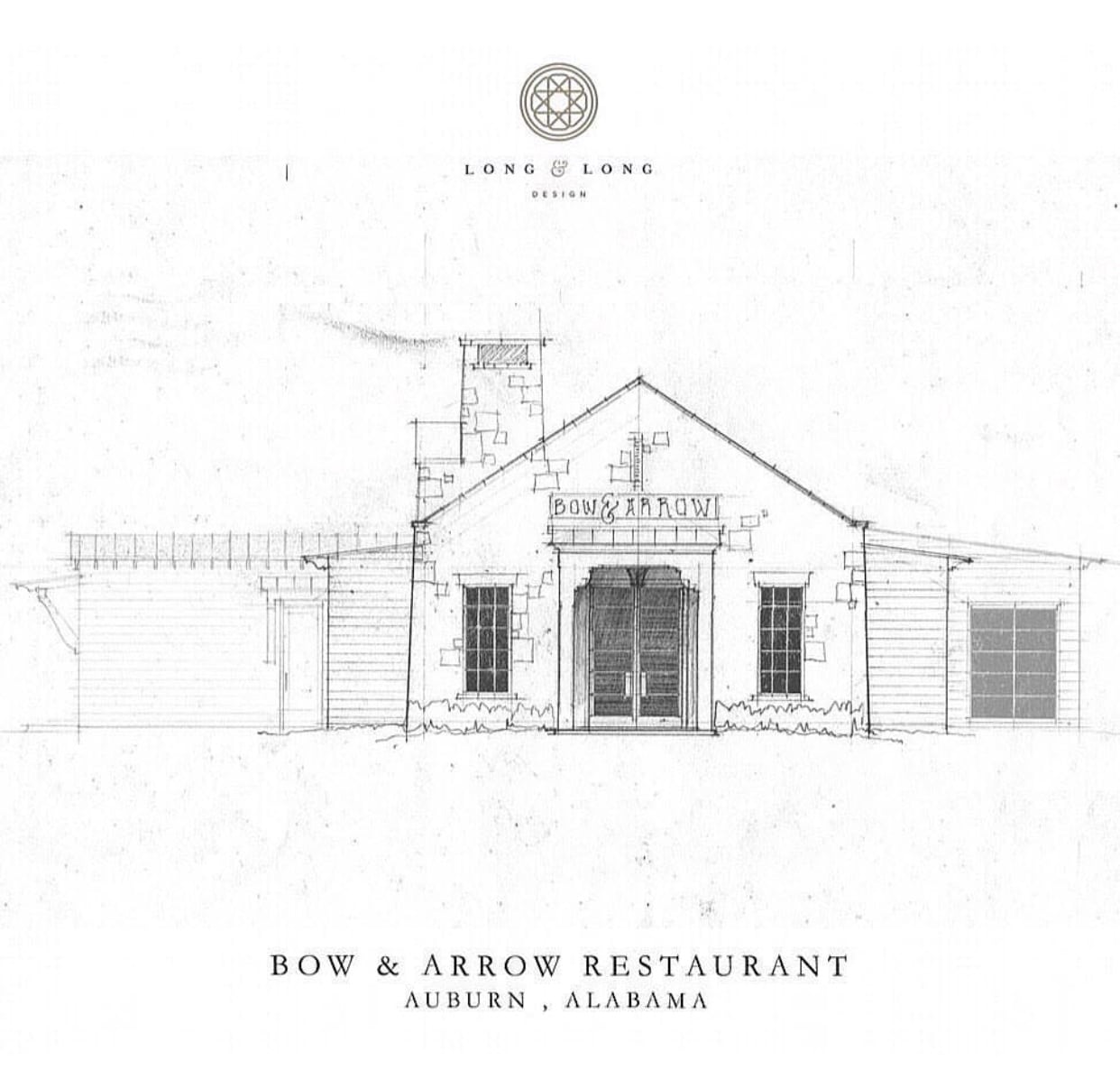 Growing up in San Antonio, Bancroft's passions were sports and food. He played football and baseball, and by the time he turned 13, he knew his way around a kitchen.
"I loved to eat, loved the food and the flavors," he says. "I didn't know what it was going to translate into, but I could tell when grandmothers made it really well and could tell when they were off a bit. Of course, I didn't say anything."
His parents had met at Auburn University, and Bancroft chose Auburn over Texas A&M. Active in Freshman Forum and the Student Government Association, Bancroft also served as kitchen steward for his fraternity, Beta Theta Pi.
"They were smoking Boston butts for pledge events and having catfish fries and shrimp boils," he recalls. "I would always take it over. 'Nah, nah, nah, get out of the way.'"
An initial attempt to talk his parents into culinary school failed, so Bancroft took a job at Amsterdam Café, an Auburn restaurant. When he was a senior, Bancroft left Auburn shy of earning his business degree to become head cook at Amsterdam.
In four years, Bancroft says, revenue grew from $1.5 million to $2.7 million, the restaurant expanded, he hired two sous chefs, and the once-struggling Amsterdam was voted one of the top 10 restaurants in Alabama. "It was a great time," Bancroft says.
"It was what I was trying to do in elevating the scene at Amsterdam Café," Bancroft says. "I was trying to do food that was avant-garde and food that was competitive, not just locally or statewide. I wanted a restaurant that would be noticed across the South."
Acre has done just that, earning Bancroft notice in the culinary world – so much so that eater.com just named Bow & Arrow one of the 19 new restaurants to look forward to in 2018.
More than all that, though, Bancroft wanted Acre to become integral to the Auburn community, and he's accomplished that, too.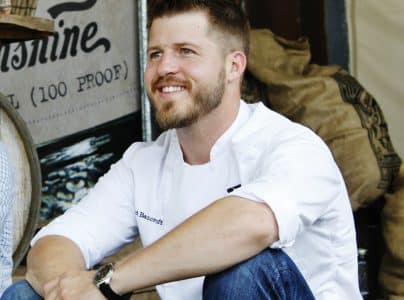 "It worked right out of the gate," he says of Acre. "In month one, we were profitable. No marketing. No ads. We just announced it on Facebook. With Bow & Arrow, we're going to depend on the Auburn community and hope for the same results."
Bancroft will oversee operations at Bow & Arrow, but Caleb Fischer, chef de cuisine at Acre, will be executive chef at the new restaurant. "Three members of our team are all taking leadership roles at Bow & Arrow," Bancroft says.
Bancroft's wife, Christin, will continue to head up marketing for Acre and the new venture, and though he'll spend some of his time at Bow & Arrow, Bancroft will continue to be hands-on at  Acre, his flagship restaurant.
"I owe Acre to Auburn and the community, and I don't want to dilute that," he says. "No way I'd be in town and do something similar to Acre. So we went all the way up high and all the way down low."
And "down low," if it means smoked meats and sausages, suits Bancroft just fine.
"A lot of my friends and fraternity brothers love to come to Acre and see me and say hi," Bancroft says. "But they'd really prefer to go eat at Bow & Arrow, because that's the stuff they know me for.  Bow & Arrow will be the one they can go to two or three times a week and still look their spouse in the face when the credit card bill comes in."
Bancroft doesn't know what's next, other than opening Bow & Arrow and maintaining the reputation that Acre has set.
"The strategy, I guess, is to stay with the momentum, but don't settle in it," he says. "Maintaining a level of quality and expectation for our guests is our main goal."