If you think it was really cold during this just-ended January, you think right.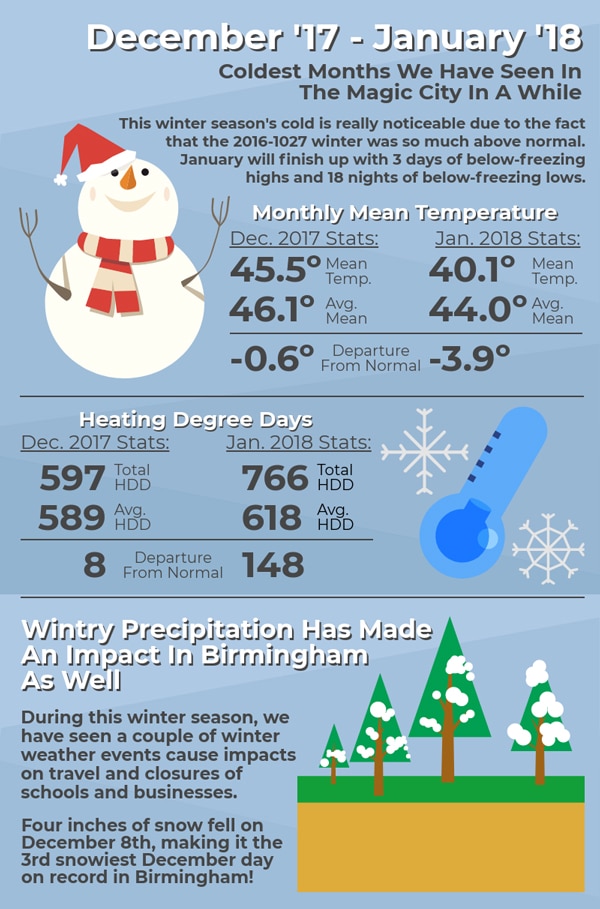 So far, this has been one of the coldest winters in the state's history. But January has been particularly memorable.
Indeed, central Alabama went into the deep freeze on Dec. 31 and hasn't really looked back.
January 2018 ranks as the 25th coldest on record in Birmingham. Those records go back to 1897.
The average temperature for January 2018 in the Magic City was 40.1 degrees, which is nearly four degrees below the normal mean temperature of 44.
And it really showed up in how much energy it took to heat our homes.
The city recorded the 19th most heating degree days in January, at 766. That's 24 percent more than the average, which is 618. Heating degree days are a measure of how much heat we have to use.
There were three days in January when the high temperature never made it above freezing. There were 18 nights with lows below 32 degrees. Eight nights were in the teens and one night was in the single digits for the low.
The cold is especially noticeable this winter since the winter of 2016-2017 was so much above normal. December, January and February temperatures were all well above normal last winter. Meteorologists measure winter as the three months from December through February.
And let's not forget that this winter started off cold. December 2017 in Birmingham finished with an average temperature of 45.5 degrees, 0.6 of a degree below normal. You have to go back to 2010 to find a colder December, when the average was 40.1 degrees. Heating degree days in December 2017 totaled 597, above the average of 589.
The good news is that the remainder of February looks like it will moderate some, according to the National Weather Service's long-range climate model.