You know, Valentine's Day is just around the corner. So rather than showing up with a box of store-bought chocolates, try these incredibly easy chocolate truffles. These were just too easy and delicious not to tell y'all about.
Valentine's has always been a big deal with me and my wife. Every year (it's been going on nearly 22 years, so that's a bunch of Valentine's Days) was met with one of us trying to outdo the other with some over-the-top expression of love. One year, I filled the huge tree outside her parents' house with giant hearts and another year I covered her car with post-it note messages. You get the idea. … I won't bore y'all with all the other super-sappy years. It's always been something fun but completely wacky.
Heather and I met in high school and dated for a while. We went off to college and nursing school proved to be too much strain on our relationship so we went our separate ways. After college, I bought a little house in a neighboring community and started building a life for myself. I had been there about a year when the house across the street from me went up for sale. An older woman lived there alone. Oddly enough, she had fallen in love with the little old man next door to her. Isn't that cute? They got married and moved into his house and put hers up for sale. Several months passed and people were constantly over there looking at the house. Then one day, a moving truck arrived. I walked over to greet the new folks and welcome them to the neighborhood and you can imagine my astonishment when I learned that the person moving into that house was none other than my high school sweetheart. (You guessed it, I know!) I mean, what are the chances that of all the houses in all the neighborhoods that she buys the house across the street from me having no idea I lived there. (I had a new car and everything so there was no way for her to know.) The rest, as they say, is history. We have a beautiful, amazing little 9-year-old now and life is great!  Now on to the truffles.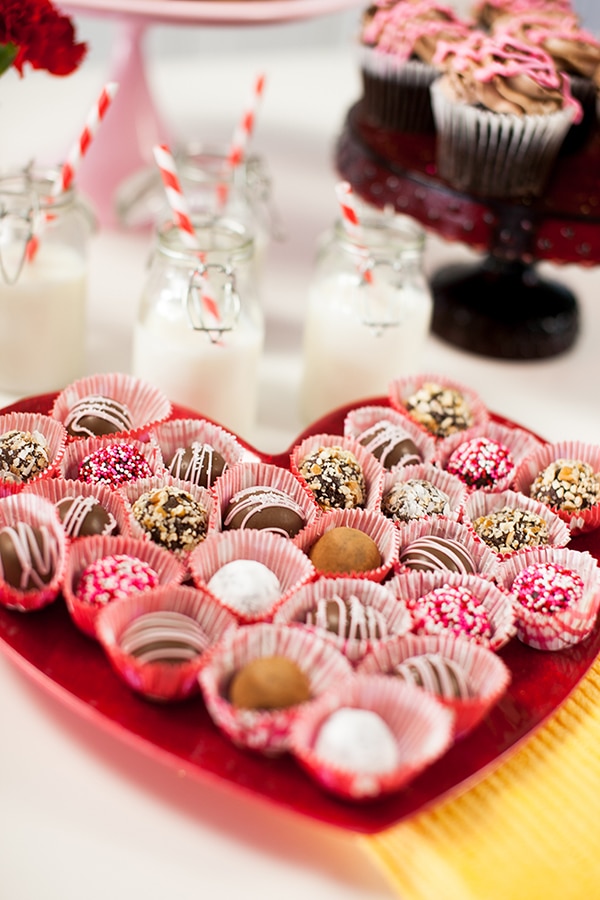 Valentine's Truffles
Prep time: 45 minutes
Total time: 45 minutes
Serves 36 to 48
Ingredients
3 cups semisweet chocolate chips
14 oz. can sweetened condensed milk
1 tablespoon vanilla
Coatings – I used some powdered sugar, cocoa powder and some finely chopped nuts. Be creative!
Instructions
Melt the chocolate chips in the microwave using 30 second intervals. Stir between each until chocolate is completely melted and smooth.
Stir in sweetened condensed milk and vanilla. (You can also stir in another flavoring, too, like raspberry, strawberry, or even orange.)
Allow the mixture to cool to room temperature (about 2 hours). Waiting too long will cause the chocolate to get too hard. If that happens, you can just zap it in the microwave again to soften it up.
Roll into ¾-inch balls and gently roll in any of your favorite coatings.
This recipe originally appeared on SouthernBite.com. For more great recipes, visit the website or check out The Southern Bite Cookbook.