There were plenty of fishing tales being told last week at the Bassmasters Elite at Lake Martin.
South Carolina angler Andy Montgomery had an unusual run of tournament marshals in his boat over the weekend.
On Thursday, he had a man who is a funeral home owner and Friday his marshal is a coroner.
"If I had come out here Saturday and the marshal would have told me they were a florist, I wasn't going," Montgomery said.
Montgomery, a Clemson Tigers fan, said he started out his day finding out his marshal's favorite team – Auburn or Alabama.
"I wanted to make sure I didn't say something that might get me killed right off the bat," Montgomery said.
Good and lucky
While fishing Saturday's semifinal round of the Bassmaster Elite presented by Econo Lodge, champion Takahiro Omori caught a bass that had two lures in its mouth. One was a chartreuse plug that Omori had lost Friday on an underwater tree branch, and the other was the red bait he fished with most of the day Saturday.
In 287 events with B.A.S.S., Omori said he's never had anything like that happen before. But it was a charmed tournament for the Japanese-born Texas resident.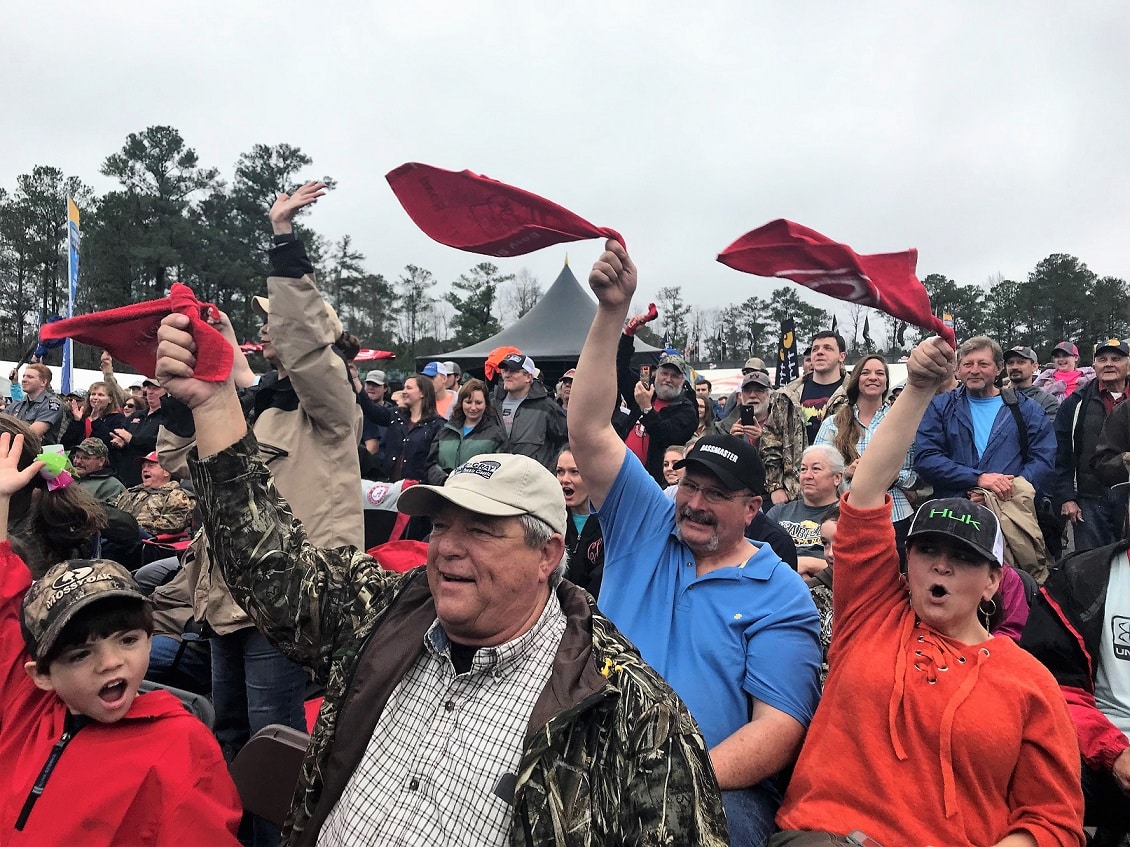 "That crankbait is just a once-in-a-lifetime story," Omori said. "I think maybe what happened is that it got hung up and the fish ate it before. Then it ate the other bait today. I have never had anything like that happen before and probably never will again."
Omori was the runaway winner of the tournament.
Baby watch
Kalamazoo, Michigan, pro Jonathon VanDam had an anxious week as he and his wife, Arika, are expecting their first child at any time. VanDam said the baby was due last Wednesday.
But the two made the decision for him to fish in the first Bassmaster Elite Tournament of the year and hope for the best.
"We had a plan in place in case she went into labor while I was gone, but luckily we didn't have to use it," VanDam said. "It has been one of the most stressful weeks I've been through, just out there trying to fish and halfway waiting for the phone to ring. We made it through the week, fished on Sunday and got a pretty nice paycheck. But now I'm ready to get home and be there with her."
VanDam made the cut, fished Saturday and Sunday and completed the tournament with 47 pounds, 9 ounces; good enough for ninth place and $12,000.
As soon as he was offstage, VanDam hit the road for the 790-mile journey home.
No local luck
It wasn't a great week for competitors with ties to Lake Martin.
None of the local anglers made the cut or finished in the money.
Steve Kennedy finished 54th with 20 pounds, 10 ounces; Greg Vinson was 67th with a two-day total of 19 pounds, 13 ounces; and Kelley Jaye finished 100th with 15 pounds, 8 ounces.
"I think in my case I was fishing too many memories that first day instead of fishing like I know how to fish with the conditions we had," Vinson said. "I spent a lot of time running and hitting spots where I have had success on Thursday, especially, and that really put me in a hole. But it was good to be home and sleep in my own bed to get the season started."
Some Alabama fishermen did get paid in the tournament.
Guntersville's Justin Lucas was the highest-placing Alabama angler, with 50 pounds, 5 ounces, which was good enough for sixth place and a check of $13,500. Clanton's Dustin Connell finished 12th with 44 pounds, 14 ounces. He took home $10,500 for his four day-effort.
This story originally appeared in The Alexander City Outlook.