The Associated Builders and Contractors of Alabama revealed the commercial construction industry has a $12 billion annual economic impact on the state as Gov. Kay Ivey seeks to expand a worker training program preparing Birmingham high school students for construction jobs.
"A thriving building and construction economy is a sign of a healthy state," Ivey said.
ABC Alabama released the updated economic impact report by Keivan Deravi, economics professor at Auburn University at Montgomery, on Feb. 14, the same day the governor toured the Academy of Craft Training Center in Birmingham.
Alabama Governor Kay Ivey, ABC Alabama tout construction industry's $12 billion economic impact from Alabama NewsCenter on Vimeo.
"Commercial construction has a direct annual impact of almost $8 billion and, including the indirect, an annual impact of $12 billion a year," David Pugh, 2017 chairman of ABC Alabama, said.
The report also found that the construction industry in Alabama accounts for: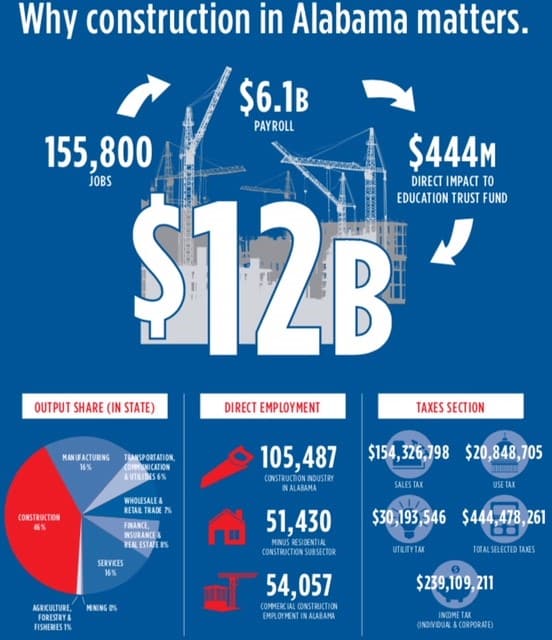 155,800 direct jobs
$6.1 billion in annual payroll
$444 million direct impact on the state Education Trust Fund.
"I clearly understand that any construction company like those represented here today are only as strong as your workforce," Ivey said.
The Academy of Craft Training Center was formed two years ago as a partnership between the construction industry and Alabama's K-12 education system and is used to recruit, educate and guide high school students for construction and building educational and career opportunities.
Ivey said the academy is in keeping with her "Strong Start, Strong Finish" education initiative.
"The jobs of tomorrow are going to require a postsecondary certificate or degree, or it's going to require students getting hands-on training that prepares them to enter the workforce immediately after graduation from high school," she said.
Ivey said she wants to expand the construction academy throughout the state and duplicate the blueprint for other industries. Ivey said her team is putting together a five-year strategic plan to implement work-based learning through collaboration between industry and education sectors.
"We will no longer limit our students to an education restricted to the classroom," she said. "Rather, we will give them opportunities to allow the knowledge they've gained in the classroom to be put into practice in an actual workplace setting."
Ivey said workforce training and education must align with the needs of businesses to keep the state on its current winning streak when it comes to economic expansion and job growth.
Jay Reed, president of ABC Alabama, said the construction industry is in favor of seeing worker training expand.
"We are proud to work in an industry that has such a positive impact in our state, jobs and communities but we must continue to invest in opportunities that foster the next generation of Alabama's hardworking, skilled construction leaders," he said.