There's another space race in the Rocket City — the race for space.
In 1969, local NASA engineers made history by putting the first man on the moon. Today, Huntsville commercial real estate brokers are pioneering the way for a bevy of businesses.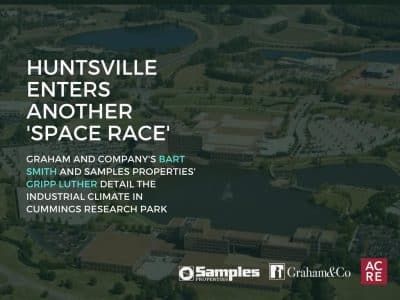 Over the past 50 years, two competitors in particular — Washington, D.C., and California's Silicon Valley — have often edged the city out in the ferocious race to attract big business.
The proximity to the FBI, Congress and Maryland's Andrews Air Force Base made D.C. an attractive suitor for a multitude of companies searching for industrial properties, and California's Midas touch in the renowned Silicon Valley had businesses swarming like flies in the coastal community.
However, as property prices continue to climb nationwide, minimum wages rise rapidly and President Trump's impending tax implications become even more unclear, Huntsville has become an "it market" for companies seeking refuge from a series of suffocating expenses.
Over the last 24 months, Huntsville has become a regular headliner in national news, attracting a slew of new companies.
In 2016, Polaris rolled into the Rocket City, investing more than $142 million in the area and employing more than 1,700 skilled and unskilled workers. Fast forward a year, and the investment in Huntsville's Cummings Research Park skyrocketed. A flood of announcements saturated local and national news, including an Aerojet Rocketdyne expansion that would bring 800 jobs and Jeff Bezos' Blue Origin planning to invest $200 million in a rocket engine factory.
That number is soon to surge even further with Toyota's and Mazda's recent announcement that they will build a $1.6 billion joint assembly plant off Greenbrier Road.
Development is just one component driving Huntsville's space race. Current tenants are absorbing vacancies with great virility.
"Current tenants in CRP, such as Dynetics, Aerodyne and Northrop Grumman, are winning new contracts and expanding their presence in the park. CRP has seen a positive absorption of over 400,000 square feet in the last six months," said Bart Smith, CCIM, SIOR, managing broker at Graham and Company in Huntsville.
There is nothing uncanny about this success.
"The city's favorable cost of doing business, highly educated workforce and strong government presence make the case. It's simple math. The cost of doing business in Huntsville is 32 percent less than the national average and rent per square foot is 22 percent less," Smith said.
Developers and current and prospective tenants are competing in a feeding frenzy in hopes of capitalizing on the burgeoning area, as both vacancy and absorption rates continue to improve.
The renaissance in Research Park has just begun, and it is completely changing real estate within the Rocket City.
"We are bullish on the market and expect to see more new construction and redevelopment on the horizon," said Gripp Luther of Samples Properties.