Click here to view or print the entire monthly report compliments of the ACRE Corporate Cabinet.
Sales: According to the North Alabama Multiple Listing Service, Morgan County (Decatur) residential sales totaled 105 units during January, up 22.1 percent from the same month in 2016, when home sales in the area totaled 86 units. Existing single-family homes accounted for 90 percent of January residential sales, while newly constructed homes were 10 percent. Two more resources to review: Quarterly Report and the Annual Report.
Click here for all Morgan County residential data.
Forecast: January sales were 23 units, or 28.1 percent, above the Alabama Center for Real Estate's monthly forecast. ACRE projected 82 sales for the area during January, while there were 105 actual closed transactions. ACRE forecasts a total of 1,432 sales in the Decatur area during 2018. There were 1,482 actual sales during 2017.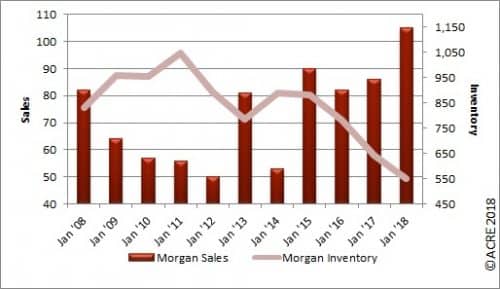 Supply: Morgan County housing inventory totaled 549 units, a decrease of 14.5 percent from January 2017. Inventory was 0.9 percent below the prior month. Historical data indicate that January inventory on average (2013-17) increases from December by 1.4 percent. The five-year average for total homes listed in the Decatur area during the month of January is 796 units.
Demand: January residential sales in the Decatur area decreased 12.5 percent from the prior month. This is consistent with historical data indicating that January sales on average (2013-17) decrease from December by 12.3 percent. For January, the average number of days on the market until a listing sold was 114 days, up 16.3 percent from the previous January. The five-year days-on-market average for January is 130 days.
Seeking balance: The inventory for sale divided by the current monthly sales volume equals the number of months of housing supply. The market equilibrium, or balance between supply and demand, is considered by most real estate professionals to be approximately 6 months. During January, the Decatur area had 5.2 months of housing supply, down from 7.5 months of supply one year ago. The months-of-supply figure has declined 72 percent from the 10-year January peak reached in 2011, when the area had 18.7 months of housing supply. This trend is encouraging news, especially for sellers.
Pricing: The Morgan County median sales price during January was $126,900, which is 4.4 percent above January 2017's median sales price of $121,500. The median price in the area increased 0.4 percent from the previous month. Differing sample size from month to month can contribute to statistical volatility, including pricing. ACRE recommends consulting with a local real estate professional to discuss pricing, as it will vary from neighborhood to neighborhood.
Industry perspective: The recent headlines in the real estate world have revolved around rising interest rates. As of Jan. 31, the interest rate on a 30-year fixed-rate mortgage was 4.38 percent. This is up from 4.18 percent on Jan. 10 and up from 4.08 percent on Dec. 6, 2017. The stock market has rebounded somewhat from its large selloff on Friday, Feb. 2, and Monday, Feb. 5, as investors adjust from an accommodating monetary policy to one with some inflation and higher interest rates. The recent market decline is a signal of a return to normalcy and higher debt costs. Rising interest rates, however, do not cause housing activity to come to a halt, in the same way that rising rates do not cause businesses to go into hibernation. In the spring of 2006, the Federal Reserve stopped raising interest rates after raising rates 16 times over a three-year period. The economy was performing well during this time (2004-2005) of rising interest rates. The Great Recession happened, interestingly enough, at a time when interest rate increases were halted.
Home ownership rates increased to 64.2 percent during 2017 after falling to a post-1965 low of 62.9 percent in 2016. Not surprisingly, home ownership rates peaked during 2005 at approximately 69 percent. Millennial home ownership rates are also on the rise as their employment situations continue to improve. Millennials, in fact, have been recently credited with an improvement in suburban housing markets as not all are city dwellers. This rise in home ownership was highlighted recently at the annual TrendLines 2018 program in Washington, D.C., with an analysis of Census Bureau housing data presented by Sage Policy Group, Delta Associates and Transwestern. The following excerpt is from the closing paragraph from the home ownership report, and is encouraging news for residential real estate markets across the nation:
"This year, the most common age in America will be 26 years old. There is also an abundance of 25- and 27-year-olds. All of these people are millennials, America's largest and most educated generation. As more of this demographic block marches into their 30s, demand for ownership opportunities will rise. While there may be downturns that occasionally suspend these demographics, the next decade stands to emerge as a period of rapidly expanding home ownership and single-family homebuilding in America."
Click here to generate more graphs from the Morgan County January Housing Report, including Total Sales, Average Sales Price, Days on the Market, Total Inventory and Months of Supply. 
The Morgan County Residential Monthly Report is developed in conjunction with the Morgan County Association of Realtors to better serve area consumers.