The story of Alabama, over two hundred years in the making, has been captured in "Making Alabama, A Traveling Exhibit" a new exhibition that will debut at the Old Supreme Court Library in the State Capitol in Montgomery on March 5.
The exhibition, presented by the Alabama Humanities Foundation (AHF) and funded through a grant provided by the state Legislature, will travel to all 67 counties in Alabama throughout the next year and half. It will explore the decisions and turning points that shaped the state's history, from its early Native American heritage, through statehood, the Civil War, and civil rights – forming the Alabama of today and influencing the Alabama of tomorrow.
Making Alabama Humanities Foundation Exhibit bringing the Bicentennial to Alabamians from Alabama NewsCenter on Vimeo.
"One of the reasons we've done this (exhibition), is that the Alabama Bicentennial Commission felt it was very important for all citizens to be involved with the bicentennial effort," said Armand DeKeyser, Alabama Humanities Foundation executive director. "Not everyone can travel to one of the larger cities … and leaders wanted to make sure that the residents of all communities had an opportunity to participate."
As "Making Alabama" travels throughout the state, each of the host communities will develop its own historical exhibitions, programming or events to showcase local history and personalize the exhibit experience for its community. "It has been very interesting to see how much excitement we've gotten from the communities," DeKeyser said. "We're a state of storytellers. We love to be able to relate to each other."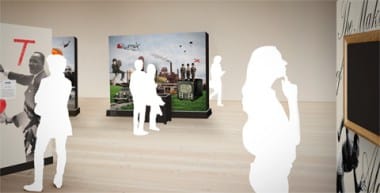 The exhibition has been designed primarily for school-age children and above. It includes oral histories that have recorded the stories of Alabama in the words of people who lived them, and interactive tablets that provide "quick and brief snippets, that will lead you to go look at other ways to learn and explore about Alabama," DeKeyser said.
In addition, guides to the exhibit will feature topics and questions to encourage visitors to think and engage long after they've left the exhibition, DeKeyser said.
"One of the things I love about being in Alabama and talking to citizens is that they really enjoy passing on a story, and passing on about what happened in their family or their community," DeKeyser said. "This is a way we hope to generate some of that conversation."
"Making Alabama" has been proudly made in Alabama, with Tatum Design in Homewood developing the design and Southern Custom Exhibits in Anniston providing fabrication services. AAA Cooper in Dothan will transport the exhibition from site to site throughout the bicentennial celebration.
To see when "Making Alabama" is coming to your county, or to access the exhibition materials, visit MakingAlabama.org.