Nestled atop a ridge in Oak Mountain State Park, the Alabama Wildlife Center (AWC) cares for almost 2,000 avian patients from over 100 species each year. That is a far cry from its humble, homegrown beginnings.
"The AWC grew from literally the front porch, and vision, of our founder and founding executive director, Anne Miller, to where we are today," said Doug Adair, current executive director.
For the first decade, Miller operated the center out of her home, but the number of animals that needed care began to outgrow the space.
In 1987, the AWC partnered with the Alabama Department of Conservation and Natural Resources (ADCNR) and Alabama State Parks to move into AWC's current location.
"It's been a wonderful home for the wildlife center, and a great place to do what we do," Adair said.
Last year, AWC celebrated 40 years of serving the people and animals of Alabama.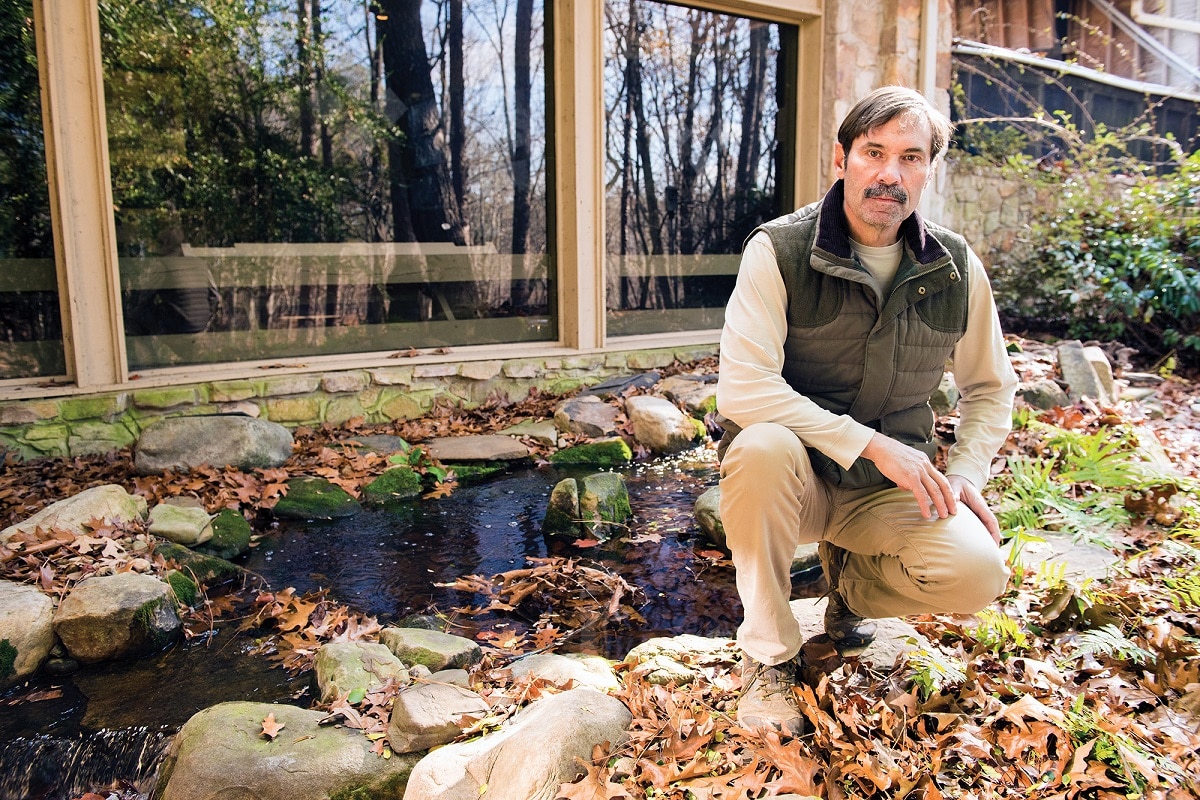 Richard Esposito, a Southern Company Services consulting engineer, has been involved with the center for more than 26 years.
"I'm probably the longest-running volunteer participant at AWC. I've been there faithfully since 1991," Esposito said. "I came up here one day because a friend of mine was a volunteer, and the executive director, Anne Miller, said that they needed some enclosures built, and I just started building the enclosures."
Since then, Esposito has supported the management and future of the facility through the center's board of directors, and is the vice chairman. "It's the volunteers and employees and the things that they do that inspires me so much … to see people doing this work, including the wildlife rehabilitation and birds being released, and their love for it, that drives me to want to bolster them," Esposito said.
Rehabilitation
Since its inception in 1977, the center has helped an estimated 100,000 Alabama wild animals.
"We receive patients from all over the state," Adair said. "We have a wildlife help line that people can call for assistance with all kinds of wild animal issues. We walk them through what to do and how to get the birds to us."
The help line has operated every day since 1981 and receives thousands of calls each year. The line connects callers with trained wildlife specialists who provide information about the situation and determine if the animal should be brought to the center. In some cases, people bring them in. Otherwise, a member of the AWC's statewide network of trained volunteers transports the patient to the center.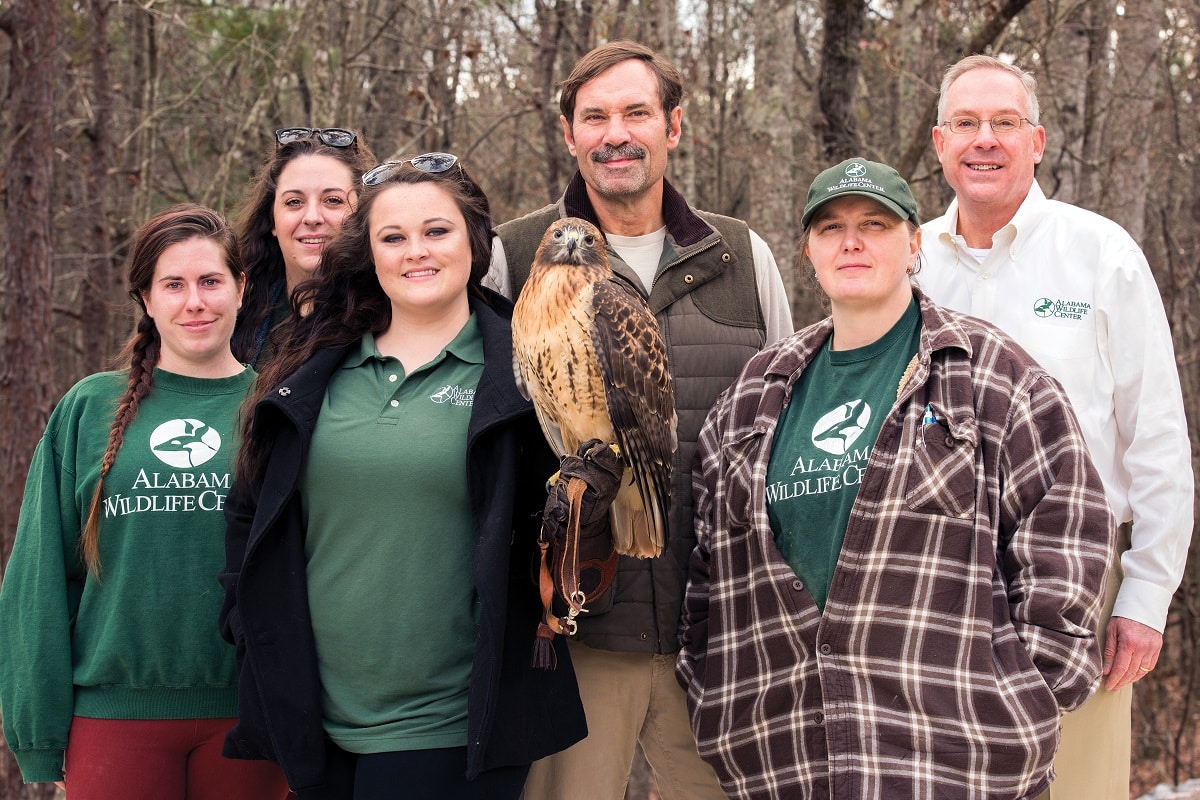 Once at the clinic, volunteers and staff, collaborating with local veterinarians, evaluate and care for the birds. Patients with more involved injuries, such as broken bones, are taken to local veterinary offices where staff members volunteer their time and resources.
"Our release rates are significantly above the national average for rehabilitation centers," Adair said. "It is a testament to our wonderful veterinarians and incredibly dedicated volunteers led by Katie Stubblefield, our clinic manager, and Rachael Adams, our avian program coordinator."
Miller pioneered many of the rehabilitation and reuniting techniques used by AWC and wildlife rehabilitation facilities worldwide.
Back to the wild
In December 2017, three juvenile red-tailed hawks had recovered from head trauma and broken wings after being hit by cars, and were ready to be released. Typically, raptors, like hawks, begin establishing a specific territory as juveniles. Since these young hawks had not had that opportunity, they were released just outside of the center in 10,000-acre Oak Mountain State Park.
"I came back out about 20 minutes later and all three were soaring above the parking lot calling," said Lauren Muncher, AWC's education program coordinator. "They were up on a thermal soaring, calling to each other. It was the most beautiful thing to see, because they were free."
If an injured, adult raptor is brought to the center, the AWC staff will make every effort possible to return the bird to the area where it was found – reuniting the raptor with familiar territory.
Education and outreach
In recent years, the AWC's outreach program audience has climbed from about 2,500 people to more than 100,000 in every corner of the state.
"What we strive to do in our education programs is to build a connection with the public," Adair said. The AWC makes that connection in a unique way, merging rehabilitation with education, by using up-close encounters with education ambassadors – raptors that were not able to be released back into the wild and live permanently at the center.
For Scottie Jackson, director of education and outreach, "The most fantastic thing about education is getting to see that moment when people engage with a live raptor for the first time, or the beautiful release of a bird back into the wild, and they get to be a part of that moment. I think that it inspires such important stewardship. That moment of excitement carries over to later years."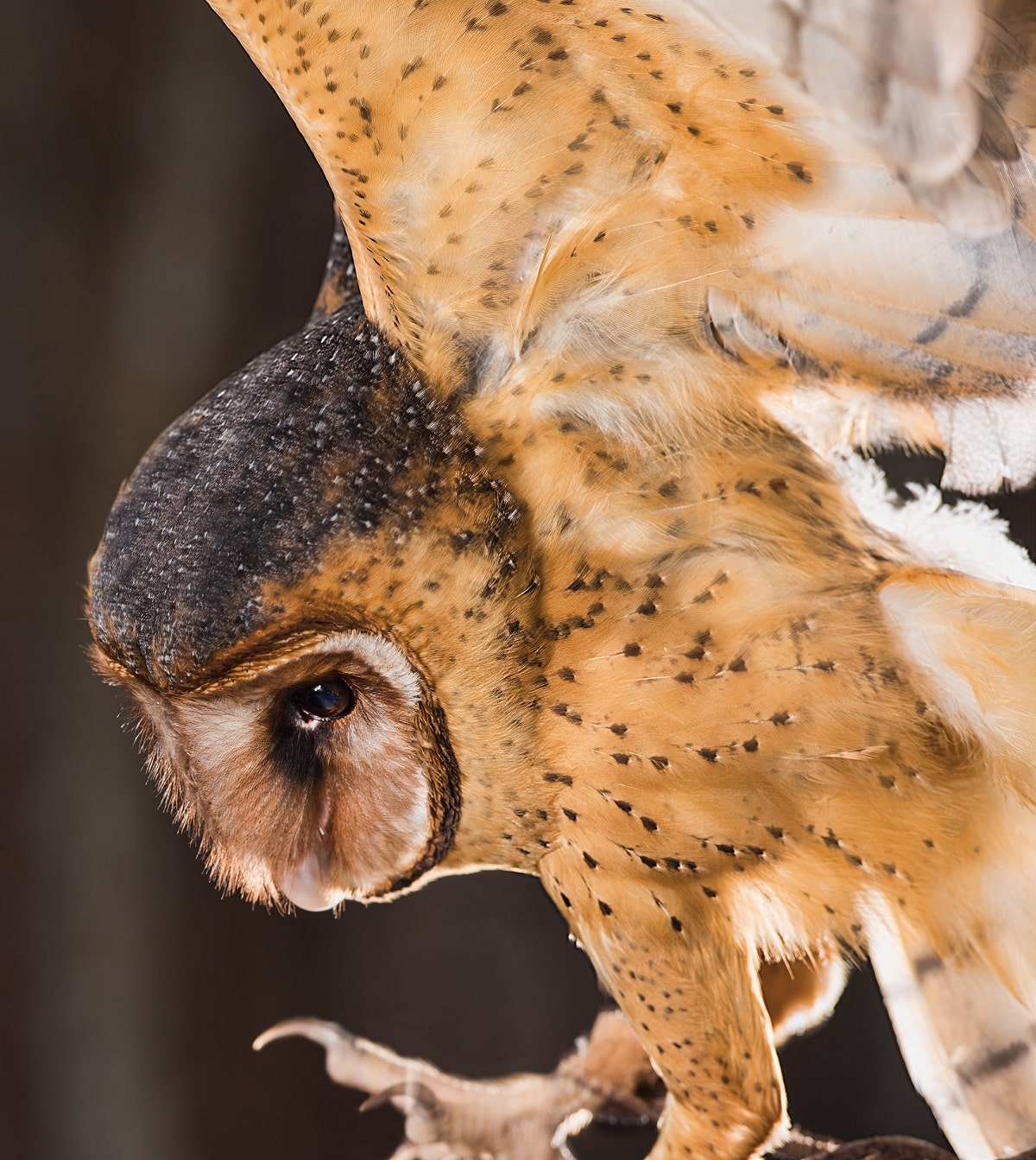 In addition to the programs at the center, including the popular children's summer day camp for grades 1-6, the education staff travels with "ambassador" hawks, falcons, owls, kites and bald eagles to schools and conservation events throughout the state.
One of Jackson's greatest moments is seeing children take home what they learn during the programs.
"Parents will tell us, 'My son or daughter came home after seeing your program, and for a week they told us about not littering on the side of the road (which attracts raptors into the paths of cars), or we went on the back porch and called a barred owl together, and it answered.' They take ownership, which is so exciting."
"If we leave a lasting impression on one of these kids and they can go off and say, 'This matters, and I care, and I want to make a difference,' that's worth it to us, whether it's one kid or 100 kids," Muncher said.
The larger goal of stewardship and developing wildlife advocates is the driving force behind the expanded conservation education program and recent renovations at the center.
To help expand its reach, AWC partnered with AT&T to install a digital line at the wildlife center. The new connection allowed the installation of video monitors to show visitors a live stream of rehabilitation enclosures that are off limits. There are plans to develop distance learning events, as well as livestreaming on the AWC website.
AWC is focused on fun family events like Owl-O-Ween in the fall and the Baby Bird Shower in spring, which help mold people of all ages into wildlife stewards.
New for 2018
Big physical changes began to take shape at the center in 2017. First, an ADA-compliant walkway was installed that extends accessibility to the outdoor enclosures.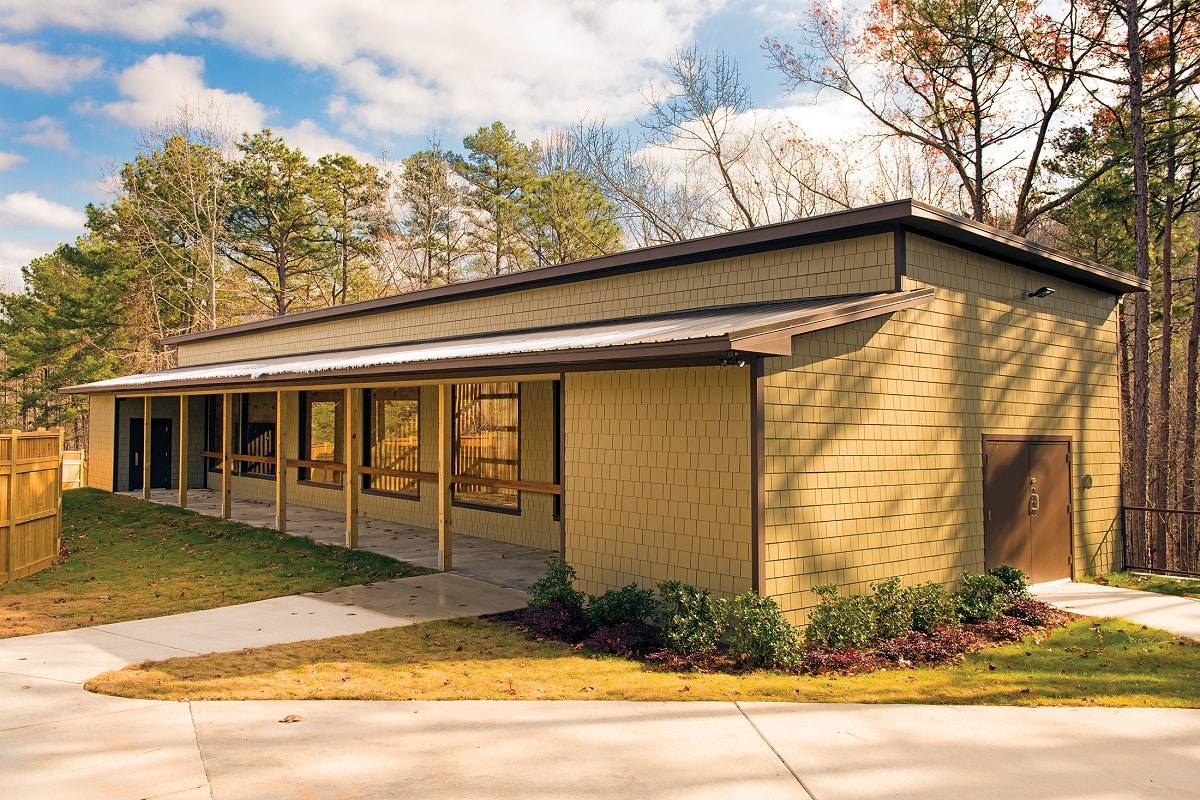 Second, the center broke ground on a state-of-the-art raptor enclosure, called a mew, that will house a bald eagle and a Eurasian eagle-owl, the largest owl species in the world. The U.S. Fish and Wildlife Service mandated the basic design specifications for the structure.
However, since it will be the permanent home of these birds, the AWC, in partnership with Shelby County, the ADCNR, EBSCO and other supporters, exceeded the guidelines to provide a more spacious home for the newest education ambassadors.
"This mew is a big deal for us," Esposito said. When the enclosure opens later this year, it will be only the second facility in the state to house a bald eagle for public educational display.
Last year AWC began a partnership with Auburn University graphic design professors and students to develop exhibits and update the facility signs and branding. The center was awarded a Community Foundation of Greater Birmingham grant to "transform those ideas into reality."
AWC has been working with the Cornell Ornithology Lab on the design and installation of an interactive exhibit utilizing Cornell's proprietary e-bird tracker technology.
"This new exhibit will be only the third in the state of Alabama utilizing this interactive technology," Adair said.
"We want the visitor experience at the center to be strong and positive," Esposito said. "We want people to come and not only see the birds we're rehabbing, but understand what we do, and why we're doing that. We'd also like to have more displays on the impact of humans on the environment and why it's important to have state parks, like Oak Mountain, so close to the city of Birmingham, where animals and birds can thrive and have a sanctuary from development."
Supporting AWC
AWC is a 501(c)(3) nonprofit that receives no state or federal funding. The center is supported primarily through membership dues, individual and corporate donations, and grants.
"There are a lot of nonprofits out there," Esposito said. "But we're one of the few organizations in the country that does what we do, and we have very dedicated supporters."
The center helps thousands of Alabamians and birds each year with only six full-time employees. The staff relies heavily on partnerships, donations and volunteers to do its vital conservation and education work.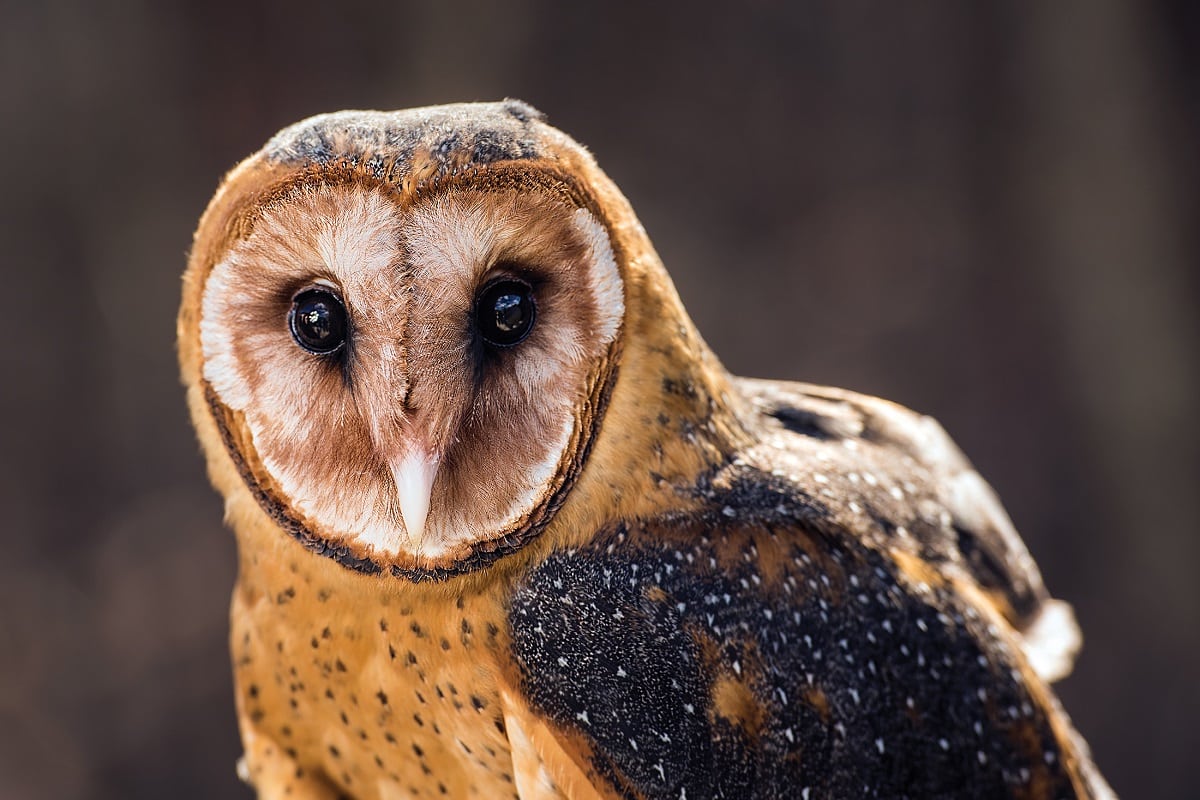 "For everyone here, it's a labor of love," Adair said. From "all-nighters" when staff members sleep in their offices in anticipation of bad weather, to caring for more than 1,000 injured and orphaned baby birds in the spring and summer – most requiring hand-feeding every 30 minutes for 16 hours a day, the work seems never-ending.
"The care and commitment of the volunteers and staff is extraordinary, and contributes to the center's very high release rate," Adair said.
The center holds a volunteer orientation on the first Sunday of each month. From hands-on animal care, to education, carpentry, information technology, event planning and office work, there is something for everyone.
"We're very much a volunteer organization and we're always searching for great volunteers," Adair said.
"We want to encourage more people to come to the wildlife center to visit us, to find out firsthand what we do and who we are. We're a resource that can take care of injured animals and get them back into the wild where they belong, and we teach people what they can do to help conserve and protect the wildlife resources that we're blessed with. That's what we're all about."
To learn how to donate or get involved, visit alabamawildlifecenter.org, call 205-663-7930, or follow AWC on Facebook, Twitter (@ALWildlifeCtr) and Instagram (@alabamawildlifecenter).
This story originally appeared in Alabama Power's Powergrams magazine.