Monday-morning quarterbacking in the weather business is often reserved for predictions of snow and ice that fail to materialize. But it's being employed by meteorologists as to whether predictions panned out for a La Niña weather pattern in 2017.
"I think they nailed it," says WIAT Chief Meteorologist Mark Prater, referring to predictions from the National Oceanic and Atmospheric Administration. He cited a generally quiet, less severe snow and tornado pattern across the country last year, even into late fall and early winter this season.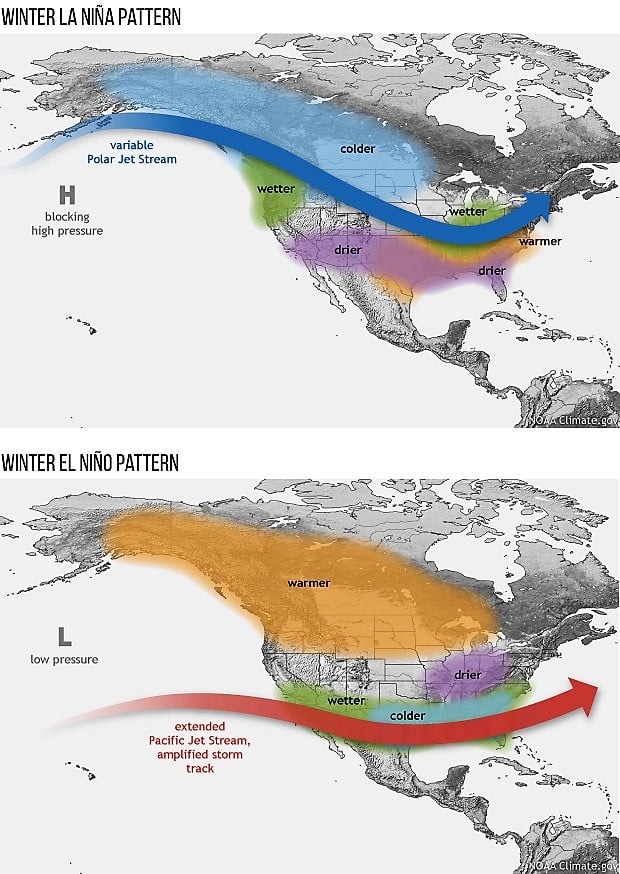 Prater thinks the quiet likely will continue this spring, as NOAA predicts an equalization of La Niña and El Niño, its opposite pattern.
"It's a given we will still have severe thunderstorms and tornadoes in the spring because of the transition from colder air to warmer air, no matter if it's El Niño or La Niña," Prater says. "But with the evening out, I would expect to not necessarily have an extremely active season."
La Niña is the cooling of the Pacific Ocean affecting the jet stream, bringing more stability to the atmosphere of most of the United States, meaning fewer severe thunderstorms and tornadoes; although out West, storms and rain tend to rage, as they did last winter, causing a prolonged deluge of flooding and mudslides in California.
El Niño, on the other hand, entails a warmer Pacific, bringing more dynamic weather patterns across the heartland of America, with higher precipitation and warmer temperatures, and the volatility that goes with the mix.
As far as NOAA getting its La Niña prediction right for 2017, Prater cited as evidence the lack of major snowstorms battering the Midwest and fewer storms in the "second tornado season" in the South in November and December.
"Traditionally, with El Niño, you see major snowstorms hit the country week after week after week, but not last year or so far this winter" with La Niña, Prater said.
Of course, there are exceptions. The Dec. 8 record snowfall in Alabama was a "freak accident" of colliding precipitation and cold temperatures, Prater said, that had nothing to do with La Niña; the same for the seasonal Nor'easters rolling up the Atlantic seaboard, pounding New York City and New England with massive snowfalls.
"One aspect of La Niña is colder temperatures, and we had the eighth coldest January in Alabama on record," Prater says.
For those who enjoy the sport of tracking La Niña/El Niño prognostications, NOAA makes predictions and provides updates the second Thursday of every month at www.cpc.ncep.noaa.gov/products/analysis_monitoring/lanina/enso_evolution-status-fcsts-web.pdf.