By the time Christopher Confessore reaches the end of this month, the conductor may be ready to just take a deep breath and relax.
On Feb. 27 through March 4, he had four rehearsals and three concerts with the Brevard Symphony Orchestra; On March 6, he rehearsed twice with the Sarasota Orchestra, followed by a quick trip to Birmingham March 7-8 for a two-concert tour with the Alabama Symphony Orchestra and Bobby Horton. This week, he's had two rehearsals and a performance with the ASO and goes straight into rehearsals Tuesday and Wednesday with the Alabama Symphony Youth Orchestra, rehearsals with both the ASO and ASYO with a performance March 18 and, finally, back to Florida with six concerts with the Sarasota Orchestra March 20-24.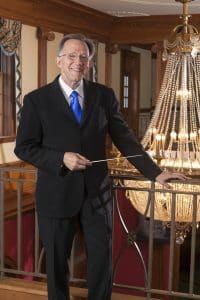 That's a little bit busier than usual, but bouncing from city to city is nothing new for ASO's resident conductor and principal Pops conductor. He's also music director and principal conductor of the Brevard Symphony Orchestra, and often conducts in Sarasota and, the past few years, at Disney World's Candlelight Processional and Pixar show. Recently, he started conducting with the Black Jacket Symphony, a Birmingham-based crew that recreates classic rock albums in concerts around the country.
"I have formal titles with two orchestras, then I get to guest conduct in a number of places, and some of those places are fairly regular," Confessore says from his home base in Orlando.
Confessore lived in Birmingham when he joined the ASO in 2000, serving as assistant conductor and filling in for the primary conductor – Confessore likens it to being an understudy – from time to time.
"It was difficult to get off for anything if you got invited to go somewhere else for work, so I talked to the executive director about the possibility of splitting the job I was doing," he says. "I didn't want to just leave the ASO. I love the musicians and its supporters and everything."
Now living in Florida, Confessore's contract calls for him to be in Birmingham at least 12 weeks each season, and most seasons he's conducting 15 or so weeks.
That leaves him time for other opportunities, including the symphony in Brevard, where he's been since before he joined the ASO.
"When I started with the ASO, we were doing a lot of things with the ballet and opera, when I wasn't needed, and it was only like five weekends I had to ask off," he says. "As we did less and less with the ballet and opera, those weeks were harder to come by, and it was harder to get away."
And so began the life of one of the country's busiest conductors, often on the road from Florida to Alabama and back again, playing pops (like George Gershwin at the ASO this weekend) in one city and Rachmaninoff in the next.
Confessore thrives on it. Mostly.
"Where it gets touchy for my wife is when there are back-to-back weeks when I'm gone," he says. "That's where it can be difficult in dealing with all the school stuff with my stepkids and everything. We typically know the schedules so far in advance that we try to work things like that out early. … And if it's a new place, I always try to figure out a way for her to go with me."
At times, he tries to schedule the music itself to fit his busy schedule.
"The biggest issue is if you're doing serious MasterWorks-type concerts in two places," Confessore says. "That's what we were doing in Brevard, and two of the three pieces I'd never conducted before. I tried to be careful when I booked things around it that I didn't have another concert with lots of big pieces that I hadn't done before."
And the Brevard piece is a two-fer.
"The symphony we're doing here I've never done before, and it's been awhile since the ASO has done it, so we're doing it there next year," he says. "It'll be a repeat for me, but something new for the audience."