Click here to view or print the entire monthly report compliments of the ACRE Corporate Cabinet.
Sales: There were 40 residential sales in the Lake Martin area during February, up 21.2 percent from 33 total sales in the area one year ago. February's sales were 43.9 percent above the five-year average of 28 sales. Two more resources to review: Quarterly Report and the Annual Report.
For all of Lake Martin's area housing data, click here.
Forecast: February sales were two units or 5.3 percent above the Alabama Center for Real Estate's monthly forecast. Through the combined months of January and February, 76 total residential sales have been recorded, five units or 7 percent above expectations. ACRE's sales forecast projects a total of 684 sales in the area during 2018; there were 665 actual sales during 2017.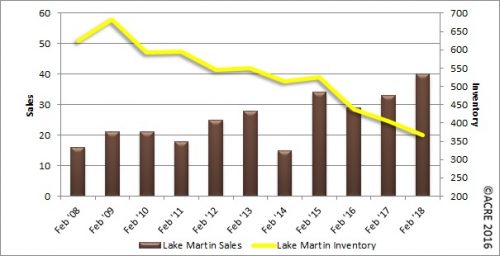 Supply: The Lake Martin area housing inventory in February was 367 listings, a decrease of 9.6 percent from a year earlier. February inventory increased by 18 percent from the prior month. This trend is consistent with historical data from 2013-17 indicating that February inventory on average increases from January by 7.9 percent.
Demand: Residential sales increased by 4 units or 11.1 percent from the prior month. This trend contrasts with historical data from 2013-17 that indicates February sales on average decrease from January by 11.7 percent. Listings selling in the Lake Martin area during February averaged 143 days on the market before selling. This represents an improvement of 13.3 percent from one year ago, when the average was 165 days.
Seeking balance: The inventory for sale divided by the current monthly sales volume equals the number of months of supply. Most real estate professionals consider the market to be in balance at approximately 6 months of supply. There were 9.2 months of housing supply in February, up from 8.6 months in January and down from 12.3 months of supply one year ago.
Pricing: The Lake Martin area median sales price in February was $187,500, a decrease of 12.8 percent from one year ago. The current median price in the area is 7.3 percent above the five-year average for February sales. Pricing can and will fluctuate from month to month because of changing composition of actual sales (lakefront vs. non-lakefront) and the sample size of data (closed transactions) being subject to seasonal buying patterns. ACRE recommends contacting a local real estate professional for additional market pricing information.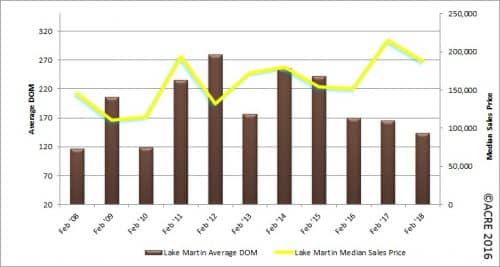 Industry perspective: The 10-year treasury is a crucial indicator of economic expansion. As of March 1, 2018, the 10-year treasury stood at 2.88 percent, a slight increase from last month's rate of 2.86 percent. Mortgage rates also experienced a slight increase recently as the current rate on a 30-year fixed-rate mortgage is 4.57 percent, up from 4.38 percent one month ago. As the economy continues to strengthen, people will have more money in their pockets with the intent to spend. This increase in spending will most likely create higher stock prices and lower bond prices. With this increase of confidence in the market, mortgage interest rates can be expected to increase.
The National Association of Home Builders (NAHB) produces economic analyses of the home-building industry based on government data. The Housing Market Index (HMI) depicts market conditions for the sale of new homes. The HMI ranges from 0 to 100; a rate greater than 50 represents good sales conditions.
The HMI in the South has stayed relatively steady in the past few months with a score of 73. However, the HMI is lower in some regions of the United States, such as the Northeast, which has a rate of 56. The West has a higher HMI of 77, and a better market for good housing conditions.
The Federal Housing Finance Agency uses the House Price Index (HPI) to measure the average price changes in repeat sales or refinancing on the same properties. The FHFA's national HPI was up 6.7 percent from the previous year compared to Alabama, which has increased from the previous year by 5.6 percent. The HPI rose in all 49 states except for Mississippi.
Compared to the national housing market conditions, Alabama's real estate market has been showing improvement. Although total residential sales in Alabama decreased 2.3 percent from January 2017, the statewide median sales price increased 2.3 percent from January 2017. Statewide, homes in Alabama are selling much more quickly than in recent years as the average days on the market decreased 19.6 percent from one year ago.
Click here to generate more graphs from the Lake Martin area February Housing Report, including Total Sales, Average Sales Price, Days on the Market, Total Inventory and Months of Supply. 
The Lake Martin Residential Monthly Report is developed in conjunction with the Lake Martin Area Association of Realtors to better serve area consumers.