S.A. Maples Art, Vinemont
The Maker: Sarah Amanda Maples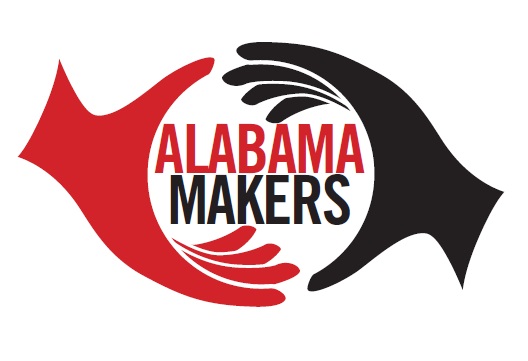 S.A. (Sarah Amanda) Maples was throwing a party and needed a bit of color for her living room.
"I had an interior design company, and had created some artworks for clients," she said. "When I started looking for a piece for my party I thought, 'Why don't I just paint one?' So I created an abstract work I called A Long Way Home."
The Birmingham native had taken an art class while in junior college, but couldn't stand the confines of artistic academia.
"The teacher was always saying there was a right way and a wrong way to make art, and I just hated that. I painted for fun and thought art should come from your heart," Maples said. "So I switched my major to marketing and found out I was pretty good at sales."
But, even while working in marketing and later interior design, she continued to paint.
"I've always loved painting – and when my friends saw my work during the party, they asked if I could do something similar for them," she said.
Alabama artist S.A. Maples puts her moods, feelings straight onto the canvas from Alabama NewsCenter on Vimeo.
A few years later, Maples was still painting while living in Cullman and raising two kids. So in 2013 she decided to turn her passion into a profession and opened a studio in the town's historic Warehouse District.
Today, her art hangs in homes, hotels and businesses around the country and recently appeared in an exhibition at the Louvre Museum in Paris.
"That was a real highlight of my career," Maples said. "There were artists represented from all over the world."
The artist and her family recently bought a new home in the Vinemont community a few miles north of Cullman.
"There's a smaller house on the property, and I'm turning that into a studio and gallery," she said. "I sell a few works in person, but most of my business comes from my Instagram account and website."
On her sites and in her studio Maples offers mixed media paintings that she creates using a variety of materials. Machiavellian Heart features splashes of crimson and orange made from acrylic paint, alcohol ink and watercolor pencil, while the gleaming Global Sunset includes bits of 12-karat gold leaf. The collection also features the artist's popular Cherokee series of paintings.
"A few years ago, I saw a photograph of a Cherokee woman wearing this dress that was obviously made for a white woman, and she just looked miserable," Maples said. "I think my family has some traces of Native American blood – mainly Cherokee and Poarch Creek – so I've always been fascinated by those cultures."
To make the Cherokee paintings more personal, Maples leaves the subject's face blank.
"That way people can put themselves in the painting," she said. "I think that makes it more personal. Because a work of art shouldn't just be something that hangs on a wall; it should be something you can relate to. It should have a heart."
---
The Product: Mixed media abstract paintings of various sizes.
Take home: A Native American painting (prices vary).
www.studiosamaples.com; www.facebook.com/S.A.MaplesArt; Instagram @samaplesart