Key Lime Pie is one of those simple pleasures in life that I just love. It's probably one of my favorite pies. And to say that I've eaten a lot of Key Lime Pie is an understatement. I've eaten it in all forms and all over the place, but I can honestly say this recipe is my absolute favorite. I don't take lightly calling something the best … so this is truly the best Key Lime Pie.
You know, Key Lime Pie is one of those recipes that I feel like a lot of people are intimidated by, but I've made it so easy for you here. In fact, you can get this one on the table with as few as six ingredients, seriously.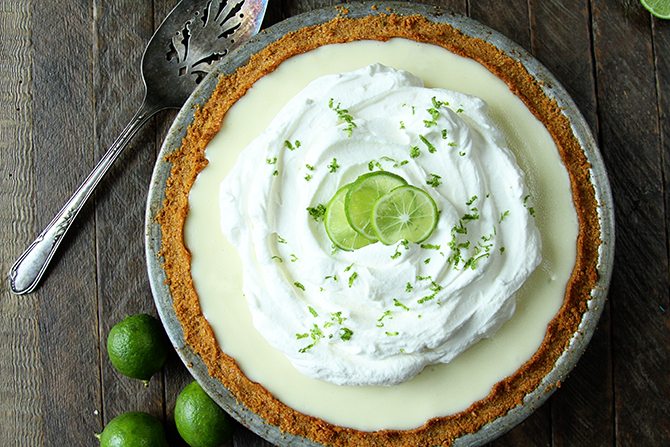 A more authentic Key Lime Pie calls for eggs, but I find that leaving them out and adding sour cream produces a smoother and creamier pie that we just love. In fact, I made both versions and served them to the family and everyone picked this version as the best. Just try it and you'll see what I mean.
A quick note about the crust: If you've been around here any time at all, you know I'm all about using shortcuts to make meal prep easy and less time-consuming, so using a pre-made graham cracker pie crust is perfect here. Just try to get a deep dish one, if possible. Otherwise, all the filling may not fit. If you want to make one from scratch (it's super easy), you'll find my recipe below.
Let's also chat about Key lime juice here. What makes this a KEY Lime Pie are the Key limes. They're not your standard Persian lime. The flavor is a bit different and they are much smaller. That means it will take a lot more to get the juice you'll need for this pie. It took me about 20 Key limes to get 3/4 cup of juice. Now, you are welcome to use regular lime juice or even use bottled Key lime juice; just know it will affect the flavor.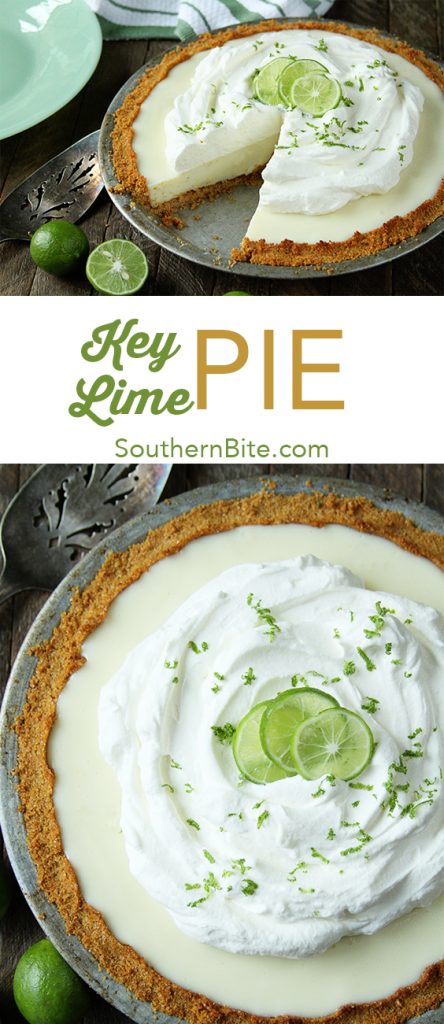 The best Key Lime Pie
Prep time: 20 minutes
Cook time: 8 minutes
Total time: 28 minutes
Serves 8
Ingredients
1 (9-inch) deep dish prepared graham cracker crust
2 (14-ounce) cans sweetened condensed milk
½ cup sour cream
¾ cup Key lime juice
1½ cups heavy whipping cream
½ cup powdered sugar
 Instructions
Preheat the oven to 350 degrees.
In a large bowl, whisk together the condensed milk and sour cream.
Once smooth, add the lime juice.
Whisk until smooth and thickened.
Pour into the prepared pie crust.
Bake for 6 to 8 minutes.
Cool on the counter, then refrigerate for at least 4 hours.
Once ready to serve, beat the cream and powdered sugar together until you get stiff peaks.
Top the pie with the whipped cream and serve.
Notes
This pie is much better using freshly squeezed Key lime juice. However, regular limes or even bottled Key lime juice will work.
Graham Cracker Crust
Prep time: 15 minutes
Cook time: 10 minutes
Total time: 25 minutes
Ingredients
1½ cups graham cracker crumbs (about 12 crackers)
¼ cup sugar
¼ teaspoon salt
6 tablespoons unsalted butter, melted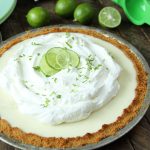 Instructions
Preheat the oven to 350 degrees.
Combine the graham cracker crumbs, sugar, salt and melted butter in a medium bowl, being sure the mixture is well blended and all the crumbs are moistened.
Firmly press the mixture into the bottom and sides of a 9-inch pie plate.
Bake for 8 to 10 minutes.
Allow to cool completely before filling.
This recipe originally appeared on SouthernBite.com. For more great recipes, visit the website or check out The Southern Bite Cookbook.