The head of the Birmingham Business Alliance proclaimed he is "more optimistic than ever before" about the metro area's economic development prospects in 2018.
BBA CEO Brian Hilson made that declaration as he announced significant successes from 2017.
The BBA held its 2018 Regional Economic Growth Summit Wednesday morning, sharing last year's performance in recruiting and retaining jobs and investment in the seven-county Birmingham metro area.
The total numbers tell the story of growth.

Birmingham Business Alliance delivers progress report for 2017 from Alabama NewsCenter on Vimeo.
In 2017, the region had 40 new and expanding companies that announced 3,068 jobs and $572.7 million in capital investment.
The projects included a mix of industries, including information technology and analytical instruments, financial services, machinery manufacturing, life sciences and metals manufacturing.
But, as in recent years, the automotive industry led the charge, accounting for 10 percent of the projects but 54 percent of the jobs and 72 percent of the investment in 2017.
"The automotive industry was especially strong to us, both in terms of job growth and capital investment, during the year," Hilson said.
Jefferson County led the metro area in capital investment ($256.1 million) and jobs (2,183) accounting for 45 percent and 72 percent, respectively. The city of Birmingham was home to $62.6 million of the investment and 1,002 of the jobs.
The largest announcements in 2017 included Autocar, which just opened its $120 million truck plant that is in both Birmingham and Center Point and is growing toward the 746 jobs it announced last year. The largest single capital investment announced during the year was Mercedes-Benz U.S. International's $248 million Global Logistics Center and after-sales North American hub under construction in Bibb County. That will add more than 600 jobs.
Hilson said growth in any part of the metro area helps the entire metro area. The area includes Jefferson, Shelby, Blount, Bibb, St. Clair, Walker and Chilton counties.
"What's good for Jefferson County is good for the rest of the region," Hilson said. "What's good for the city is good for the rest of the region. And, likewise, what's good for Bibb County or Walker County is good for Jefferson County. We complement one another."
Hilson said he is pleased to see the metro area has rebounded from the Great Recession a decade ago. The job growth is substantial but still not up to his expectations.
"We've had over 19,000 jobs announced since 2010," Hilson said. "We've had 37,200 jobs total created during that same period of time. Both of those numbers are good, but we also feel that there's a lot more growth potential. So, I want to see those numbers continue to grow each year."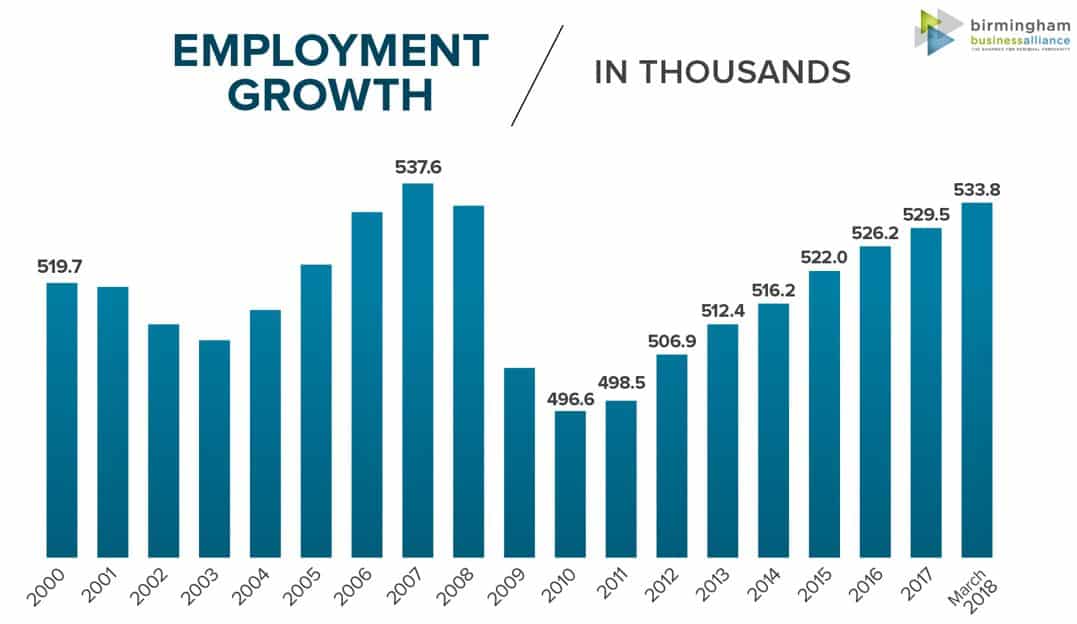 Those numbers could take a large step up this year if the projects BBA is working on come to fruition.
"We've got good activity," Hilson said. "It's large projects that we're working on. Diversity, both in terms of the products that those companies are involved in, the services they provide or the types of jobs that they create, as well as geographic diversity."
Apart from recruiting and retention of large companies, Hilson said growing and keeping startup businesses in the city is a big BBA push.
An increasing number of startups are spinning out of UAB, Southern Research, Innovation Depot and other places. However, as the need for capital arises, those companies often end up leaving the city in pursuit of investment.
That's an area of focus at BBA.
"Aligning those early-stage tech companies with sources of solid, reliable investment capital in a way that will keep the companies here, not pull them away to another city, is … both a challenge and an opportunity for us," Hilson said.
Birmingham Mayor Randall Woodfin said he is realigning the city's economic development office to focus on innovation and economic development and mirror BBA's focus. The move, he said, reflects the kind of collaboration that exists.
"We're unified in economic development and unified in economic growth for the region," he said.
Jefferson County Commission President Jimmie Stephens echoed Woodfin's remarks.
"We are a team and we are stronger when we work together," he said. "We are unbeatable together."
That cooperation will be needed to address two of the biggest issues facing the metro area – both created by the region's success.
Hilson said workforce and industrial sites are a real need.
"Low unemployment rates can have a consequence because you may not have enough people to populate the companies," Hilson said. "When a large company needs a significant number of people in a short period of time, that can be a challenge for any community. Again, it's kind of a good problem to have, but you don't want that to the extent that you can't compete. We're not at that point. We can provide the workforce that we need, but they have to be trained and educated and channeled in all of the right directions."
Finding large tracts of land that can be developed for large projects is also becoming more difficult as existing sites are taken.
"Properties is another challenge for us and it's one that exists throughout the metropolitan area," he said. "Because we've had a significant amount of development, we can run short on the various types and sizes of properties, typically industrial properties, that we need to be responsive to companies that need those sites to build on in short order. So we're addressing that issue as well."